Coworking spaces are known for being cool, trendy, and flexible places to work.
Whether it be freelancers, startup companies, large businesses, part-time hobbyists, or remote workers, coworking offices attract a wide range of people coming from a variety of backgrounds. As such, they need to accommodate each type of worker accordingly, ensuring that the space is not only a nice environment to work in, but is also suitably protected.
Businesses need to protect their company data and trade secrets after all, so keeping their working environment secure is vital. From cybersecurity threats to physical thieves, there are a number of ways in which coworking spaces can be breached. Make sure yours isn't by implementing these three methods.
Protect your network
Despite the fact that coworkers can work across a plethora of industries, it only takes one bad member to compromise the data of hundreds of others. Therefore, establishing a strong and secure network is key to preventing this – keeping all your coworker's digital information safely protected.
Hackers tend to target Wi-Fi networks so, rather than hosting all your co-workers on the same network, allocate each of them credentials and a unique password. Alternatively, take it one step further and set up individualized networks for each of your members. This ensures that even if one network gets hacked, the others won't be affected.
Also, think about investing in an electric timer to shut off Wi-Fi access overnight when nobody is there to keep an eye out on it.
Lock your doors
A pretty obvious one, but having effective physical security measures is just as important as having online protection. For example, having high-quality locks on your doors, windows, and storage cabinets can go a long way in keeping your coworking space secure.
Likewise, access to the building should only be given to members who actually work there. Whether this access solution is smartphone-based or utilized using access codes/smart cards, granting individual admission to users is probably the most foolproof way of ensuring important data stays safe.
Plus, thanks to cloud-based access control systems, you can now control who has access to certain rooms and areas in your coworking space. You'll also be able to keep a log of who logged in, meaning you can stay on top of the inner goings-on in your office.
Watch out for theft/damage
Another fairly obvious security system to have in place is CCTV. Even in the most loving communities, belongings can get lost or stolen so, with a surveillance camera in place, it'll make it that much easier to rectify issues. Not only that, but it takes the pressure off you needing to physically be there all the time – smart surveillance systems allow you to monitor office activities via Wi-Fi when you are away.
You should also install an effective fire alarm system and have it checked regularly. The last thing your coworkers need is for their data to be unintentionally destroyed through insufficient fire safety at your office.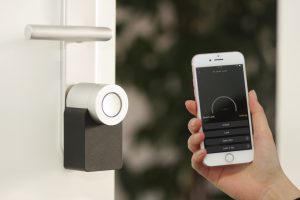 As a coworker:
Most of the methods we have discussed so far have been aimed at the office space owner themselves, but there are a number of things members can do as well to ensure their data stays safe.
Whether it be ensuring your computers are kept regularly up-to-date or simply paying special attention to what you are telling somebody, here are a few things to think about:
Keep up-to-date. Keep your devices secure by making sure they are up-to-date with the latest security software and installing trusted antivirus software. Also, update your passwords regularly and use alternative versions for different accounts.
Lock your screen. While it may be less important to do when working in a private office, it's imperative to lock your screen at your coworking space. Even if you've just popped out of the room for a few minutes, that'll give someone else enough time to see your private information or access your network.
Stay aware. Building a rapport with your coworkers can be a great thing to do, but be careful about the information you share with them. Be aware of what you are saying, and don't tell them anything that it's not their place to know.
Don't share devices. It may be a nice thing to do, but choosing to share your device – whether it be your work phone, USB stick, or computer – could put yourself at risk. Be cautious about handing over anything that could have important company data on it, regardless of how well you think you know someone.