While some startups originate in a founder's living room or even in their garage, others prefer getting their start in an environment that can accelerate their growth straightaway with the right resources, tools, and community backing. Enter the startup coworking space: a perfect workspace for fledgling companies hoping to get off the ground—and fast.
Some of the biggest companies today first began as a coworking startup—like Uber, for example, which operated out of RocketSpace in San Francisco when the company was co-founded in 2011 with a team of eight entrepreneurs. (Fun fact: Spotify was also born out of the same RocketSpace!)
Not only do startups find coworking space to be a more affordable option than a traditional office lease, but many founders find it valuable to have a dedicated business startup office space to meet and network with other companies, talented freelancers, and clients.
Plus, a growing number of startup coworking spaces are actually geared toward budding startup teams, offering incubator services and funding opportunities, as well as legal and professional guidance.
So, what's the best startup coworking space for your early-stage team? Here are Coworker's top 10 coworking spaces for startups.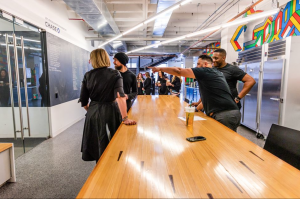 First on the list is 1871 Chicago, a startup coworking space named for the Great Chicago Fire of 1871. Like the fire, 1871 serves as a catalytic and transformative part of our city's history with a mission of enabling startups to access the space, resources, and education needed to grow.
Occupying 120,000 square feet of space in Chicago's Merchandise Mart, 1871 is a popular coworking space as well as a startup incubator that's home to 400 startups. Whether just starting out or expanding rapidly, startups can readily find a network of like-minded entrepreneurs and tech companies at 1871 who are similarly looking to build extraordinary businesses.
Moreover, this coworking space hosts events geared specifically for digital entrepreneurs. Most recently, 1871 launched a new initiative called PYROS, which provides members with multi-stage, tailored resources, tools, mentors, workshops, curriculum, and peer groups based on their startups' business development needs. If your startup is in need of some serious incubation, 1871 is the place to hatch.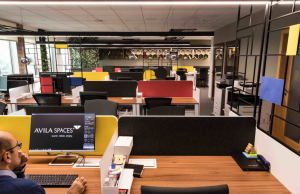 It's no secret that Lisbon has become a hub for budding startups, with a significant number of major companies relocating to the Portuguese capital and one of the world's largest tech conferences — Web Summit — taking place in Lisbon each year.
By offering affordable, cheap office space for startups, Lisbon is home to some true disruptors, many of which call Avila Spaces home. Located in the heart of Lisbon, Avila Spaces is a prime location for emerging startups, offering a unique partnership service for members that includes support in the following areas: accounting services, company registration, patent and trademarking, billing services, and information technology.
No matter their current stage of growth, startups can rest assured that Avila Spaces will offer the support they need to reach that next level and find success. Voted as the best coworking space in Lisbon in Coworker's 2019 Members' Choice Awards, Avila Spaces is the go-to startup coworking space for teams looking to create powerful, lasting synergies.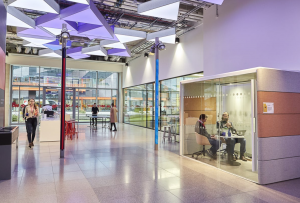 Located in what was formerly the media center for the 2012 London Olympics, Plexal is the beating heart of inventive enterprises and innovation. This east London workspace was designed to resemble a mini-city, including its very own indoor park, private phone booths, "high street," town hall, and workshop space for rapid prototyping (which is fully stocked with 3D printers and scanners).
With such a wide range of entrepreneurial amenities and resources, Plexal is the the perfect shared office space for startups. Occupying a whopping 1.2 million square feet, this coworking space is really a full-fledged campus, giving startups plenty of room to (literally) grow in addition to offering a full range of services, such as accelerator programs, basic entrepreneurship courses, financing options, and a state-of-the-art technology lab. Plus, Plexal offers startups flexible memberships that include access to a private office, plus all of the support they need to scale. (What more could a startup need!?)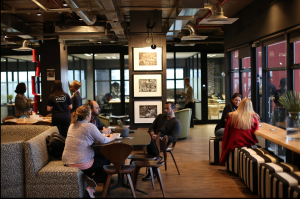 Another great startup coworking space is Work & Co, located in the heart of Cape Town with inspiring, panoramic views of the city. As one of the most powerful South African accelerators, Work & Co provides the comforts of home, the energy of a coffee shop, the creativity of an atelier, and the technology of an professional office. For startups in particular, this business startup office space proves to be a dynamic community of open-minded, passionate entrepreneurs who are all working toward the same goals.
When Work & Co was first founded, the mission of the space from the outset was to inspire and connect people who wish to develop their business and express themselves through their work — and it remains the same today. Whether a startup is in its initial launch phases or its a more seasoned business with a global clientele, Work & Co offers a diverse entrepreneurial community, which creates a richness that allows members to meet inspiring people, to challenge ideas, and to pursue new opportunities together.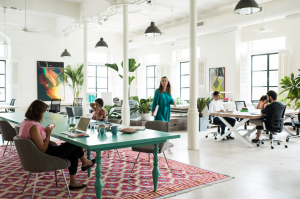 For self-starters who are new to coworking, startups and small businesses can take refuge at Ministry of New in thriving Bombay. Beyond being a refreshing, inspiring place to work, this coworking hub is a celebrated incubator that's teeming with founders. With India being one of the coworking industry's fastest growing markets, startup coworking spaces like Ministry of New are in high demand—and with good reason.
At Ministry of New, startup teams gain access to an international community of creative professionals. From founders of Indian lifestyle brands to global distributors of audio tech, this space is home to some truly interesting startups and individuals who are trying to change their world, if not the world. If your startup is looking for the perfect place to call home, the "Team Rooms" at Ministry of New, which comfortably house teams of six to eight people, are a great place to kick off your next venture. (Plus, it's listed by Forbes as one of the most beautiful spaces in the world!)
6) #tceh, Moscow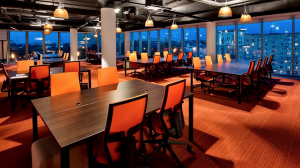 If you find yourself in Moscow, several coworking startups have evolved into well-known flex office brands that are now home to some of Russia's most dynamic businesses. For tech startups in particular, #tceh in the heart of Moscow is an established incubator that is known to fuel business growth.
A hub for technology-enthusiasts, #tceh offers many opportunities to forge connections with like-minded entrepreneurs and learn from the heads of already successful firms during startup-focused events and meet-ups. Additionally, #tceh has partnered with the Internet Initiatives Development Fund (a Russian venture capital fund that invests in tech startups), granting members the chance to stay in-tune with the fund's activities and learn from experts in an informal atmosphere. For real tech junkies in need of a cheap office space for their startups, #tceh is the place to be.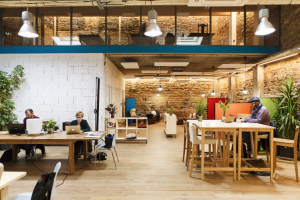 With five coworking spaces in every district in Lyon, La Cordée offers just about anything a startup team could want, including the option to expand to second and third locations in the same city. With additional locations in Annecy, Nantes, Rennes, and even a train station in Paris, this coworking network gives startup teams access to an unparalleled network of entrepreneurs across France.
Further, La Cordée partners with numerous social enterprises, local associations, public institutions, and researchers, giving members the opportunity to network with some truly influential people and organizations. If your startup is looking for administrative or legal aid to get your business off the ground, La Cordée also provides these types of professional services to early-stage companies. As a result, this coworking brand has become a favorite in France since its first location opened in 2011.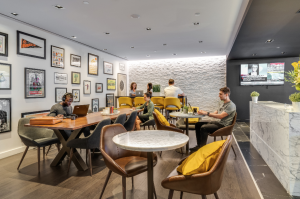 Looking for a startup coworking space in the heart of downtown Toronto? Why not opt for a cluster of equally vibrant spaces? That's what Workhaus has on offer—10 unique coworking locations scattered throughout the skyscrapers of downtown Toronto. With a range of spaces to choose from, startups can actually grow their teams within the Workhaus brand, expanding to second and third Workhaus locations under the same streamlined membership.
One of the major benefits of coworking at Workhaus for startups is the access to exclusive events for business development. From professional level programming to blockchain keynotes, your team's calendar will fill up quickly with events that have the potential to fuel your network. Plus, Workhaus facilitates large-scale events by TorontoStarts, the most active startup community in the city with over 14,000 entrepreneurial members. If you need to get your startup off the ground, Workhaus provides the ultimate platform for launch.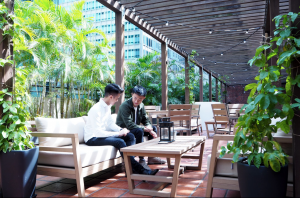 Aimed at fintech startups, The Hive Central is a truly premier coworking space in the heart of Central—Hong Kong's frenetic business and retail hub. Years ago, The Hive began as a small coworking startup and now, it's evolved into a well-established brand with 21 spaces in seven countries: Hong Kong, Singapore, Thailand, Vietnam, Japan, Taiwan, and Australia.
As a Hive member in Hong Kong, entrepreneurs can access any of the coworking spaces across Asia, including all social, networking, and learning events. Plus, The Hive goes above and beyond to accommodate its community's diverse needs with a range of specialist offshoots. MakerHive offers hardware designers and crafters prototyping services to help startup teams get ahead; The Hive Studios is ideal for creatives in need of a professional photography or videography studio; and the Hive Spring functions as an art and cultural center, providing a platform for local artists to showcase their work.
The Hive is all about helping entrepreneurs and startup teams thrive, offering a limited number of memberships at special reduced rates for early stage companies. In particular, The Hive Central enables members to connect to thousands of other members across Asia Pacific using the Hivers App, encouraging cross-continental collaboration and new startup opportunities.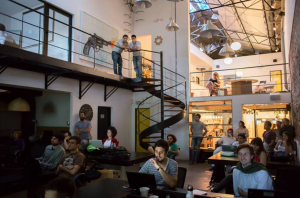 With Buenos Aires' very own Silicon Valley-esque area known as Distrito Tecnológico, Argentina's capital city continues to house numerous innovative startups. To satisfy the demand for the over 250 startups that are headquartered in Buenos Aires, La Maquinita Co is one of the top game-changing coworking brands in all of Latin America.
With seven total locations across Buenos Aires alone, startups never have to go far to work from a beautiful La Maquinita Co space. Startup teams can also take advantage of La Maquinita Co's three creative event spaces in Buenos Aires, which can easily be used for gatherings of up to 150 people. This space's staff are always on hand to deliver professional assistance to entrepreneurs at every phase of business development, and there are plenty of fun events, too, like the infamous Friday 'failure' nights, where members swap business experiences and strengthen La Maquinita Co's community of collaboration and friendship.