Photo credit: Tim Tai for the Philadelphia Inquirer
As soon as the owner of Philadelphia coworking space The SewCial Café was made aware of the shortage of personal protective equipment (PPE) for healthcare workers, ChaCha Hudson took matters into her own hands. Feeling disconnected and unsure about the future of businesses in Pennsylvania, the news of the PPE shortages restored a sense of purpose for Hudson, who immediately reached out to the members of her coworking space and decided to launch a new mask-making initiative from home.
Now, nearly 200 of The SEWCial Café members are donating or selling masks from home, assisting their wider community in an act of true togetherness.
Coworker caught up with ChaCha Hudson to hear more about this inspiring initiative and what the future holds for coworking at The SEWCial Café.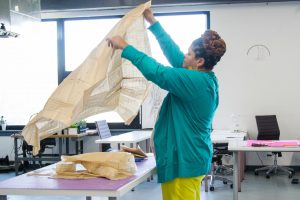 1) How did the idea come about to begin sewing PPE for healthcare workers?
On March 20, I was made aware of the shortage in PPE for healthcare workers through a Facebook post. It was an article about the Deaconess Health System asking the public to sew CDC-complaint face masks for medical staff. The night before, I received news that businesses in Pennsylvania had to close during the COVID-19 pandemic, which left me feeling disconnected and very unsure of the future. Seeing this post gave me a sense of purpose all over again.
2) What is the mission of this initiative? 
The day that I saw the article about the request for face masks for medical staff, I immediately took to social media to find out more about the required materials to construct the masks, facilities accepting donations, and gauging interest from other sewists regarding participation. That night, we had a Zoom meeting to talk more in-depth about mask production and organizing donations. We wanted to make use of the fabrics that we had access to, to produce as many masks as possible. I had no idea how much PPE hospitals needed and that the majority of hospitals were affected by the shortage.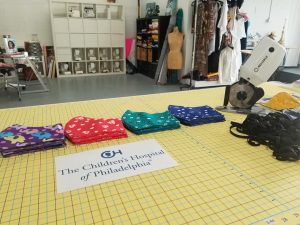 3) Why was this initiative important to you?
This initiative is important to me because my mother is a healthcare worker, and so many other people that I know and love are essential workers and have to interact with COVID-19 patients daily. I feel obligated to use my skills to do my part during this pandemic.
4) How many of your members participated (or are participating) in this initiative? 
All of the members of The SEWcial Café are donating or selling masks during this time. In my "Sewing with ChaCha N'Kole" Facebook sewing group, I believe over 200 of the group's members are making face masks.
5) How long do you plan to continue this initiative?
I will continue this initiative as long as it's needed. I am here to be of service to my community and all others in the U.S. If I can not help individuals and organizations personally, I will try my best to connect them with others that can. The SEWcial Café is an official sponsor of Mask ON Philadelphia, which donate masks to community members that can not afford to purchase masks.
6) Tell us a little more about The SEWCial Café — when was the space founded, and what is your background?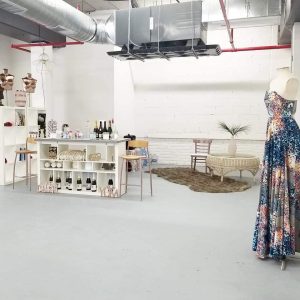 The SEWcial Café opened October of 2018. The SEWcial Café is a business incubator and creative coworking space for female fashion designers and makers developing entrepreneurship and encouraging innovation.
I have always dreamt of developing a creative community—one with a genuinely motivating and encouraging vibe filled with women that have one common goal: building. Building brands, building relationships, building confidence, and building better handmade products. The SEWcial Café is just that.
I know the struggle of starting a sewing business from home with little space to work and plenty of tasks to keep me distracted from my sewing projects. These are common issues for designers who are trying to start a small business from home. Many designers that work independently often have questions about clothing construction or need help with sewing machine equipment, product photography, marketing, or their most dreaded task — sales. The SEWcial Café has lab monitors available to assist with troubleshooting machines. There are workshops and seminars every month covering topics such as starting a business, creating better products, SEO marketing, selling, and social media, just to name a few. The SEWcial Cafe offers both group and individual sewing sessions and pattern making courses and hosts pop-up shops for members to sell their goods.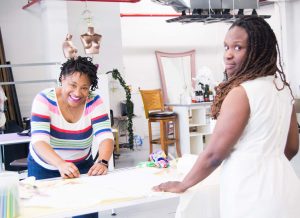 7) What do you love about coworking, and why is coworking important to you? 
I love coworking because it allows dialogue and the free exchange of ideas between creatives. Coworking spaces offer community, mentorship, instruction, and the ability to be social with like-minded individuals. It is important to have coworking spaces because they yield productivity and accountability to reach professional goals.
8) How has the current pandemic affected your business? What have you done to engage and support your members, even from afar? 
Members have not been able to come to The SEWcial Café to work due to social distancing, but we often communicate through my Facebook Group, Facebook Live, and Zoom to discuss our emotional and physical well-being and create dialogue around sewing, mask production, and other things that are going on. Sewing and pattern making courses are available virtually but are limited.
9) What do you think the future holds for coworking and remote work in general?
I think coworking spaces will go through a transitional period but will come back stronger than ever. We all want to be a part of a community and crave social connection and interaction. We will find ways to continue to keep our members engaged during this time. In the future, I do think coworking spaces will focus heavily on creating value and offering services remotely.