This week, the French multinational hospitality company, AccorHotels, announced an exciting plan with WOJO to become the largest coworking brand in Europe by 2022 by launching 1,200 new spaces over the next three years.
This news comes as no surprise—for decades, many major hotel chains have made a focused effort to offer high-end spaces for professionals to work and conduct business, including meeting rooms, ergonomic lobbies, business lounges, and on-site cafés.
Nowadays, business travelers have come to expect higher standards from their preferred hotels. In addition to expecting hotel essentials, such as high-speed Wi-Fi and quiet rooms, travelers want hotels to offer a range of service-led, collaborative workspaces.
Aligning with these expectations, a number of major hotel chains have remodeled their workspace offerings to create productive, comfortable coworking spaces that appeal to both travelers and area locals. Some examples in recent months include:
— The Marriott International-owned Sheraton Hotel & Resorts is revisiting over 400 lobbies in an effort to make the spaces more work-friendly. Sheraton is reportedly planning to outfit the new lobby spaces with "productivity tables" that will contain USB ports, rentable drawers, and plenty of outlets.
— Marriott International has also implemented trendy, millennial-focused coworking spaces at their Moxy Hotels locations. By day, Moxy Hotels' coworking spaces boast comfortable, modern workspaces for the independent worker or business traveler; by night, the spaces transform into quintessential hangout and party spots for members.
— Spacemize now offers a passport-style option that allows business travelers, entrepreneurs, and corporate employees to work from luxury hotels and other venues on a cost-efficient, flexible basis.  
— Vienna's Hotel Schani Wien announced a unique 10-day coworking pass for professionals looking to work from the hotel's modernized lobby at a reduced rate of around $100 USD.
These four examples are just a handful of an increasing number of hotel chains that have hopped on board with integrating coworking opportunities into their properties. And, with Accor's plans to dominate the market in the next few years, this rising trend shows no sign of slowing down.
Why WOJO's plans make strategic sense
In an interview with hotel industry news source Hospitality Net, Frank Gervais — the CEO of Accor Europe — said the partnership made strategic sense and aligned with the chain's mission of bringing augmented hospitality to life for its customers.
"We have the assets (brands, spaces, teams), we have the services (restaurants, bars, meeting spaces) and we are open 24/7," said Gervais. "By participating in WOJO's ambitious development, we are optimizing the use of these assets and are creating value for our owners by being open to a new type of customer, i.e. coworkers."
By rolling out a global coworking experience with a recognized player in the coworking industry, AccorHotels is reimaging hospitality as a holistic ecosystem that connects to customers in an infinite amount of ways—from leisure and play to work and travel.
Together, AccorHotels and WOJO will offer three different options for flexible workers in order to appeal to the broadest range of customers. The products and experiences will include:
— WOJO Spots — These spaces, which make it easy for nomadic workers to carry out tasks without a fee, guarantee personalized service, reliable Wi-Fi, and friendly workspaces. A whopping 150 WOJO Spots are preparing for launch in Paris and Lyon this summer, with plans for over 1,000 additional WOJO Spots to open across Europe by 2022.
— WOJO Corners — With the first of these spaces launched in 2018 in the Mercure Paris Montmartre Sacré-Coeur Hotel, WOJO Corners are dedicated coworking spaces designed for uninterrupted work. WOJO Corners will be offered first at AccorHotels locations and later in train stations, shopping malls, and airports. Building on the success of the pilot Paris location, more than 100 additional WOJO Corners will be opened by 2022 throughout Europe.
— WOJO Sites — As AccorHotels' "all in one" option, WOJO Sites are standalone coworking spaces that will be housed in dedicated buildings, combining communal zones (bars, lounges, kitchens) with shared spaces, meeting rooms, and dedicated offices. Unlike Spots and Corners, WOJO Sites will be led by teams of "business partners," who will work to connect members strategically with other networks and opportunities for collaborations. WOJO Sites will also be offered as an option to real estate developers at the outset of new projects.
According to CEO of WOJO Stephane Bensimon, the partners have a thorough understanding of companies and remote workers' needs and expectations for their workspaces.
"A personalized welcome, premium services, a friendly atmosphere, and designer spaces are all essential features covered by our expertise," said Bensimon. "Through our new range of spaces, we are now able to meet a key customer need: combining the quality of work life with mobility."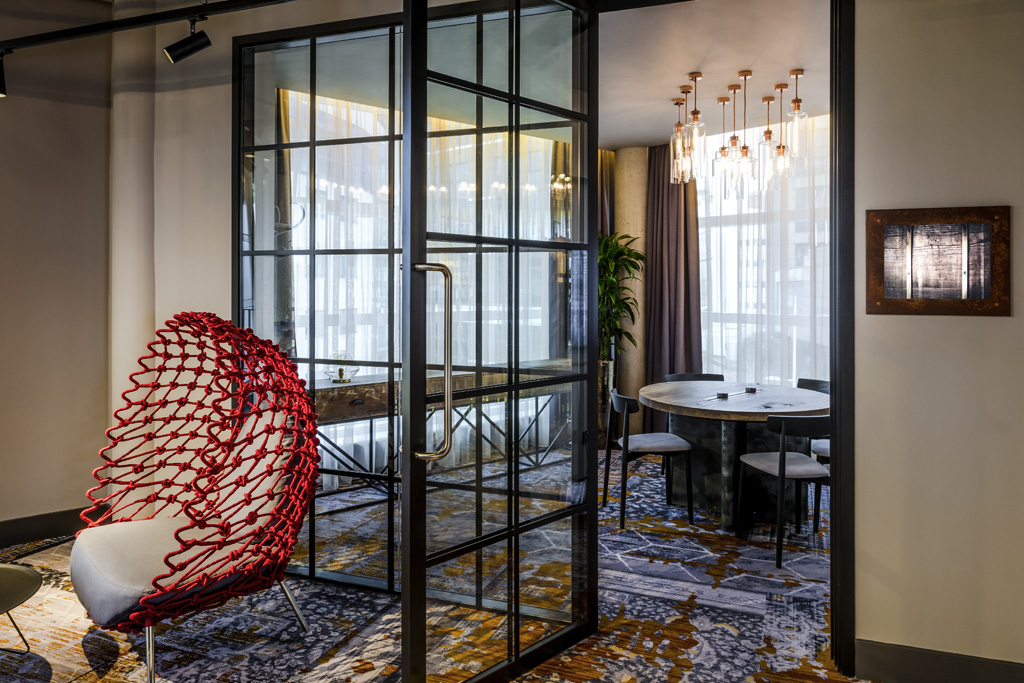 Though the partnership is one of the first of its kind, it makes sense for more hospitality chains to recognize the extreme value in this type of coworking venture and take the steps to implement similar offerings for increased exposure.
As the demand for flexible office space continues to grow, coworking is a natural progression for hotels. Though the trend is still embryonic and may never 'take over' the coworking industry entirely, Accor's move reflects the exact type of innovation, diversity, and experimentation that is to be expected in the market by thought-leading hotel chains.
Hotel coworking is here to stay
Though some hotel owners may be hesitant to jump on the coworking bandwagon as they continue to focus on monetizing their meeting spaces, coworking is a natural fit for the hospitality industry and will become a differentiator within the world's most innovative hotels.
There is a reason why business centers and conference rooms have remained common amenities of hotels for decades. With the real estate, traffic, and location to support flexible workspaces, hotel chains have gained the perfect opportunity to bring both guests and local professionals together in dynamic, centralized locations.
Not only will this trend survive and continue to thrive, but it shows no signs of slowing down and is set to make a positive impact on local economies, hospitality networks, and the coworking industry itself for years to come.