The outbreak of COVID-19 has led to the world being under lockdown. Millions of workers have had to switch to telecommuting, which initially caused stress and frustration for some business owners. After all, statistics on remote work show that 55.49% of professionals find it hard to avoid distractions when working from home.
Enter, coworking spaces.
Is your business in need of another arrangement that's separate from working from home, but also different from a traditional office? Can coworking prove to be a cost-effective model for your enterprise in 2020 and beyond? 
Stick around and find out!
How does coworking work in the first place?
The concept of coworking is pretty straightforward. As the name implies, coworking relates to the principle of sharing a work area.
These days, coworking arrangements come in all shapes and sizes. From palm-tree covered work areas on the beaches of Bali to extravagant offices in the Big Apple — you name it, there will be a coworking space that fits the workspace you're envisioning.
As a rule of thumb, freelancers and telecommuters tend to use only a desk or two. On the other hand, multinational corporations (MNCs) might several floors or even an entire building to accommodate all of their workers.
The scalability of coworking is one of its most prominent features, but this is just the tip of the iceberg. Let's dive into why coworking is an attractive model for so many business owners, large and small.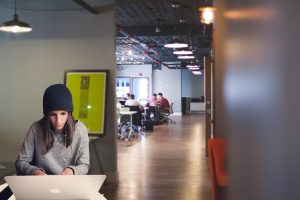 What can coworking provide for your business?
Coworking facilities can offer different services and the arrangements vary widely. So, it can be challenging to make a universal list of benefits that come from using a coworking space.
Of course, once you decide to switch to coworking, you should receive a functional workspace for you and your team.
On top of that, coworking spaces typically include different amenities. In other words, the arrangement might offer access to a conference room, gym, or cafeteria. High-end coworking services will also provide you with a receptionist, a corporate mailing address, and other administrative options.
The list of perks is endless, and it all depends on the creativity of the coworking provider. For instance, many coworking spaces have adjusted their layouts and sanitation protocols in recent weeks so that they are more virus-proof. 
As if that's not enough, coworking spaces can also keep a few dollars in your pocket. Let's see exactly what makes coworking a cost-effective model for any enterprise.
Cost-reduction through coworking
If you run a relatively small team and you have less than 12 members, coworking can help you save up to $2,700 per month. Believe it or not, coworking can be 60–70% more cost-effective than the traditional office model for businesses with up to 30 employees. Moreover, MNCs can also cut costs by up to 25% if they switch to coworking spaces.
So, how is this possible?
First of all, coworking space can alleviate the financial burden by removing the need to buy or lease offices. In the early days of your company's existence, the down payment for office space probably put a significant dent in the budget. By choosing a coworking model, you can set up shop without risking bankruptcy.
At the same time, shared workspaces are already full of desks, chairs, and filing cabinets. If you are a fan of the money-conscious mentality, you will appreciate this aspect as well. Instead of fronting the bill for a bunch of new office chairs, you can join a coworking facility and get right to work without worrying about having adequate office furniture.
Likewise, office equipment requires constant servicing and maintenance—not to mention the costs of hiring a cleaning service for the premises. Coworking saves you from all this trouble, as you will only pay the monthly fee for space, and the rest is not your concern.
What's more, the utility bills are also included in the fee for your coworking space, so you don't have to worry about those elements either.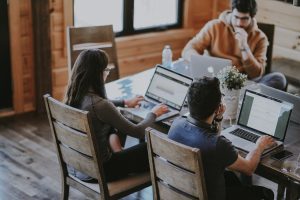 Coworking spaces: moving beyond cost-efficiency
If you are an aspiring entrepreneur, you already know that every dollar makes a difference. Thus, coworking facilities are a logical solution for many startups or small-to-medium enterprises.
With that said, shared workspaces can provide your business with a set of extra perks as well. In general, those benefits might not directly affect the revenue, but they are essential in the long run.
For instance, coworking spaces can boost productivity. It can be inspirational and motivating to sit and work among like-minded individuals. As a result, teams can transform the processes and skyrocket their efficiency.
Plus, a well-decorated coworking space can boost the credibility of your organization. No matter what line of business you are in, professionalism can go a long way.
Last but not least, a shared workspace is a paradise for anyone looking to connect with other brands or businesses. After all, networking is a crucial ingredient in the recipe for success.
When you share the space with other organizations, social contact is inevitable. Sooner or later, you'll get a chance to collaborate or provide your services to other companies. In the end, this element could have a tremendous impact on your balance sheet.
Final thoughts
In the last five years, the number of employers encouraging work from home increased by 40%. The outbreak of COVID-19 has emphasized the importance of remote work. So, if you are thinking of managing a distributed team, the coworking model seems like an effective approach.
Even though human health remains the priority at all times, the aspect of cost-efficiency should not be overlooked. By relying on shared workspaces, you can reduce costs and increase the profitability of your business.
The coworking model offers flexibility, interaction, and boosts productivity. Therefore, you shouldn't think twice about calling a coworking service to rent out the necessary workspace.