With more people working remotely these days, coworking spaces are on the rise. Coworking spaces can be found in almost every major city on every continent, where people need a comfortable place with reliable internet to work, conduct meetings, and run their small businesses. 
Although coworking spaces are still kind of a new concept that defy traditional norms, at their core, they are still businesses that aim to be profitable. In recent years, businesses have been working hard at becoming more sustainable and eco-conscious while at the same time running a profitable operation.
Throughout the process, many organizations have realized that working to achieve sustainability can actually help a business become more profitable by decreasing energy costs, reducing waste, and attracting younger generations of members who hold similar values. 
So, what can coworking spaces do to ensure that they can integrate sustainability into their design and operations, and why is it important? 
Let's break down some practical steps that coworking spaces can do to implement sustainable business practices, as well as look at some prime examples of coworking spaces that are already achieving this.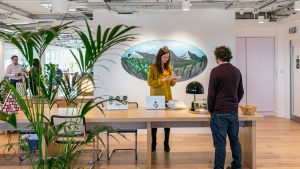 How can coworking spaces integrate sustainability into their design and operations?
Integrating sustainability in the design and operations of a coworking space is not as difficult as it sounds.
Here are some of the best steps that a coworking space can take to work towards becoming a more sustainable organization. 
Complete an environmental audit
The first step to integrating sustainability into the design and operations of a coworking space is to see where you currently stack up. Through an environmental audit, a coworking space can assess its current operations to identify areas where improvements can be made to reduce waste and energy consumption. 
Create a plan to achieve sustainability
Having a plan is important to outline specific goals and targets that you hope to achieve to become a more sustainable organization. A sustainability plan can contain both short-term and long-term goals to hold an organization accountable while tracking progress or identifying shortcomings along the way.
Reduce energy consumption
Reducing energy consumption is one of the most effective ways to achieve sustainable practice in a coworking space. After all, if people are coming together in one location to work, the amount of energy required is going to be great. This includes lights, laptops, printers, charging stations, and many other devices and appliances that consume electricity. 
The sustainability action plan should contain ways that a coworking space can reduce its energy consumption, as well as ways to utilize renewable energy sources to meet its energy requirements. This could be installing solar power, energy-efficient lighting, and appliances, and plans to reduce water usage. 
Reduce waste
Reducing waste is another effective way of helping coworking spaces become more sustainable. From using reusable food and water containers to limiting plastic use and providing containers for compost and recycling, a coworking space can greatly reduce the amount of waste they produce. 
Also, when it comes to waste reduction, some businesses may not think about e-waste in their sustainability planning efforts. However, e-waste is a major environmental issue that needs to be considered. 
Even websites can generate a significant amount of Co2, with the internet generating over 1.5 tons of greenhouse gas emissions annually.
One of the best ways to avoid contributing to this is for coworking spaces to incorporate sustainability into their digital presence and web design practices as well and to look for web design companies that can build websites from scratch and prioritize sustainability concerns.
Use coworking space software
Coworking space software is an excellent way for a business to manage its space and digitize all of its paperwork to reduce paper use and increase efficiency. This may include things like electronic billing and contracts, touchless sign-in, and other ways to reduce paper consumption and streamline the member experience. 
Encourage sustainable habits among members
Lastly, coworking spaces can help members become more sustainable in their own personal and business practices. This could include things like hosting sustainability workshops, presenting online seminars, and providing additional resources and tools to members looking to improve sustainable practices.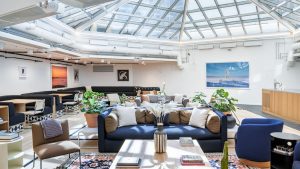 Why is it important to have sustainable practices in coworking spaces?
Sustainability is not just important for coworking spaces, but it is important for everyone. This is true whether we are talking about businesses or individuals.
As an individual, it is important to practice sustainability whenever and however you can by limiting food waste, reducing plastic use, and using alternative forms of transportation whenever appropriate.
That is why if a coworking space can implement sustainable practices for itself and all of its members, the benefits for the planet could be even more substantial.
On a business level, coworking spaces that implement sustainable practices are more likely to attract more members by appealing to professionals who share the same core values. Also, being a sustainable coworking space can improve profits by increasing efficiency and reducing costs through reducing energy consumption and waste reduction. 
What are some prime examples of coworking spaces that have successfully integrated sustainability?
Although many coworking spaces strive for or are currently in the process of implementing plans to become sustainable coworking spaces, not everyone is quite there yet.
There is still a lot of work to be done and the following coworking spaces are some prime examples of businesses that already have successfully integrated sustainability into their design and operations. 
The Sustainable Studio (UK)

: Since 2008, the Sustainable Studio

has been implementing sustainable practices

and promoting eco-consciousness at their location in Cardiff, UK. A highlight of the Sustainable Studio is that all of the private studios, desks, and other furniture are made from reclaimed wood. 

Green Spaces (Rino Arts District of Denver)

: The 12,500 square-foot Green Spaces coworking space in Denver, Colorado, is a prime example of a sustainable operation with shared bicycles, a car-sharing hub, and running on 100% solar energy. 

Sustainability Lab (Nepal)

: The Sustainability Lab

is a humble coworking space

available to travelers and digital nomads who may be living or just passing through Kathmandu, Nepal. The space boasts its own vegetable and tea garden, composting, and its own relaxed and peaceful environment set inside a beautiful bamboo house.

Eco-system (San Francisco)

: The Eco-System located in San Francisco is a sustainable coworking space that contains three different event rooms for hosting meetings. The building uses high-efficiency lighting and all of the floors are constructed from recycled rubber and cork. 

Grind (NYC and Chicago)

: Both locations of the Grind are sustainable and green, with LED lighting, repurposed floors, and open spaces for individuals and small groups to work together while practicing sustainable business practices. 
Conclusion
If you are looking for a coworking space in a city near you that has demonstrated its commitment to sustainability in its design and operations, you can search Coworker for a sustainable coworking space near you.