Working remotely has become a standard for many companies around the globe. Telecommuting employees get to choose whether they'll do their job assignments from home, at the coffee shop, or at the coworking space.
There are many benefits to telecommuting. For example, working remotely can increase productivity because it reduces workspace stress. Plus, you have the flexibility to choose what hours you work and you won't waste any valuable time commuting.
On the other hand, there are some challenges related to teleworking. According to Barbara Larson, an executive professor of management at Northeastern University in Boston, these issues can be divided into two categories:
Task-oriented challenges: how to communicate, collaborate, and share information with your colleagues when you're not in the same setting

Social challenges: since you're separated from your colleagues, this can result in a sense of isolation
If you're teleworking, rest assured: there are some amazing apps that can help you surmount these challenges. In addition, these tools will improve your productivity and time-management skills, too.
1.   Clockify – time-tracking tool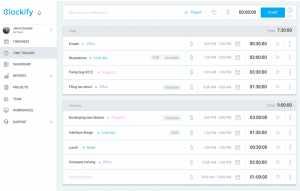 Clockify is a timesheet app that enhances your team and project collaboration. This app lets you monitor and log your hours as well as the work hours of your colleagues. Here are the main features of Clockify:
– Timekeeping: tracking your hours with a timer. Each time you label your work hours with the name of the project, you can mark these hours as billable or non-billable.
– Reporting: you can create custom reports, export them as PDF, CSV or Excel sheets and share them with others.
– Team activity: you can invite your whole team to a particular project. Besides, no matter the fact that you're all working remotely, you can see each other's current tasks and activities.
So, Clockify can increase the cooperation between you and your coworkers around the world. You can use Clockify for: Web, Windows, Linux, macOS, iOS, Android, Firefox, Chrome.
2.   Slack – communication tool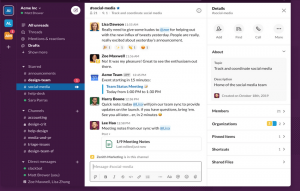 When telecommuting, you won't be able to talk to your colleagues in person. Luckily, there are other ways to communicate with them regularly. One of the most popular apps, especially among teleworking teams is Slack. You'll find this tool quite useful, because:
– It's a great choice for all those urgent messages.
– You can create channels and organize them by topic, project, or team.
– You can share documents with your teammates, since Slack integrates with many apps, like Google Drive and Dropbox.
With all these excellent options that Slack offers, everyone can remain in the loop about significant job-related matters. You can use Slack for: Web, Windows, Windows Phone, macOS, Linux Android, iOS, Chrome, Firefox.
3.   Zoom – video conferencing tool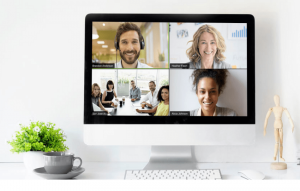 Another way to communicate and share information within the team are meetings. In case of teleworking, your team won't be sitting in the same conference room for these occasions. But, the next best thing you can organize are conference calls with Zoom.
This app is an ideal solution for telecommuting teams and here's why:
– You can plan HD video and audio meetings. Even more, you can record these gatherings and create transcripts of the meetings.
– Zoom brings collaboration to the next level, since it lets you and your team share your screens at the same time.
So, these video calls will surely help you manage your workload better. But, more importantly, seeing familiar faces will make you feel less isolated. You can use Zoom for: Web, Windows, Linux, macOS, iOS, Android, Chrome, Firefox.
4.   Asana – project management tool
Keeping everyone on the same page with a project and its progress is essential when it comes to teleworking teams. Asana is a project management tool that helps you break down your project into different stages.
As you can see from the image above, this app visually represents your project, because it is based on the Kanban time management method. Here are the top features of Asana:
– Boards: each board can contain as many stages (columns) as you want. Each time you finish your task from one stage, simply move it to another one (to the right).
– Timeline: create a plan for your project and set deadlines.
– Calendar: see the full perspective of your project.
When each team member has a clear overview of their tasks, there will be no misunderstanding. Thus, collaboration within the team will thrive. You can use Asana for: Web, iOS, Android, Chrome, Firefox.
5.   World Time Buddy – world clock widget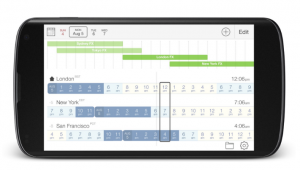 Scheduling meetings can be quite difficult when having colleagues across different time zones. But, there's an easy way to solve this issue by using the World Time Buddy application.
This tool is both a time zone converter and an online meeting scheduler. Here are its best features:
– Organize locations: you can add all your preferred locations. Also, you can rename any locations you want. For example, if the marketing team is in Seattle, you can rename Seattle into a Marketing team, which will make organizing events much easier.
– Schedule time: open the calendar and search for open slots – periods of the day when your coworkers are available. Then, you need to select the time range and create an event page, which you can share with your teammates.
– Customizations: the calendar can show you weekend highlighting, so that you won't set up any meeting during the weekend.
You might be miles away from your colleagues, but with this app, you'll manage to choose time ranges that suit you all. Thus, you'll be able to communicate with each other and figure out any issues you're experiencing. You can use World Time Buddy for: iOS and Android platforms.
6.   Daywise – a tool for better work-life balance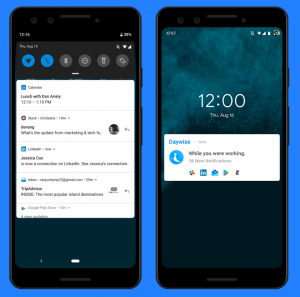 Unlike the previously mentioned apps, this one is focused only on you and your habits. Do you struggle with unplugging after work? According to Buffer's study on remote work, this is an issue that 22% of participants said they experience.
If you keep opening those work-related notifications beyond your working hours, you won't be able to unwind. We recommend trying Daywise. Not only will this app save you from interruptions after work, but while you're working, too. These are the main benefits of Daywise:
– Flexible batch timings: you can select time when you'll get your notifications and when you won't (during your personal time).
– Inbox: there's a Daywise inbox where you can find all unread notifications.
– Phone usage reports: you can even learn how you spend your time on your phone and which apps are your time wasters.
Maintaining your work-life balance is crucial for your productivity, but for your well-being, too. You can use Daywise: only for Android.
Final thoughts
Whenever you believe that there's a lack of communication or collaboration within your remote team, be sure to try these apps. Encourage your colleagues to use them, too. These tools will help you strengthen your time management and create social bonds with your teammates, so you won't feel lonely.