With the consequences of the pandemic continuing to affect how people work and live, countries that the virus has economically impacted are opening their doors to a reimagined way of work-from-anywhere life. Digital nomads, or people using technology to work remotely from anywhere in the world, are not a new demographic; however, the number of digital nomads rose 49% within one year. 
We are entering a time period of rapid change, as there is a decline of workers opting in for the stability and predictability of a 9-5 and that's only going to continue over the next year. During the present Great Resignation, companies are trying to do what they can to retain their employees and lure in more talent who will stay long term. Companies should be open to new ideas and broaden what they deem acceptable for their workers, such as going fully-remote.
For workers who are provided the option to work from anywhere, they should take full advantage and look into pursuing the digital nomad lifestyle.
What is a digital nomad? 
Digital nomads conduct their life in a nomadic manner, working remotely using digital telecommunications technology. These remote workers travel to different locations where they are free to work in coworking spaces, coffee shops, or even on the beach. Digital nomads rely on devices with wireless internet capabilities like smart phones to complete their work wherever they want. 
What are the benefits of being a digital nomad?
At first, working from home felt like a luxury many of us never thought we'd see, but now some are looking for upgraded scenery to break free of the traditional 9-5 and use their untapped freedom.
As a remote worker, this is the perfect time to travel to those exotic places you've only dreamed of visiting without even having to use vacation days! I feel very fortunate that I am able to do work from Egypt every few months and work in other countries. It's fun to have a photo of you working with Pyramids behind you! Here are some additional benefits to living the "workcationing" dream:
– Flexibility – As a digital nomad, you have the flexibility and freedom to set your own schedule, and leave when you want to. Flexible work hours are a key driver of productivity for remote workers.
– Control – There is control to take on the work you want and do the things that you love. You can set your work day around events, travel, and opportunities without asking for time off. As a business owner and digital nomad, I'm technically always on the clock, but that's not so far off from the demands of any other business owner, remote or not. 
– Integration of work and life – You can take a break to enjoy experiences without feeling like you are stuck in an office environment. Working from anywhere means I can literally do it anywhere.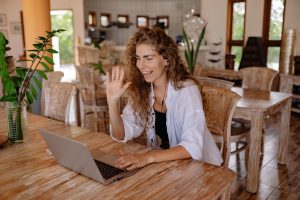 Are digital nomads the future of work? 
Digital nomadism will inevitably continue to expand. After the lockdowns, workers desire the room to roam more than ever. Countries that suffered while everyone was stuck inside are trying to take advantage of this future way of working. Around the world, governments are providing visas for digital nomads who would like to live and work in another country, and the current list keeps getting longer. 
Being a digital nomad is not without its challenges. It  takes self-reliance and a strong work ethic to keep at it when there are no pressures of an in-office job. It can be easy to take multiple breaks throughout the day and push deadlines back unless you have someone checking in on your work constantly.
You also have to be willing to be flexible. I work in whatever environment is available to me. As I travel, that could mean the space isn't as ideal as I would typically like—riding in a bus to another city as an example. You must create some sort of routine for yourself to make this work. While not everyone will be able to do this, the past couple years of working remotely has allowed for many to develop these routines successfully and I find that my employees have been able to create their own unique work day routines as well.
Many workers feel they can be more productive with their working hours when working from their unique environments. This, ultimately, is helping the workforce to reimagine the way we can continue working well beyond the days of the pandemic. 
What countries are currently offering incentives for remote workers? 
The list is continuously expanding, but as of now, there are 38 countries around the world that are offering digital nomad visas; countries include Georgia, Croatia, Estonia, Spain, Malta, Bermuda, the Bahamas, and others. It is important to note that each country has its own requirements, length of stay, and program cost. 
Another thing to consider is that being a digital nomad doesn't mean you have to work in another country for a certain length of time, you could go on a workcation to Europe or the Middle East, as I plan on doing in the future and just adjust your work schedule to the new time zone. You also could be a digital nomad right in your own home country. The ability to freely travel whenever may be the best way people can feel more comfortable trying out a new city or state, without feeling the pressure of uprooting their entire life. Some workers are even deciding to relocate to lower-cost locations within the U.S to save more money. 
If a more adventurous lifestyle sounds appealing to you, and you never want to use a PTO day again, then being a digital nomad could be the most rewarding way for you to live.