More firms and freelancers are increasingly seeking flexible office spaces for running their businesses. With more and more spaces dedicated to flexible and shared workspaces, coworking has become not just a form of work, but a lifestyle.
Coworking is an arrangement where workers from different companies share office space and anything that comes with it. That often includes utilities, office furnishings, and equipment.
Workers tend to work better and enjoy their time at work while coworking. Recent research shows that the number of people working in coworking spaces worldwide has nearly doubled since 2018. This trend is predicted to continue in the next couple of years.
Selecting the wrong coworking space might hamper your productivity and negatively impact your company's performance. 
If you run a B2B or B2C online business, you need an enterprise resource planning system to streamline your business operations. Before choosing a vendor, you need to understand ERP website integration first. Trying to find a coworking space is similar. You'd need to do your research and learn what to watch out for before deciding on the best one for your business.
Read on to learn five mistakes to avoid when trying to find a coworking space.
1. Focusing only on the rent
Rent is one of the most important parameters when finding a coworking space. Every business has a budget to use when working towards its SMART business objectives. So, although it may be tempting to go for the cheapest space, it may be a mistake in the long run. 
Here's why:
The average rent in a coworking space is $250 to $500 per month. It usually includes everyday expenses, like electricity, water, wi-fi, and cleaning, to name a few. Some places will charge extra for using office equipment like scanners, conference rooms, or 24/7 access to the site. 
So, you may end up paying a bit more than for the cheapest offer on the market, but it'll be worth it, considering the additional expenses you'd have to spend on anyway.
Try setting a budget and browse for places in your chosen location. Then, compare amenities included in the plans.
2. Not checking the internet and workplace facilities
Checking the internet when finding a coworking space suitable for your business is extremely important. If you're thinking of starting an online business, it's hard to imagine a productive day with poor internet access. 
A high-speed and reliable internet connection is essential in a modern working model. So, do yourself a big favor and check the internet connection in your future coworking office.
You need to check whether the coworking space allows installing access points or setting up an individual's wi-fi network. Avoid such places, as the internet speed is more likely slow. 
Also, you need to check if there's a dedicated VLAN for permanent members that will ensure a good internet speed for them. 
The next thing to check is workplace facilities. Think if there's any equipment that your business requires, like printers, scanners, or shredders. Other essential workplace amenities include a kitchen and meeting and conference spaces.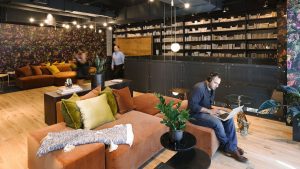 3. Neglecting coworkers
The main reason people seek coworking space is the need for social connections. Whether you are a solo freelancer or work with a team, you will use a joint space with other professionals. That can be great for sharing knowledge and experience.
Socializing encourages creativity and productive work. That is especially important for creative professionals, such as graphic designers, writers, software developers, UX or UI designers, etc.
You should, however, still find out what your co-workers do for a living before picking a coworking space. For example, if you're a writer, you probably wouldn't want to share the space with someone whose profession involves talking to people over an online phone system (e.g., a call center agent). Writing, after all, involves a lot of thinking.
4. Not choosing a convenient location
When choosing coworking spaces, think about how important location is to you. If it's just you that you're trying to accommodate, finding one near your home seems reasonable. Think about other factors like easy access or parking spaces if you have a team with you.
For a young freelancer who is only just starting in the business, a location close to their apartment would be a priority. On the other hand, a prestigious address near the major commercial and financial centers is ideal for a start-up that's trying to attract angel investors. The good thing about coworking spaces is that there's one for every type of business.
Using a map search tool to find coworking space in your chosen area can be helpful. 
The good news is that you don't usually have to commit to long-term plans with coworking. These spaces often offer flexible short-term plans. If your business needs to relocate its operations or needs additional space for new employees, you can find coworking space that suits your current needs.
5. Undervaluing security needs
A poorly designed, planned, or managed coworking space can be an easy target for security problems. Digital and physical security are critical factors to consider when finding a coworking space. 
Therefore not checking the security measures of the coworking places you consider to work from would be a mistake. The main security concerns include:
internet and data safety

security of your belongings

safety of your team

securing the property
Small businesses are often an easy target for hackers. Firewalls, network protection, and strong and often changed passwords will help you work safely. 
In closing
Finding a coworking space that suits your needs shouldn't be hard. Now you know which mistakes to avoid, you'll be able to find a new place for your business easily.
Remember not to focus entirely on the rent but to consider the internet, the security, and other workplace facilities. Good coffee and a nap room available on-site won't do any harm either. 
Choose your location wisely and enjoy the company of your coworkers. You'll be productive, too.