Dublin has recently been listed as one of the top hubs for global business. The Global Cities Report, which named Dublin as one of the top cities for business, ranks cities based on their attractiveness for both businesses and employees. And recently, Dublin has made some big gains in innovation, rising to the top as a leading destination for tech companies.
Since the COVID-19 pandemic hit, over a third of Irish businesses have been emerging stronger and ready to tackle the future. This makes Dublin a hot spot for working professionals, and as such, it is also becoming a great city for coworking spaces.
So, whether you are traveling for business to Dublin or live and work there permanently, there are plenty of coworking spaces that have a lot to offer, depending on your needs.
Here's a list of the top five coworking spaces, what makes them stand out, and who they are best suited for.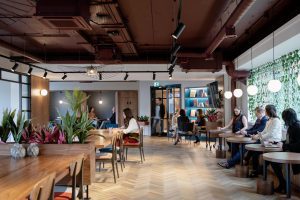 1. Fitzwilliam Court
Fitzwilliam Court is a freelancer's dream featuring modern design elements, vibrant workspaces, and a spacious breakout area and open plan layout. Of course, anyone or any business is welcome in this coworking space, but it is ideal for those who are on their own and looking to collaborate.
This space features innovative and collaborative spaces as well as high-end private offices that can accommodate between 4-100 people, allowing companies to scale up or down as needed.
Amenities-wise, Fitzwilliam Court offers fast Wi-Fi, relaxing lounge areas, free coffee, an onsite cafe, a kitchen, a Skype room, and personal lockers and showers. It's also wheelchair accessible and offers 24-hour member access.
With one of the best locations in Dublin, Fitzwilliam Court has easy access to Leeson Street, the Grand Canal, and Dublin's city center. It's also a short walk to all major transport links.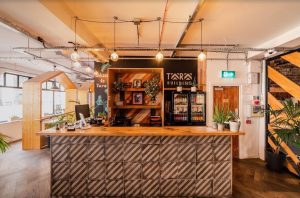 2. The Tara Building
The Tara Building is a three-in-one space. It is a coworking and events space and a community hub in the center of Dublin city, offering plenty of opportunities to network, socialize, create, collaborate, and grow.
For coworking, they offer hot desks, private offices, and meeting rooms with high-speed internet, printing services, a kitchen, storage, free refreshments, phone booths, bike storage, showers, and package management. Members can access their space 24 hours a day, 7 days a week.
The event space is beautifully designed and can be rented out for gigs, workshops, conferences, networking events, and more. It has a seating capacity of 80 or 200 standing and can be set up with or without tables and seating, sound equipment, and a pop-up wine or cocktail bar.
The Tara Building is also wheelchair accessible and provides technical and event support. And as this space is all about community and culture, they host plenty of get-togethers for their community, from socials, lectures, and workshops to swimming, yoga, and other mindfulness events.
Overall, The Tara Building's management team is dedicated to providing a welcoming and inclusive environment that supports business growth in one of the most colorful buildings in all of Dublin.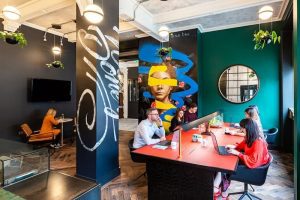 3. Iconic Offices – The Masonry
Iconic Offices' The Masonry coworking location is a truly unique property for flexible working, as its one of the rare, repurposed warehouses in Dublin City. Spanning six floors, the space comprises 40,000 sq. ft. of Georgian office space that is interconnected to 30,000 sq. ft. of brick and beam warehouse space.
The Masonry offers everything that professionals and companies require under one roof. From world-class IT infrastructure and on-site community teams to internal heated courtyards and a large event space, this creative space has it all.
Once a former seed warehouse, 151 Thomas Street is now a lively workspace, enhancing inspiration and creative productivity. Much of the original features have been restored and retained to honor the history and character of the building, while the workspaces inside have been modernized to meet the needs of today's business professionals.
This coworking space is quite eclectic when it comes to design, but it nonetheless great for those who simply need a well-quipped space to get their work done or host a meeting.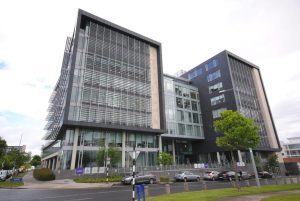 4. Regus – The Chase
Regus at The Chase in Sandyford allows freelancers and other business professionals to work alongside some of the world's leading tech companies. The space offers an innovative design and stunning architecture in the heart of Dublin's financial and tech hub.
Here, you'll find bright, professional workspaces and modern furnishings, with 20 private offices, 19 coworking desks, and one high-quality meeting room. And if you are networking or need to leave to meet with clients, there are excellent transport links nearby.
There are also a wide variety of other amenities in the area of Sandyford, such as restaurants, a racecourse, banks, supermarkets, hotels, and more. The area is one of the most popular business destinations in Ireland, though it is quiet and removed from the hustle and bustle of the city center.
Onsite amenities include wheelchair access, parking, showers, bike storage, 24-hour security, breakout areas, and a business lounge.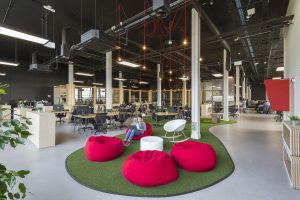 5. Talent Garden
Talent Garden is one of the most well-known coworking companies across Europe, with 21 different locations in 9 countries. It is considered a hub for innovators, startups, entrepreneurs, freelancers, investors, and even students.
The Talent Garden location in Glasnevin, Dublin, is a unique coworking campus and events space. It currently hosts around 350 members, offers flexible workspaces, spans three floors, and puts on hundreds of events annually. It's also known for creating an international connection for startups looking to expand and explore other markets.
The space is designed to promote creativity and productivity, providing the ideal environment for professionals wanting to innovate, grow, and connect.
Amenities include an onsite cafe and restaurant, an outdoor garden, high-speed Wi-Fi, a member's car park, a community kitchen, free coffee and tea, mail and package handling, a Skype room, personal lockers and showers, a phone booth, and break out lounge areas with beanbags, ergonomic chairs, and Bosu ball chairs.
Talent Garden is also dog-friendly and offers free beer and wine, karaoke, and a foosball table for entertainment.
—
As a major city and a hub for business and innovation, Dublin has it all — and there is a coworking space for everyone, no matter your needs or preferences. Each one offers something unique, and most are located close to other amenities with easy access to transport links, making your commute time a breeze from anywhere in Dublin city.
We encourage you to further investigate the coworking spaces above to find the right one for you, or you can also check out the full list of flexible workspaces available in Dublin on Coworker!