Nothing has ever stopped Denise from pursuing her dreams, and nothing ever will. Originally from Duesseldorf, Germany, Denise Yahrling is an entrepreneur traveling the world and working as a freelance videographer, editor and writer. Denise's heart and soul is her blog, where she creates and writes videos about mindful travel, living with Cystic Fibrosis and other subjects that inspire her. Read more about her adventures here!
What are you working on right now?
Since I released my very first book a few months back using the Crowdfunding platform "Startnext", I am now working on translating the book into English, which up until now has only been available in German. Life Happens for You is an autobiographical story about my travels, my life with Cystic Fibrosis with all its ups and downs and the journey to finding my path in life. I am also working on two other new projects, which are still a secret. 😉
What is your current desktop wallpaper? and why?
My wallpaper currently shows a photo that I took in Dahab, Egypt, where I spent 3 weeks in November of last year. I took part in the DNX camp, where I met the most amazing people imaginable. This place and the people really inspired the heck out of me. <3
Which book has shaped your life or changed the way you think the most?
There are 2-3 books that have really shaped me and that have changed my life, but I guess the one that really struck me and fundamentally changed the way I think would be The Alchemist by Paulo Coelho. This story actually inspired me to take a path in life that led me to creating my own book and to really understand what life is all about.
How do you start off your day — aka what's your morning routine?
First thing's first: I make my bed 😉 After that I do a round of yoga and stretching, listening to some chill music and getting some breathing exercises done for my lung condition. Then I take a shower (always the last half minute with ice cold water), then I meditate for a half an hour to hour (only since the meditation retreat I did a few weeks back), have breakfast, do my therapy (inhalants for my lungs) and then start work.
What is one thing you do to get motivated?
I guess my morning routine really takes care of that. Usually I'm super motivated to get things done, because I mainly work on stuff I really like to do, but if I ever feel unmotivated, I just imagine what it will feel like to have already finished the task and really visualize the feeling I will have. I also try not to push off the things I don't like to do anymore, but to get them done sooner rather than later.
What made you smile today?
During my meditation this morning–thinking about how grateful I am for every moment, my family, my friends, my health and all the amazing things in my life.
What is something you think everyone should try at least once in their life? Or name one skill you think everyone should have or learn?
I think the most important skill or something that everyone should try is to look inside themselves instead of "looking for something" on the outside. I believe that everything we need in life comes from within and if we do not know who we ourselves are on a deep level, we can never reach our full potential and enrich the world with what we have to share.
What is one skill or hobby you've been meaning to learn but haven't had time for?
I've always wanted to learn how to play the guitar, but since I haven't gotten around to it, there's probably a reason for not having learned yet. Maybe there will be some time in the future when it's meant to be. 😉
List 3 simple things in life that make you really happy:
Deep and open conversation with loved ones or new and inspiring people.

Experiencing the unique beauty of this world while traveling.

Jumping into those moments in life when you take a risk even though you're scared as hell to do so–falling is the best part.
What is the best thing that you have done, just because you were told you can't?
Travel to Colombia all by myself and take part in a 10-day silent meditation retreat without losing my marbles or getting kidnapped along the way.
What is your favorite coworking space and why?
"Nectar" – a rural coworking space in the Les Guilleries mountains outside of Barcelona, Spain. It's the most beautiful location and has the best conditions to really concentrate, since there is absolutely nothing around to distract you, except maybe the beauty of the surrounding nature.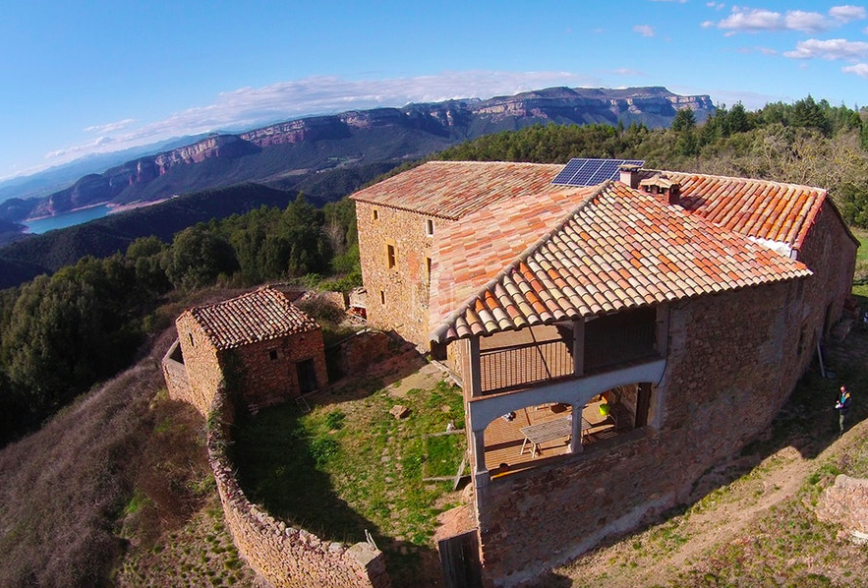 If you had the opportunity to spend a week or month in another country to be your office of the week/month, where would you go?
I guess somewhere really calm and quiet, right by the ocean with a rugged landscape, with not a lot going on around, not too hot, but sunny and warm–maybe the north of Spain in the beginning of summer?
Biggest item on your bucket list at the moment?
That actually involves one of my two big secret projects at the moment.. which will be revealed very soon!
As a Digital Nomad/Entrepreneur. If you were stranded on a deserted island, what three things would you have and why?
I guess, if I had Wifi, it would be: my laptop, my camera and my notebook. 😉
What was your first job? Has it shaped where you are today?
My first paid job was actually in a small atelier working as a seamstress. It has absolutely shaped where I am today, as does everything we do in life at any given time. Without that job, I wouldn't have created my first tiny business altering clothes for clients and I would never have learned how to serve customers. I would also not have known that "creating" is essential for me and my life.
Any advice for your previous boss?
Yeah, but it would probably be life advice more than anything else 😉
What's your favorite part about coworking?
Feeling connected to like-minded people, no matter where I am in the world.
What is your go to pump up song?
To be honest, "Wake Me Up" by Avicii, because it reminds me of my first-ever solo backpacking trip I went on a few years back. It came out on the radio during that time and it reminds me of a jump I took off a cliff into the ocean in Portugal.
Anything else you would like to add?
I am super grateful for this community of amazing, like-minded and inspiring people and I am so happy to have found this path to being able to work remotely. And I am also very excited about where this path is taking a whole new generation of workers, travelers and entrepreneurs!

www.travelousmind.com (Blog)
www.daslebenpassiertfuerdich.de (Book)
www.deniseyahrling.com (Online Portfolio – mainly in English!)
www.facebook.com/travelousmind (content sometimes in English)
www.instagram.com/travelousmind (English)