Named one of the best coworking spaces in New York City by Time Out Magazine, The Farm Soho continues to be the go-to spot for remote professionals in hustling and bustling Manhattan.
Offering 5,000 sq. ft. of loft space to its members, The Farm Soho's farm-inspired interiors make this unique shared office feel like you've left the big city for a retreat in the countryside.
Coworker caught up with Alara Aydar, Operations Manager at The Farm Soho, to learn a little more about the industry for shared office space in NYC and the reasons why The Farm has remained a game-changer since its founding.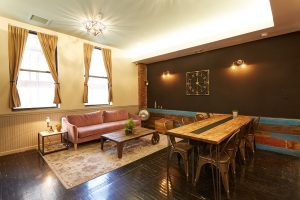 1) Being one of the biggest cities in the world, New York City is saturated with flexible work spaces. What sets The Farm apart from other shared offices?
We have a very boutique, hands-on approach with our members and try to stay away from the cookie-cutter office model. All of our locations have a different ambience and a different offering depending on what the community needs. We offer all types of different setups, such as enclosed offices, glass walls, or hybrid models of open space.
We also study the company culture of a potential member and reflect on it when curating their workspace to fit their exact business needs. Last but not least, we have a fully automated— from-beginning-to-end— onboarding system, and we are open 24/7 and pet-friendly across all of our locations, which makes The Farm stand out amongst others in a saturated competitive market. 

2) When was The Farm started and what was its mission from the beginning?
We are one of the first players in the coworking market since we opened our first location, The Farm Soho, back in 2013. Our mission has been bringing value to the table for the community by creating a workspace where members feel at home and are able to focus on their booming businesses. As The Farm, we capture the nuances of what businesses really need and how we can serve that. Even with expansion of three locations across NYC, we have managed to stay true to our goal of bringing value to entrepreneurs, digital nomads, startups, and large companies by creating the perfect work environment that nurtures all types of businesses.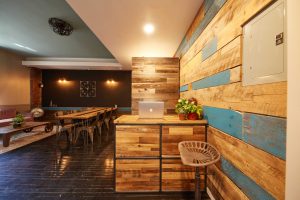 3) The coworking and shared office space industry has recently experienced a trend in larger spaces than ever before, as well as brands expanding to multiple locations. How will The Farm keep up with these trends? 
The market is indeed very dynamic. As the market changes, we give quick responses to trends and adjust our business model accordingly to serve the community needs in the best way possible.
Recently, we have introduced a turnkey product model that allows companies to expand to other locations across NYC and make any workspace their full-branded floors. We curate a bundle of opportunities to choose from across NYC as a base to build upon, study the members' business culture, and then customize the workspace to perfectly fit their needs. With this turnkey model, our members won't have to worry about finding an office space, getting qualification, or office maintenance, as all of that is taken care of by The Farm. Our model is developed to take all office-related burdens off our members' shoulders, as we all know moving is a struggle in NYC. It also means endless opportunities for expansion to wherever they want and have a workspace hub exclusively built for them by The Farm. Now it's time to just sit back and relax as we make finding the perfect workspace a breeze.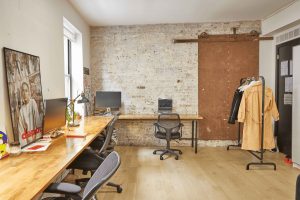 4) What about The Farm's spaces are "game-changing" in the world of coworking? 
Private office space has a lot of advantages for businesses; however, sometimes traditional private office spaces prevent companies from having immediate connections to a broader business or client network, especially if they are isolated in a private workspace.
In order to prevent that, we, at The Farm, offer private offices with shared common amenities and access to our thriving community through motivation-driven engagement initiatives. We are not only providing a workspace, but also a community that our members feel a sense of belonging within. That's why our members have come to call The Farm their home and are surrounded by an amazing group of people that they can reach out to develop mutually-beneficial relationships, which can serve their business goals. We encourage our community to connect with each other through community events and our exclusive architectural design, which offers common areas where members can connect. We are also very tech and process-oriented to make everything easy and accessible for our members, such as onboarding, ongoing customer service, and community engagement.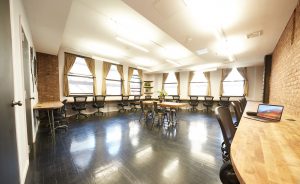 5) What are the main advantages of shared office space for remote professionals?
Working remotely comes with a lot of costs, such as high speed Wi-Fi, time or money invested in cleaning and maintenance, all the hustle companion coffee cups, printing etc. Not only that, it might have an impact on a professional's motivation because they might feel a little out of place or isolated.
Having an office space for remote professionals has a positive impact both on the performance through motivation and business, as it highly reduces costs. At The Farm, our office spaces have all-inclusive, ongoing services and amenities, which include cleaning, Wi-Fi, printing, unlimited coffee & tea, mailbox and address services, conference room and phone booth access, and 24/7 availability.
Additionally, our members benefit from Farm Perks & Partnerships, such as discounted headshot photos, an in-house tailoring service, and discounted day bookings at hotels. Having a shared office space also allows remote professionals to be a part of our community from which they can develop partnerships or land clients, thus providing great value for businesses.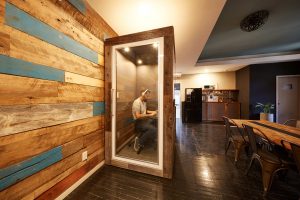 6) What do The Farm's members love most about the space(s)?
Our members most love the ambience we create at our spaces. At The Farm, ambience is not just created with the decoration, although they do love our exclusive 'rustic Americana' vibe that we have at our workspaces. We create the ambience with our exclusive design, fully automated smoothly operating day-to-day and onboarding processes, community engagement, friendly on-site staff and pet pals walking around the workplace since we are pet friendly across all of our spaces. These pillars create the perfect workspace for our members to be motivated and productive.