Does working in a holiday destination location sound like "the dream life" for you? Admiring the amazing views and lounging in the cool sea breeze while getting your work done is definitely a dream – and now it can be true thanks to all the great coworking spaces in tropical paradises.
You might think this type of flexibility is only for freelancers. Not necessarily. Whether you're a startup CEO, a remote worker, or a self-employed who hasn't had the chance to take a vacation in forever, coworking is your chance.
Coworking spaces offer the possibility to work from everywhere. So now is the perfect moment for you to take a work holiday.
What is a work holiday?
Yes, a work holiday. It means you pick a place you've always wanted to visit and the perfect working space in that location: like a tropical paradise destination, for example.
All you have to do is pack up your bags and enjoy your surroundings while also being productive. Sounds like a win-win solution, doesn't it?
If you're looking for some coworking spaces a few feet away from the beach, then let me give you some great ideas of a few working spaces you might enjoy: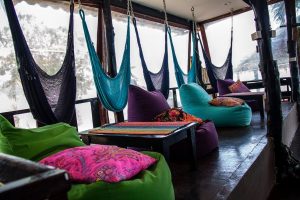 Located on the beautiful island of Koh Phangan, Thailand, this coworking space offers the perfect combination of work and fun. Some basic facilities included are: fiber optic wifi, beach access, shower, free coffee, AC, onsite restaurant and much more.
You can either get a beanbag to get your work done on the beach or choose a nice desk to stay indoors. Whichever office setting works best for you.
Tip: You can maybe bring your cat to work, as beachHub is a cat-friendly office space!
For your lunch/coffee break you can stop by Karma Kafe, a great coffee shop with some vegan and vegetarian lunch options. You can also  go for a cheap eats place like Petty's Place or choose a more fine dining place like Chez Francois.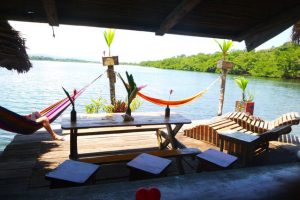 Located in the southern tip of Isla de San Cristóbal, on the Bocas del Toro archipelago in Panama you can find the remote tropical paradise CocoVivo.
This coworking space can accommodate 20 people daily. It offers both indoor offices and amazing outdoor working and relaxing spaces. If you prefer working and living in the same space, this is also a possibility at CocoVivo.
For a relaxing break from work or after work, you can either enjoy the cool breeze of the Caribbean sea or go for a hike in the jungle nearby. This location offers you the nature in its most natural and unspoiled form. Take it all in!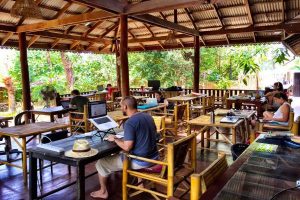 KoHub is based on the beautiful island of Koh Lanta, off the southwestern coast of Thailand. It's a great place for a working vacation, as it's located just near the Phra-Ae (Long) Beach. You can take a stroll along the beach on your lunch break and stop by one of the many restaurants, bars and coffee shops there.
Kohub is a shared coworking space with 24/7 access that offers a wooden deck with fans and desks. The perfect setting to get some work done while also enjoying the tropical breeze, right? The coworking space has indoor fanned offices as well as meeting rooms.
There are a lot of activities to entertain yourself with once you've finished with your workload. To name just a few such fun activities, there are: snorkeling, diving, Maui Thai and yoga. If you're less of an adventurer and more like a social bee you can join the many social events and community projects available, like: KoHub & Phra-Ae school english assistance initiative, Trash Hero Bottles and their weekly beach cleanups and Sea Grass Planting Trips.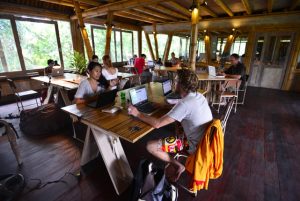 The beautiful village of Ubud in the uplands of Bali, Indonesia hosts Bali's first coworking space. Hubud is widely known for its strong sense of community and collaborative environment it offers to its digital nomads.
This coworking space hosts a number of almost 200 freelancers daily. Its bamboo design and open-plan space offers the perfect setting to combine working with socializing, while also having the sense that you're on holiday.
In terms of amenities Hubud offers: a fast internet connection, printers, scanners, copiers, personal lockers and a skype booth/conference room for meetings.
For your lunch break, there are plenty of restaurants to choose from. There's Moksa Plant-based Cuisine & Permaculture Garden, which offers a wide selection of delicious Asian and Indonesian cuisine.
For your coffee break, you can stop by Seniman Coffee Studio and get a refreshing iced coffee with a delicious baked goodie on the side.
Of course, on the beach you can stop by one of the many granola stations, organic coffee places and natural juice bars around.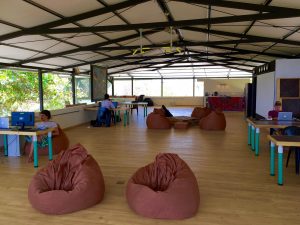 Skyloft is located in in Playa Hermosa of the Santa Teresa / Malpais area in Costa Rica. It's a modern coworking space, also great for all kinds of social events.
Bonus tip: Skyloft is known for having the fastest internet on the island, which should come as a great news for you.
For your breakfast or lunch, you have plenty of eating places you can stop by and check out. Here are just a few of them:
Aqua Sport

is a great place to have your lunch on the beach

Sandbar

is the perfect option for a quick breakfast or lunch

For your coffee break, there's an amazing coffee place called

Ticoffia
Some of the basic amenities available at Skyloft are: the lighting fast internet mentioned above, kitchen, standing desks, onsite restaurant, trampoline, beanbags, printers, scanners and an option for co-living accommodation.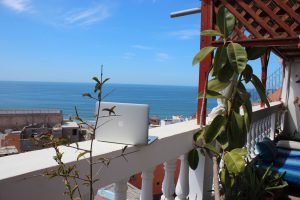 Sundesk Coworking space is located in Taghazout, a delightful seaside village in the north of Agadir, southern Morocco. Taghazout is a lovely village that kept its peaceful Moroccan vibe despite its radiant tourist influence. Life unfolds slowly around here, with plenty of naps and beach walks. This might be the perfect place for you to take a little work break from the everyday intense and hectic city life.
This coworking space offers some great on-site facilities, such as: outdoor terrace, ergonomic chairs, skype rooms and a library. In terms of equipment the space offers: standing desks, ergonomic chairs, printers, scanners, photocopiers etc.
If you're more of a type-A personality you might enjoy some more adventurous activities to do after work. If so, Sundesk has some interesting options for you, such as: surf sessions or lessons (if you feel in the mood for learning something new), take a yoga class for some body stretchings, you can also go for a jogging on the beach, go on a hike, horseriding or jet skying. It's up to you.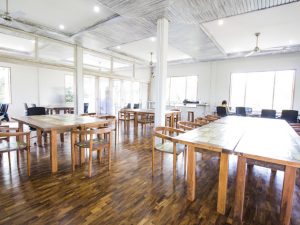 Outpost is the largest coworking space in Bali, based in Ubud, Indonesia. It's a two story building offering both coworking spaces and shared offices. For those who prefer large coworking spaces, with indoor garden spaces and deck spaces, this can be the perfect working spot for you.
A few of the great perks of choosing this coworking space to be your temporary office are the services provided. They deliver you fresh mango and coconut juice to your desk. Also, you can fix that stiff neck you got after a few hours standing at your desk by getting a massage from the masseuse on staff. Isn't that perfect?
Outpost offers quality onsite equipment, like: Mac and PC computers, photocopiers, scanners, printers, sound recording equipment, Skype room, ergonomic chairs, standing desks etc.
These are just a few of the options you have for your Tropical Paradise working vacation. Are you enthusiastic? Pack your summer clothes, your bathing suit and don't forget your sunscreen. There, you're ready now.