The chaos and community of a huge metropolis are great, until they aren't. Living in a hyperactive city like Saigon or New York has that go-go-go vibe in the air and a collective hustle that can help you drive growth in your business. Unfortunately, the excessive stimulation can also wear down your senses over time. The chaos that motivated you when you first arrived, can later exhaust you.
When this happens, one of the best ways to recharge is to spend some time in a place with less people and a more relaxed vibe. The big drawback, however, is that traditionally this has meant a decrease in networking opportunities and infrastructure. Fortunately, this is no longer the case.
Coworker.com has just released a new 'rural escape' search function that allows you to view coworking spaces in rural areas. While this tool is available for every region of the world, in this post we're going to take a look at the top rural coworking spaces in the US.

The Hive 44 is an established coworking space located in Fenton, Missouri, just outside of St. Louis. Don't worry though, there's no crime going down in this community. Only good vibes are allowed at The Hive 44. The owners of The Hive 44, Cheryl and Don, do an excellent job of fostering a supportive community here.
From the moment you walk in, you'll be immersed in a nurturing environment. From the plants surrounding you, to the friendly professionals working alongside you, there's a sense of harmony in the coworking area.
Members bring an immense level of professionalism to the space, without the unnecessary bureaucracy and drama often found in corporate work environments. Yet, all of the infrastructure and amenities you'd expect in an office environment are still available to you. You'll be well covered whether you need speedy wifi, a kitchen, a printer/scanner/photocopier, or even just a place to share coffee and clear your head. There's even rumors of an aquarium for members to gaze at…
Monthly memberships at The Hive 44 are cheap, starting at just $150/month. Plus, Fenton, Missouri is well known for its abundance of parks. You'll have no difficulty finding a relaxing place to surround yourself with nature and stroll through after work.
Incutate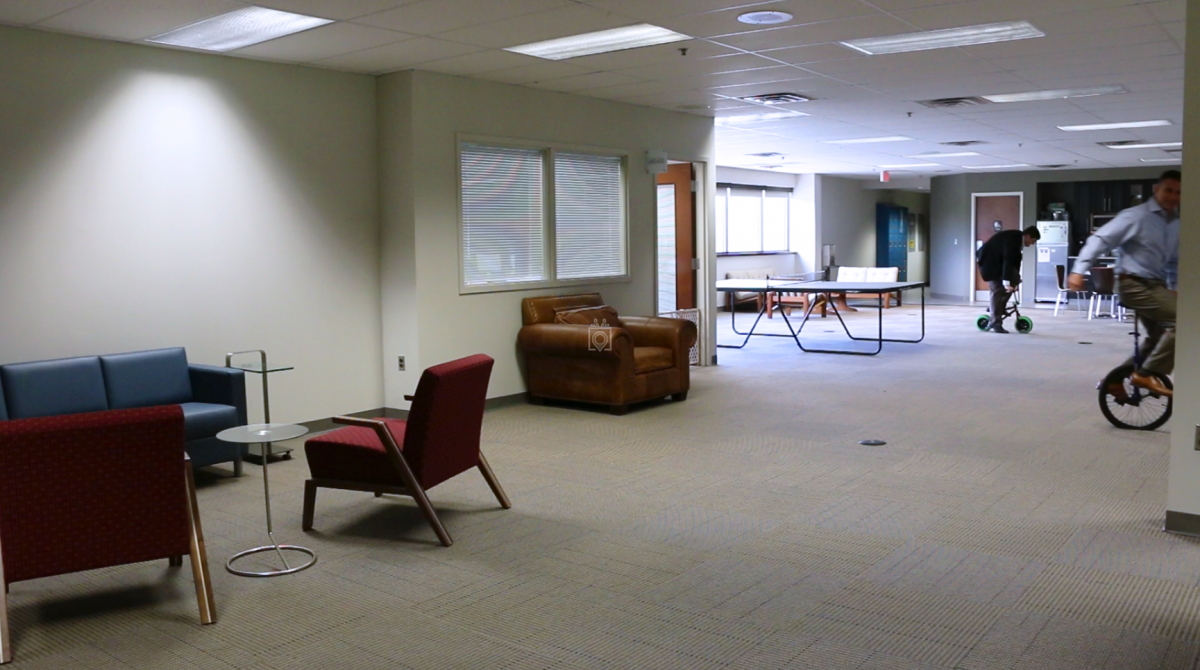 Is that a pingpong table and a man on a unicycle? You bet. Incutate has to have one of the coolest lounges of any coworking space out there. You'll have no shortage of leisure options when you need to blow off a little steam. You can play ping pong, enjoy a free cup of coffee, or use the kitchenette. You can even take your dog for a walk! That's right dog lovers, Incutate is dog-friendly.
However, Incutate isn't all about fun and games. It's also an excellent value workspace. With ergonomic chairs and 24/7 access (for members renting offices), you'll have no trouble pulling long hours during crunch time. There's also a Skype room, high speed wifi, and other standard office amenities to ensure you make the most of your time working. Community events are included in your coworking membership too.
These events are a great way to deepen your friendships with the friendly community. At just $200/month, Incutate is a hidden gem in the town of Sewell, New Jersey. As the only coworking space in this town of 38,000, you're getting a great value. Oh, and there's one more thing you should know. Incutate even has a fully equipped gym on-site. Here's to building your dream body as you build up your business.

Although it may be Maine's fifth largest city, Biddeford has a population of just over 21,000. Despite being located in a sleepy rural location, coworking at Think Tank is booming. Choose from one of the many types of memberships that's just right for you, and reserve your place in this dynamic community.
With techies, entrepreneurs, and freelancers working in a variety of industries, Think Tank is truly multidisciplinary. As a result, collaboration trumps competition in this space. World class facilities will be available for you to take advantage of as well.
Seating options include both ergonomic chairs and standing desks. High speed wifi, a kitchen, a lounge, and standard office supplies are yours for the taking too. Plus, all of this is available to you for just $125/month.

1253 Whitney is a coworking space located in Hamden, Connecticut. If you're bootstrapping and need value for your money in a coworking space, 1253 Whitney could be a great choice for you.
With high speed wifi, a lounge, and free coffee, this coworking space covers you with all the basics you need for a productive day of work. There's also a great sense of unity in the community. Members want to build their individual businesses of course, but they're also friendly and genuinely interested in getting to know each other.
Educational and networking events are periodically held for members of the community. Plus, members often collaborate, or hire other members for their services as well. If you'd like a comfortable place to work and easy networking opportunities, you'll likely benefit from becoming a member of 1253 Whitney.
At just $75/month, you're getting a screaming deal. A daily cup of coffee at your favorite cafe would likely add up to more than that over the course of a month. Instead, take advantage of the complimentary coffee at 1253 Whitney, enjoy all the other benefits of the coworking space, and still save money! #ValueForYourMoney
Honua Studios

Located in Kailua, Hawaii, working from Honua Studios is as pleasurable as it is productive. You know you're rocking it in the work/life department when your coworking space has a lounge area, foosball table, and even storage for your favorite surfboard.
Rest assured, however, that this work/life balance doesn't mean you'll be putting your work on autopilot. In fact, Honua Studios has all of the infrastructure to ensure you'll be building your business more quickly than ever before.
With 100Mb wifi, standing desks, and ergonomic chairs, you'll have no trouble hustling. Add in the community events, and you'll easily establish the business connections you need as well. An individual desk currently costs $350/month.
Conclusion
As you can see, building up your business doesn't always have to be done in a huge metropolis of 10,000,000 people. There's countless rural escapes where you can escape the big city chaos, but still have all the infrastructure and connections you need to succeed.