With thousands of shared workspaces operating in cities large and small, it can be challenging to find the most interesting office spaces and creative coworking spaces now available.
By the end of 2019, real estate experts predicted there would be close to 22,400 coworking spaces in the world, with the total number expected to expand throughout 2020. That's a lot of shared offices! From Latin America and Canada to New Zealand and Thailand, there's hardly a country in the world without at least one cowork space.
To stand out in the vast sea of shared workspaces, many operators have stepped up their game and created unique coworking spaces with extremely interesting office designs and member structures. Whether you want to work from a space that's also a cooking school or set up shop in a Russian ballet academy, there is no shortage of interesting office spaces out there.
As you begin to search for the most unique workspace that goes above and beyond your expectations, where do you go to find out about the most creative coworking spaces in the world?
At Coworker, we want to take the pressure off of your search by showing you some of the most unique coworking spaces in operation today. Let's dive in to some of the world's quirkiest cowork spots!
Check out the world's most interesting and unique coworking spaces!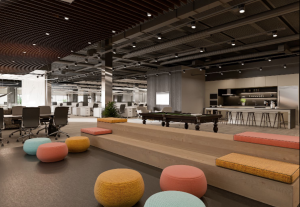 1) M Club — Markham, Canada
If you expect more out of your coworking culture and want to feel like you're joining a members-only club, M Club might just be the perfect space for you. This luxurious private club is designed to serve people who are working, living, and commuting in the York Region. M Club provides a unique platform that allows everyone from business professionals, community leaders, creatives, founders, change-makers, and investors that want a place to connect, engage, and grow. With the mission to become the premier space in the York Region, this creative coworking space offers unparalleled professional and lifestyle services, along with amenities like no other private membership club in Toronto.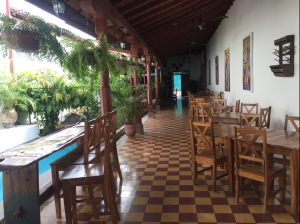 2) TASTE Building — Granada, Nicaragua
If you're in need of a getaway and want to sharpen your chef's skills, head to TASTE Building in Granada, Nicaragua for a truly unique coworking space experience. Run by Chef Gert Rausch, TASTE offers coworking members three awesome options: "Cooking School" on the first Saturday of each month, a large-scale event center for private parties on weekends, and plenty of space for coworking during the weekdays. The building also has five apartments for rent, making it both a coworking space and a coliving hub. If you're in need of a coworking experience in a destination that feels like a total vacation, this quiet, peaceful space in Granada is perfect for you — and for budding chefs and foodies!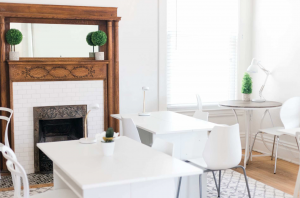 3) momHIVE — Grand Rapids, Michigan, USA
For mothers wanting to join a creative coworking space where they can both work and keep an eye on their little ones, momHIVE is an awesome option. Located in southwest Michigan, momHIVE offers on-site supervision for children aged 0-5 in an effort to support work-at-home moms. Members can make use of the space's on-site childcare for up to four hours daily, so they can focus, network, and connect with the greater community of remote working women in Grand Rapids. This unique opportunity makes it easy to grow your business all while enjoying being a hands-on parent.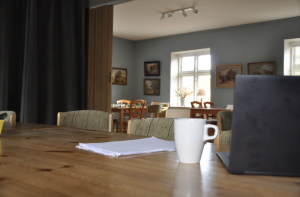 4) Kontorscafé — Södra Åby, Sweden
Upon first glance, you may be wondering why we included this seemingly homely space on our list of the world's most interesting office designs. At Kontorscafé in Sweden, it's not so much about the interior design as it is about the interesting membership structure. Working from Kontorscafé is completely free! That's right — it doesn't cost a thing to work from this charming coworking space, which is situated in the small, cozy Swedish village of Södra Åby. All you have to do is show up, brew your cup of tea, and get down to business, all without paying a penny. It doesn't get much more unique than that!

5) 'SCAPE — Lisbon, Portugal
Want one of the most beautiful views in the world at your workplace? Then head to 'SCAPE in Lisbon, Portugal — a stunning space that's situated right on the water. This interesting office space is actually located in a warehouse in Doca de Santo Amaro, a marina that is known for its variety of restaurants, waterfront environment, and water sports scene. With easy parking and great accessibility, 'SCAPE is a mere step away from the Tejo River and a paddle club. Plus, did we mention the space has a lounge facing the river for members to relax in after the workday has ended?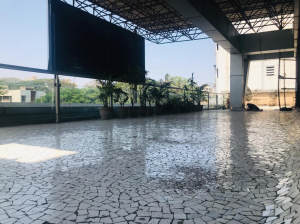 6) Studio By The Lake — Mumbai, India
If you've been feeling a little overwhelmed by the massive amount of available coworking spaces in Mumbai, why not head to one that's a bit more quirky than most? At Studio By The Lake, you'll be working from what is essentially a Mumbai-based Russian Ballet Dance Academy. This dance studio has officially opened their doors to startups looking for a shared workspace in the city. The studio not only encourages interested members to indulge in ballet services and classes, but also to participate in the studio's various dance performances and events. In particular, this unique coworking space hopes to draw members who are either yoga or dance instructors willing to teach classes as part of their membership structure. Time to get your dancing shoes on!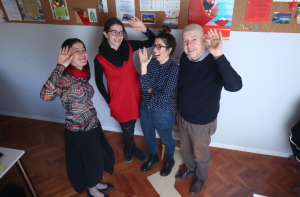 7) Arhitektonski Kolektiv — Split, Croatia
If you've been missing your old coworkers at your old desk job, you can gain a set group of new colleagues at Arhitektonski Kolektiv (Artist Collective). Undoubtedly one of the most unique coworking spaces out there, joining this shared office means joining a team of three permanent colleagues: Morana, Mario, and Mariana. These longstanding colleagues and friends wish for new members to participate in their lunch ritual, where the group cooks healthy food together every day at 2 p.m. After the workday ends and Morana has finished her daily DJ duties, the group typically heads to Basket, a neighborly pub for after-work drinks. Don't just join a coworking space — join a community of friendly colleagues!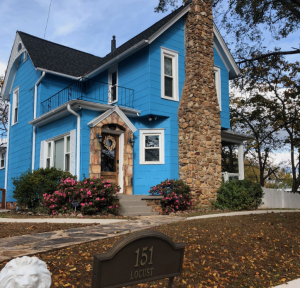 8) Blue House Wellness — Atlanta, Georgia, USA
If you are a mental health professional looking for a place to host clients, Blue House Wellness may be just the space you have in mind. Located on the outskirts of downtown Atlanta, Blue House Wellness offers a quiet, calm space where members can have sessions with clients in its fully furnished, therapeutic offices. Even if you aren't in the mental health field, Blue House offers a unique coworking space where you can quietly get work done in a domestic setting. Plus, this interesting office space has a beautiful yard and porch for extra relaxation during the workday! At Blue House Wellness, you'll be sure to find (and help others find) inner peace.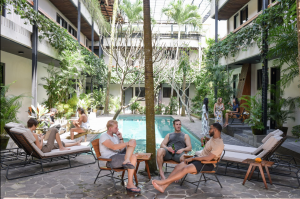 9) Outpost Ubud Penestanan — Bali, Indonesia
Where can you go to cowork where you can simultaneously sit by the pool, participate in yoga class, or relax on a sun lounger? The interesting office design at Outpost Ubud Penestanan in Bali encourages you to do all of these things and more. Designed with digital nomads, creatives, and global citizens in mind, Outpost Ubud Penestanan is a coworking and coliving facility that comes complete with 68 unique workstations. This jungle oasis also offers events from parkour and salsa to advanced marketing and geopolitical events. If you want to feel like your workplace is also a real-life vacation, this creative coworking space is just for you.
——–
Want to know more about the world's most interesting and unique coworking spaces? We've got plenty more where these came from in our network of over 13,000 coworking spaces. Drop us a line to find out more about some of our top unique coworking spaces all over the world.