Digital nomads are not a new thing. In fact, this alternative type of working professional has been influencing the shared workspace industry for quite some time now. 
From the rise in coworking spaces located in cities all over the world to "van dwellers" and nomads on wheels, the way we think about where and how we work is heading in an exciting direction. No longer limited by geography, young professionals can run a home office from wherever they can catch a Wi-Fi signal or data coverage.
But what are some of the challenges of living a nomadic lifestyle, and what kinds of innovations are coming out of the digital nomad revolution? Let's look at some of these challenges as well as the different ways that coworking and mobile living spaces are helping to redefine the workspace.
What are some of the challenges of being a digital nomad?
Although many people may see the life of a digital nomad as a dream, it still takes a lot of hard work to maintain the lifestyle. These are a sample of the types of challenges digital nomads face when living on the road, whether domestically or abroad.
Managing personal finances and taxes
First, you need to be able to maintain consistent employment to pay for your travel, lodging, and other personal expenses. Whether you are a contract worker with a schedule to maintain or a freelance worker who does more "gig" based assignments, making sure you have enough income can be a struggle if you don't have a set paycheck and a 9 to 5. 
The online world is full of scam jobs that need to be detected and avoided. Digital nomads should always look for job offers made with freelancing contract templates that include critical features such as the scope of work, payment terms, and signatures from all parties involved.
Also, you should never need to pay any money upfront or receive a check in the mail that you need to deposit before employment begins. This is a classic scam that has financially hurt a lot of people who work online. 
Aside from avoiding scams and maintaining a steady cash flow to pay for expenses, digital nomads also need to navigate how to pay taxes not only in their home country but often in other countries when living abroad.
Doing taxes is already complicated enough, but when you are running your own online business and traveling and living abroad, it can make your taxes extremely difficult.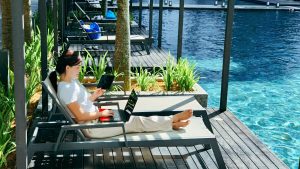 Maintaining a consistent routine
With freelancers, sometimes you will have no work at all, and sometimes you will have so much that it's hard to keep up. The ebbs and flows of working as a freelancer, mixed with travel, can make it difficult to maintain a consistent routine. Keeping some type of routine is fundamental to mental and physical health that is already pretty difficult to maintain as a digital nomad. 
Having access to healthcare
The types of work that many freelancers do typically don't include any type of healthcare coverage. Although there are several plans designed specifically for digital nomads, they can sometimes be too expensive or have strict coverage terms that make them pointless when injured abroad. 
Dealing with loneliness, burnout, and maintaining mental health
Living on the road can often be lonely while being far away from the comforts of home, especially your friends and family. Burnout can happen a lot as well. Pulling long hours for weeks at a time, and at the same time trying to catch flights and buses, or make RV repairs and dealing with breakdowns can be exhausting and start to take a toll on your mental health.
Coworking spaces can be a great place to work amongst people who are going through all of these same experiences and that share common goals and interests. 
Whether you are traveling internationally or driving a renovated bus across the countryside, coworking spaces can be great places to help fight off loneliness and burnout. 
So, what exactly are coworking spaces, and how do you find them?
What are coworking spaces?
Coworking spaces offer a positive work environment that allows digital nomads to share facilities and services with other professionals who have similar interests and who are having similar experiences. Workers can come to enjoy a coffee, get some work done, and collaborate and socialize with other workers who may be traveling to various locations around the world.  
The best part of coworking spaces is that they have been popping up in cities all over the place. Whether you are in Mexico City or Bangkok, when you first arrive and do not know anyone, you know that you can always find a coworking space to meet new people while being productive.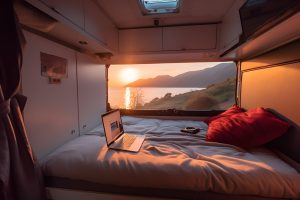 What are mobile living workspaces?
Some digital nomads who prefer the open road to the skies have been creating their own mobile living workspaces where they can sleep, cook, relax, and work. When they are ready to move on to the next spot, they simply pack up and drive. 
The term "van dwellers" has been used to describe the types of digital nomads who drive the countryside visiting national parks and other remote areas or cities while also finding other "van dwellers." Some of these digital nomads have formed small bands of professionals who form small communities and/or travel as a pack to share experiences and support one another. 
The types of vehicles used to create these mobile living workspaces include a variety of vans, RVs, and renovated buses. Some of these setups can be quite cozy and basic, but some of them are designed and constructed with complete luxury amenities.  
If you are considering ditching the 9 to 5 and constructing your mobile living workspace, then you should see what kind of innovative creations people are coming up with these days. 
Conclusion
If you are looking for a comfortable mobile living workspace with more room, then going the RV or renovated bus route is the best route. Many digital nomads are converting these spaces into luxury accommodations, complete with kitchens, bathrooms, multiple desks or workstations, and even fully equipped recording studios and laundry units. 
These larger, more comfortable vehicles are great for customizing your space depending on your work, how many people are traveling together, and how you want to live. They can include anything you need to work and travel while living comfortably.