Since the pandemic, businesses and professionals have taken a drastic turn in how they manage business operations. The need to protect employee health paved the way for more flexible working arrangements and environments to come into play. Currently, coworking spaces are the most popular workspaces utilized by companies of varying sizes to maximize workplace potential and reduce overhead costs.
However, owning a coworking space has its challenges, especially when you are expected to cater to professionals coming from different walks of life and working for different companies. If you own a coworking space, it is almost undeniable that running it alone will be too much of a struggle because of the many responsibilities that come with managing one. 
Because of this, the extra hand of a coworking space community manager will come in handy. Some owners would think that hiring one will only be an added cost for the business, but that's only because they do not fully grasp what a coworking space community manager can do.
If you own a coworking space, here's a list of what these fantastic professionals can bring to the table.
#1 – They manage the coworking facility
Depending on the size and funding of your coworking business, the services and equipment they offer can vary. Some spaces only have enough for an employee to complete day-to-day tasks, such as good Wi-Fi and a desk, while others are equipped with an array of gadgetry such as computers, printers, digital projectors and more.
Coworking space community managers ensure that all of these things are well-maintained, replenished whenever needed, and ready for use and consumption. Not only that, but managers can also get in touch with suppliers, service technicians, and IT personnel if some of the equipment encounters problems beyond the manager's expertise.
So, basically, a coworking space community manager will make sure your facility and its amenities are running smoothly at all times.
#2 – They handle memberships
Most coworking spaces work on a membership basis, meaning that the manager will act as a front-desk officer who will arrange memberships for walk-in clients and market the business to other companies.
As a part of this responsibility, coworking space managers are expected to know all the rates and forms of memberships their business has, and be able to explain it to the prospects in a manner that will get them drawn to the service.
Aside from this, they can also answer calls and inquiries occasionally. Answering questions like "How much does a subscription cost?" and "Can I pay with a crypto debit card," are perfect examples of this part of the task.
#3 – They plan different events for members
One of the goals of establishing a coworking space is to have employees from various companies interact, develop mutually beneficial relationships, and learn from one another.
To prevent them from struggling to do the usual work in an unusual environment, coworking space community managers are responsible for planning, preparing, and putting into action fun activities and events that will allow coworkers to bond and interact.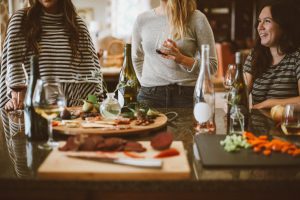 In short, coworking space community managers are responsible for the recreational activities that will foster an environment where coworkers can exchange ideas. They can become the bride that will allow members' respective companies to collaborate.
#4 – They manage your coworking space's budget
With the many services a coworking space can offer, a well-sorted budget is a must, especially when it is time for the business to prepare its financial statements. One role a coworking space community manager plays is the management of the business's budget, delegating amounts relevant to each department in the coworking space.
This could help identify the potential for growth. For example, suppose that by the end of the first quarter there was some money left over. You could use that extra money to set up a loyalty rewards program like Fetch Rewards which could attract new members. By keeping track of your budget, a community manager will know if this isn't an option or not.
#5 – They make sure that the premises are kept clean
It may not seem like it, but perfectly clean office space significantly contributes to employee productivity. While hiring janitors can get the actual job done, it is still important that there is another person capable of overseeing their work. This helps ensure that the coworking space is free of any distracting grime that may disrupt work efficiency.
In addition, the coworking space community manager also has the responsibility to imbue the values of cleanliness among the employees. They may do this through an orientation of the coworking space rules concerning garbage disposal and equipment use, as well as the maintenance of their personal workspace.
It is essential that they not only rely on the in-house cleaning attendants to clean up after their mess but rather learn to tidy themselves up and the space they are working in.
#6 – They make working a worthwhile experience for the employees
One of the many reasons why coworking spaces are a trend nowadays is the fun and exciting working environment where we engage in multiple activities with like-minded people. A community manager is responsible for making sure that these activities are planned thoroughly, including pastimes that will allow employees to regain their energy, socialize, and make friends.
Common activities that are usually done in a coworking space include yoga classes and a designated happy hour where the workers can have a little bit of "me" time and de-stress.
Making the employees' experience worthwhile also involves learning outside of their screens. Managers can organize fun and informative seminars and conferences with distinguished keynote speakers. Of course, these events don't organize themselves; it's up to the community manager to make them happen.
#7 – They play the role of a coworking space's representative to the public
Much of the effort to make a coworking space known to the public is taken on by a community manager. The goal is to penetrate communities and make them believe that coworking spaces are necessary to promote productivity in the workplace.
Community managers bring the business a step closer to realizing this goal by implementing outreach programs that involve the wider community, promoting a sense of inclusivity and raising awareness of the existence of a space capable of entertaining all types of employees. Community managers can also support updating the company blog on a regular basis. Informing the public about how beneficial investing in a coworking space can be is more than just employing the usual marketing strategies, especially considering your long-term goals.
Hiring a coworking space community manager: the pros and cons
Like any other asset brought into a company, hiring a coworking space community manager has its pros and cons.
Pros
One of the good things about having a community manager is it reduces the workload that an owner single-handedly tries to take on. If your coworking space is not that big and only caters to a few employees, it might look like appointing a manager won't be necessary.
However, the same cannot be said when you have an entire building rented out for hundreds of employees from different companies flocking together to work. The responsibilities are amplified when you operate on a larger scale, which calls for an additional set of hands to help you manage your operations.
Additionally, hiring a community manager buys you time; time you can use to look into other aspects of your business and recalibrate your operations as a whole. Delegating certain responsibilities to another person who can perform them well is a big Yes! for an owner of a coworking space, especially when a lot of decisions require extensive critical thinking and higher-level management skills.
Cons
On the flip side, hiring a community manager implies more costs. The average salary of a coworking spaces community manager is close to $80,000, which is just shy of six figures. You need to do some serious financial planning to see if this investment makes sense for your coworking space.
Additionally, having a community manager means appointing someone with a specific level of authority to oversee business operations. This may be risky and even harm your business if the person you hire turns out to be unfit for the role. This makes the recruitment and selection of the right candidate paramount.
Where to find and how to choose the best coworking space community manager
Now that you know the responsibilities of a community manager, you may be asking yourself where you can find the right person for the job.
Well, you first need to look for a credible source of applicants, like a well-reputed job board site. Websites such as Careerbuilder, Fiverr, and Upwork are great places to find your ideal manager, but it is not as easy as you think.
To make sure that your capital is not put to waste by hiring just any type of manager, the community manager you should hire is someone who has a knack for communicating with people. A coworking space relies on effective communication among the employees, making sure that they are working toward the completion of their goals while also developing harmonious relationships with people from other industries. As such, the manager you are looking for should be someone who knows how to get along with employees coming from different backgrounds and cultures.
Your community manager should also know how to be accountable for their decisions, even if it means taking the blame for a plan that failed.
Lastly, a good community manager is someone who has exceptional organizational skills. Most of a community manager's responsibilities revolve around ensuring that everything is organized and planned to a T.
In conclusion
Hiring a community manager is ideal in many ways, especially given the owner's responsibilities in managing a coworking space. However, it's not something that is advisable in all circumstances, as it may or may not be beneficial for the business.
At the very least, if you are an owner who intends to hire a community manager, ensure that you are recruiting someone who fits the criteria and can be a valuable asset for your coworking space.