Flexible workspace solutions are the way forward. Whether you're a freelancer, solo entrepreneur or small business, using shared office space, coworking desks, or meeting rooms is increasingly seen as the most efficient workspace solution and experience.
Choosing versatile and stylish collaborative spaces in convenient locations that are fully set up with all the office resources you need will help you to maximize productivity. But how can you make sure you choose the right space to spark your best work?
What coworking spaces are available in your area?
According to recent statistics, in 2020 there were around 20,000 coworking spaces worldwide and that number is set to double by 2024. In fact, at Coworker we currently have more than 19,000 spaces listed in our database spanning 172 countries. We're the largest network of verified coworking spaces globally, and more than 300 new spaces join our platform every month.
Flexible space has been growing by an average of 23% per year since 2010 and is expected to make up a third of office space by 2030. In the UK, there were 6,000 flexible workspaces in 2021, accounting for about 85 million square feet of space.
With such a wealth of choice available, it can be difficult to know where to start. Each space is unique but if the ambience isn't right for your business model or doesn't chime with your personality, it won't inspire you to do your best work.
How do you choose the right environment?
After you've carried out some initial basic suitability checks such as location and accessibility, public transport links, convenient parking, fast Wi-Fi, and good coffee options nearby, finding the best coworking space is all about the 'vibe' that helps you be most productive at work.
Creative types might be looking to be inspired by the location itself. Take Bloomsbury, for instance, one of London's most famous neighborhoods with a rich history and association with the Bloomsbury group of British writers, intellectuals, philosophers, and artists. If this type of creative vibe speaks to you, finding a coworking space in the Bloomsbury area of London is probably a smart choice.
If you don't consider yourself to have an artistic sentimentality, there are many unique and unusual spaces available that may be much more to your liking. By way of example, networking and golf have always gone hand in hand, so why not seek out flexible workspace near a golf course where you can take advantage of meeting like-minded professionals? Apart from the social element, working from a space like this is also a great way to maintain your physical and mental wellbeing.
Why you must consider your personality
Every individual is different, and the best choice of coworking space is to find somewhere that supports your particular way of working.
Are you a social or a solo person? Do you need to find a place where you can shut yourself away and get your head down, which perhaps just isn't possible at home? Or are you looking to have a break from working alone and crave social interaction with other professionals? Remember: people come to coworking spaces for all sorts of reasons and there are places that cater for all requirements.
Here's a selection of the coolest coworking spaces in the world in 2022, and they all have different personalities. Hubud in Bali, for instance, has views over the local volcano and rice fields while providing modern air conditioning and 24/7 fast internet. There are breakout spaces for socializing, a garden café and swimming pool, a lounge area with beanbags, and 24-hour security.
Tokyo's Andwork Shibuya is based in a hotel, and members can have a shower or power nap in a hotel bed if they need a break. Makerversity in London's 300-year-old Somerset House has a unique range of coworking options including workshops for digital, engineering, textile and wood working, a podcast studio, and event space.
Clearly, the best coworking space for you is somewhere you love to spend time. And since every flexible workspace is unique and individual, it's vital that you consider your personality, whether or not you want to socialize with your coworking colleagues, and the kind of coworking community you wish to join.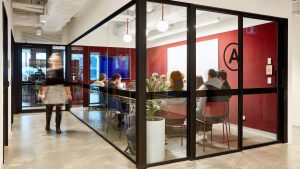 What does your budget need to deliver?
Clearly, your budget will largely dictate the kind of spaces you can put on your shortlist. In addition to the monthly fee, easy payment terms may be a crucial requirement if you don't have a regular income or a large budget to play with. But coworking spaces exist at all price points and for all types of work.
Whether you simply need a desk in an open plan office or would like a private office of your own, the trick is to find the right space in a convenient location, with all the equipment to get the job done, and with enough amenities to make your working life more pleasant.
Forget about any preconceived ideas of what coworking spaces should or shouldn't be; choosing the perfect space is a very personal decision. While everyone wants to be in an inspiring environment – what's the point of paying for a boring space – coworking isn't only for people who want to get the maximum work done. Some people value the company of like-minded individuals and the opportunity to make new contacts or share experiences as a healthy antidote to sitting alone at home.
If you are looking for the right coworking space for your needs, you should have a clear understanding of what coworking is, why it matters to you, what the benefits will be and what the space should be delivering for you.