A strong community is the most vital element that builds successful coworking spaces. It not only creates a sense of trust, but it improves bonding and communication between coworkers, fostering a positive work environment. 
What's more? Having a tight-knit community also reduces turnover, which is detrimental to any company's success and reputation. 
But nurturing a close-knit community takes time and consistent effort. As a coworking owner, you can do your part by organizing events that appeal to teams, thus encouraging a stellar work culture and a fun one, too.
In this post, we share six event ideas that will help build a strong coworking community and enable your members to thrive.
#1: Breakfast and Lunch Get-Togethers
They say "good food is good mood," and we couldn't agree more. This saying means that when we eat healthy food, we feel good. That's why organizing breakfast get-togethers is a great way to foster member wellness and health. 
Besides making people feel better, breakfast and lunch get-togethers are great occasions to network with like-minded professionals. They allow everyone to relax and spend quality time together. Such events can help cultivate camaraderie and great bonding between your members.
No wonder firms like Warby Parker have introduced a weekly "lunch roulette," where they allow teammates to go out and share meals. Here's a screenshot that depicts how Warby Parker asks its community to fill out a form for enjoying meals: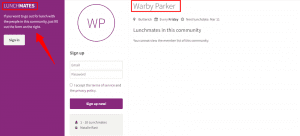 Coworking operators can create a similar platform to understand your members' interests and streamline meal get-togethers for the enjoyment of all.
If you're on a tight budget, here are some simple tips to get started:
Pick a day, place, and time for the event.

Send out a survey to gauge everyone's availability and food choices.

Consider the dietary needs of the team before deciding the menu.

Maintain

COVID-19 guidelines

for food hygiene and safety.

Gather feedback about the food to make the get-together even better next time.
#2: Movie Time
Movies can be great for unwinding after a hectic day at work. Besides the entertainment quotient, the impact of good movies goes a long way. They can inspire your coworking community and create a sense of connectedness among them.
All you need to do is to pick the right movies for team building and motivation. For instance, a movie like The Intern is perfect to teach teams that life is about finding a balance. The movie's heartwarming story serves as a great example of communication and collaboration between teammates, teaching members the value of perseverance from the protagonists. 
Here are a few more award-winning movies that your members will surely love:
Don't forget to grab some popcorn and snacks as you begin the fun movie session!
#3: Fitness Events
Hectic working schedules have made personal fitness much more difficult. As a result, most professionals are succumbing to sedentary lifestyle-related diseases.
The impact of these diseases is quite shocking. Experts state that physical inactivity is the fourth leading risk factor contributing to mortality. 
So, arranging fitness events is one of the greatest gifts you can give to your coworking community. Working out in group settings not only burns calories but creates a sense of belonging. It improves one's outlook towards life by relieving stress and boosting morale. 
From cardio and yoga to running or Zumba, you can choose any form of an action-packed session to get your members on their toes. Hire an expert to conduct these sessions, enabling teams to make the best of them. Take inspiration from the thriving coworking community of The Address. 
Here are several images depicting the fitness and collaborative events we conduct at The Address to foster networking, re-learning, entertainment, and growth.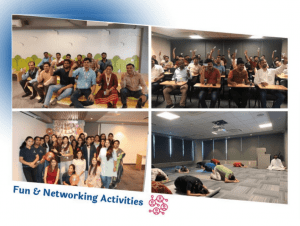 Following a similar approach will inspire your team to stay fit, increasing productivity.
#4: Game Nights
Want to sprinkle an element of laughter and fun while building your coworking community? Time for a game night!
Game nights are perfect to create a highly engaging environment, elevating everyone's mood. From communication, creativity, and collaboration to critical thinking, playing games can boost your members' skills and bring them closer. It is a powerful yet subtle way to build rapport and nurture relationships.
So, once or twice a month, try organizing a game night where everyone can have fun and develop their problem-solving and spatial skills and hand-eye coordination.
Take your game nights to the next level by playing the following fun games. 
Never Have I Ever:

Pick a few embarrassing situations and ask whether they have done it. This game can reveal a fun side of your team and can be a good ice-breaker.

Who Am I:

Prepare a list of celebrities and make the teams guess their name by understanding cues. This game can improve collaboration skills between your team.

Two Truths and a Lie:

Here, everyone needs to share three things about their life. Out of them, two things will be correct, and one statement will be a lie. Teams have to guess the lie! This game will help the team bond by getting to know each other.
You can even ask your team for game suggestions. This trick will create a better engagement while easing your job.
#5: Panel Discussions
The beauty of coworking workspaces is that they are also great environments for learning, helping professionals embrace new skills and boost their careers.
Conducting panel discussions on trending technology topics, skill-sharing, or other business-oriented topics will be a big hit among your members who are looking for new ways to level up their knowledge base. 
Panels offer an exclusive platform for members to consider their views on different topics, helping to foster logical thinking skills and facilitate communication. All you need is to select topics that will interest your members.
You can request experienced professionals and peers to choose topics and moderate the sessions. You can even invite professionals from other coworking companies. This strategy will improve networking and build good professional relationships with other communities, which in turn will strengthen your own.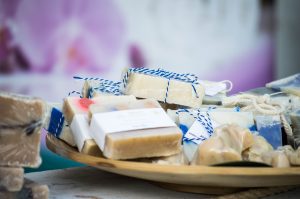 #6: DIY Workshops
DIY workshops can offer a little escape from the routine of working. Organizing DIY workshops, especially if they are hands-on, provides the perfect opportunity to socialize, collaborate, and bond.
The best part? You don't need to spend a ton to make arrangements. Put your thinking cap on and find unique ideas to engage your enthusiastic team members.
Need help? Here are some ideas that will help you get started with fun DIY events:
Soap making is a simple yet fun way to create something unique and aromatic. The team needs essential oils and raw materials like oats and coffee to get started. 
Scrub preparations need some sugar, salt, and a few drops of scented oils. Watch the team prepare refreshing scrubs while having fun with their peers. 
Indulging in art is the best way to stay creative and relax one's mind. For wall art and paintings, the team only needs colors and a blank canvas to let their creative juice flow.
Making customized tees is a thrilling experience where one can exhibit their creative skills. The team can bring plain t-shirts and some fabric paints and brushes to paint their favorite quotes or cartoons.
In Summary
Success is not only about profits or sales. True success lies in building a strong and compassionate community of professionals that can go the extra mile to help each other, thus collectively achieving business goals. 
Executing any of these community-building event ideas will lay a solid foundation to form a close-knit coworking community.