It goes without saying that people have an inherent need to be in touch with nature. This is referred to as biophilia. According to recent research, workers exposed to sunshine and natural elements in the workplace have better moods, are more satisfied with their work, and are more committed to their company.
The United Nations predicts that by 2050, 60% of the world's population will live in metropolitan areas, which means that access to parks and nature within cities will continue to shrink, but the yearning for light and office views will only continue to grow.
Since re-designing an office or moving to a new building with glass facades, sunlight, and natural elements is probably not within every business reach, Jamatu decided to reimagine the most famous sites in Switzerland as views outside coworking spaces.
Using data from Google Trends and various social media, the following places have enormous potential to offer a comfortable co-living space for digital nomads and nature lovers.
Let's stimulate our imaginations and see how these famous Swiss sites would look like as coworking space offices.
1. Zermatt, Matterhorn
Before: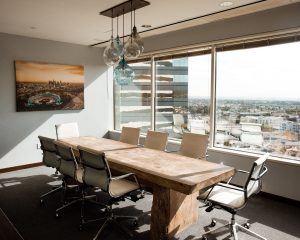 Home to some of the most beautiful sceneries, Switzerland's Matterhorn is the jewel of the Swiss alps. Located at the Swiss canton Valais border between Zermatt and the Italian resort Breuil-Cervinia, Matterhorn is one of the most photographed peaks in the world.
Matterhorn has a certain allure that makes you fall in love with the place at first look. Just seeing this unique natural spectacle is probably one of the great experiences in Switzerland. And, hiking against a backdrop of that iconic summit is even more impressive. But have you ever wondered what this rocky tooth would look like if it stood right outside your coworking space window? Here's a glimpse.
After: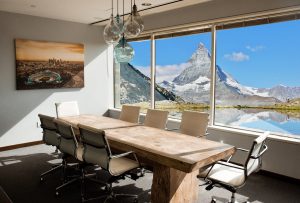 2. Lauterbrunnen
Before: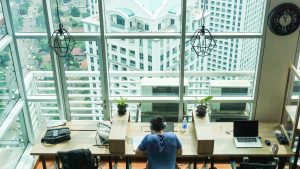 Lauterbrunnen falls second on the list of Jamatu's famous Swiss places. Positioned along the mighty Alps and tucked between striking towering cliffs and crystal river, Lauterbrunnen is an idyllic and incredible sight.
With such a panoramic view, who wouldn't want to have a coworking space that exhibits this amazing view of the Alps and their massive peaks and glaciers?
After:

3. Interlaken
Before: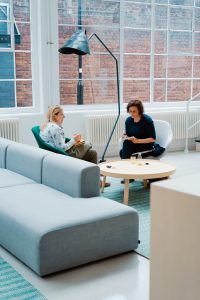 Sitting between Lake Thun and Brienz, Interlaken can immediately become your springboard for your journeys. With its breathtaking view, this land was always a source of inspiration for many giants of literature, including Sir Arthur Conan Doyle, J.R.R Tolkein and others.
Would this view be a source of inspiration for you, too, if it was located right outside your coworking space's window? Here's what a cold, frosty day would look like in this imagined Interlaken coworking space.
After: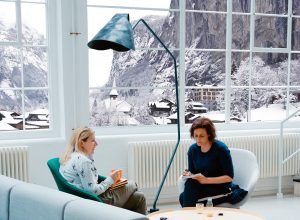 4. St. Moritz
Before: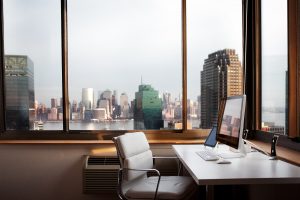 The town of St. Moritz is quite diverse, both in terms of its population and the activities available. St. Moritz has been the playground of the most affluent and famous people for more than a century, thanks to its stunning surroundings and pleasant weather.
Now, imagine this view from your coworking space window. You certainly could not have chosen a finer location anywhere in the world. Here's a glimpse of what the final hours of work would look like from this vantage point.
After: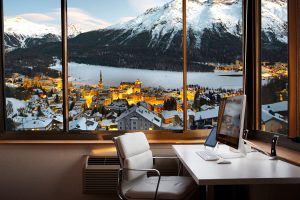 5. Appenzell
Before: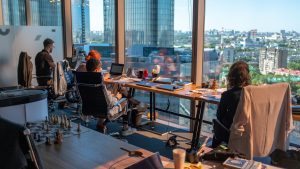 Appenzell has that certain je ne sais quoi that is achingly beautiful. A hamlet of about 5000 residents, this car-free village is dotted with meadows, pretty lanes and idyllic farmhouses decorated with frescoes. If you look closely as your train arrives, you would think that Hobbits lurk in this little village.
Now, imagine this place buzzing with entrepreneurs, creatives and freelancers ready to float ideas and get into business as they draw inspiration from up here.
After: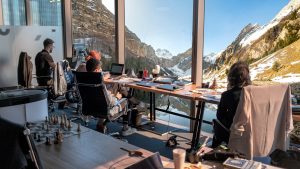 6. Château De Chillon
Before: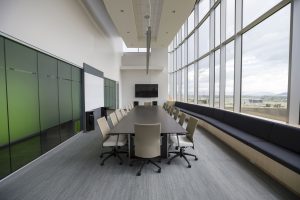 This architectural jewel is located in the most beautiful scenery imaginable: Lake Geneva and the Alps in the background. The Château de Chillon has withstood the test of time, sitting proudly on its rocky island for a thousand years.
The blue water of the lake, as well as the imposing fortified Chillon Castle in the backdrop, would make for a great coworking space. Here's how it would look.
After: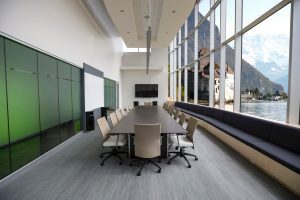 7. Kapellbrücke
Before: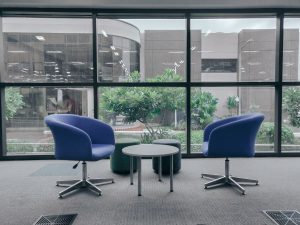 The entire city of Lucerne is amazingly located between the mountains and the lake and is famous for many things. But its Kapellbrücke wooden bridge will undoubtedly stand out. Built around the 14th century, this bridge sets its benchmark as the oldest surviving medieval bridge. The bridge is also decorated with colorful flowers, making them a perfect choice to stop by and take pictures.
But what if you grew tired of taking a million pictures right from the comfort of your coworking space desk? Despite its beautiful view, this would be that kind of place where creative ideas emerge, new collaborations are formed, and knowledge is shared.
Here's how Kapellbrücke would look from your office view.
After: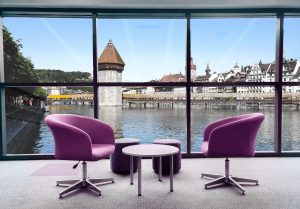 Imagine having a coworking space in these beautiful sites of Switzerland with people and the panoramic view of the Alps that inspire you everyday as you take on the projects of your workday. These pictures show how a coworking space can be transformed into a great source of inspiration and productivity with an iota of imagination and architecture.