COVID-19 has shown us that Americans don't need to be in an office to have careers. According to a new Pew Research Center survey, 71% of Americans are now working from home.
However, a growing number of young teleworkers are learning that home can be wherever they'd like. This new independence allows millions of Americans to abandon their home offices and take advantage of flexible offices and coworking environments. 
At present, the United States has the fastest growing coworking supply growth, with Coworker reporting a +19.7 percent change between 2019 and 2020. 
For remote workers who have the option of working anywhere, the question is: where should you go?   
To help remote workers find new cities to call home, Rocket Homes and Best Places recently conducted a study that analyzed and ranked the best places to live if you can work from anywhere in the U.S.
To ensure these cities were affordable, the study focused on metropolitan areas with an average housing price below $300,000, which is close to the U.S. average of $263,200. 
To further narrow down the list, each metro's internet speed, accessibility, and pricing was sourced from BroadbandNow and used to create a Broadband Score based on a scale of 1 to 100. Only those areas with a score of 70 or higher were considered. 
Other livability factors, such as recreational opportunities, cultural attractions, and the presence of local airports (in case individuals need to make regular visits to a head office) were factored into the results to ensure each city offered residents a high quality of life.  
The 5 Best Cities For Remote Workers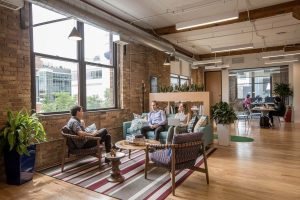 1 – 

Chicago, Illinois
Population: 7,251,715 

Broadband Score: 91.1 

Median Home Value: $270,100 

Recreation: 97.7 

Arts and Culture: 99.5 

Airport Accessibility: 93.7 
The Windy City is a vast metropolitan city that is still reasonably priced. Indeed, the average house price is just 2.6% higher than the United States average. The city has two international airports that are located 30 minutes from the downtown area for those that want to have an established home but enjoy being digital nomads. 
According to Crain's Chicago, there is expected to be close to 9 million sq. ft. of coworking space in downtown Chicago by the end of 2023. American Workplace, a community space in Chicago, offers high-quality offices for businesses that allow employees to work remotely. American Workplace also hosts events like the Virtual Work, which professional and amateur bloggers can come to.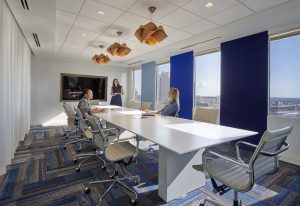 2 – Tampa, Florida 
Population: 3,194,831 

Broadband Score: 88.7 

Median Home Value: $255,600 

Recreation: 91.0 

Arts and Culture: 84.2 

Airport Accessibility: 84.5 
Residents of Tampa prosper not only from low-cost broadband service – the most affordable package costs only $31 a month – but also from an exceptional environment. The city ranges from 52°F in the colder months to 90°F in the hotter months. Recreational opportunities also abound in the district, owing to the city's 178 parks and the surrounding white, pristine beaches.  
At 23.8%, Tampa ranked fourth in the number of people who are working remotely or shifting jobs because of remote work opportunities, according to a 2018 report. This number has only continued to rise.
According to Forbes, Tampa was ranked number 10 on its list of the best cities for entrepreneurs. This is principally because Tampa has a tech presence where you can stay connected to your clients, create new ideas, and see your future through entrepreneurial eyes.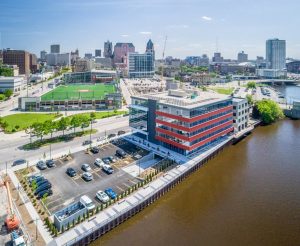 3 – Milwaukee, Wisconsin 
Population: 1,575,179 

Broadband Score: 88.3 

Median Home Value: $211,900 

Recreation: 90.5 

Arts and Culture: 94.5 

Airport Accessibility: 82.7  
You name it, Milwaukee has a festival to commemorate it. Throughout the summer months, the City of Festivals holds cultural festivals nearly every weekend. Summerfest, the country's oldest – and one of the most beloved – music festivals, attracts hundreds of musicians to its lakefront festival grounds for a week and a half of concerts. 
The city has an above average number of startups as well as rising startup salaries. One of the reasons Milwaukee has managed to climb so high is because millennials have been shifting their attention to entrepreneurship and technology, which are two popular career paths for members of coworking spaces and the startup scene.
4 – Melbourne, Florida
Population: 601,942 

Broadband Score: 87.2 

Median Home Value: $244,700 

Recreation: 74.5 

Arts and Culture: 36.0 

Airport Accessibility: 78.7 
Melbourne, situated on Florida's Space Coast, is ideal for anybody who has ever wanted to be an astronaut. Residents will enjoy satellite sightings and launches from the International Space Station, which is just a 40-minute drive away.
Melbourne is well-known for its developments in aerospace technology, but it also has a plethora of leisure opportunities. Melbourne may be less known as a hub for remote workers and digital nomads, but it's allowing many growing coworking operators to get in on the ground floor and develop new coworking space.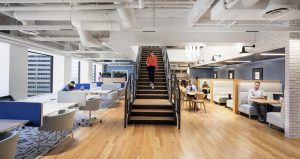 5 – Racine, Wisconsin 
Population: 196,311 

Broadband Score: 84.9 

Median Home Value: $177,900 

Recreation: 76.0 

Arts and Culture: 58.7 

Airport Accessibility: 88.5 
Racine is a perfect location if you operate remotely, thanks to its average download speed of 168 Mbps and home costs, which are 32.4% lower than the U.S.  average. Since it is situated on the shores of Lake Michigan and is divided by the Root River, the city provides residents with stunning views of the water and a multitude of water sports.
The city is also home to Northrop Grumman Corporation, a Fortune 200 company, which provides Racine's teleworkers with a variety of perks. Instead of doling out cubicles, Northrop Grumman provides each teleworker with an individualized office to use as their workspace.