Since the virus forced the world to a halt, workers have embraced more flexible living options and the endless possibilities offered by remote work. As such, many are signing up to coworking spaces, especially individuals who are longing for an energetic and vibrant workspace. The uncertainty of what the future holds has motivated many to shift to online ventures, or develop an alternative office setup for their teams.
One common theme that stands out across all industries looking to embrace the way of the future is that technology will always play a crucial role in keeping businesses competitive. If your coworking space is looking to attract long-term clients, a focus on technology is a must. 
In this article, we will talk about the benefits of providing a virtual tour of your coworking space, with the aim of using this as a tool to enhance the amount of highly qualified leads you receive.
We'll also discuss how this strategy can give you an edge over your competition, and provide some tips and tricks to make sure your virtual tour is thorough and professional-looking. 
What is a virtual tour?
A virtual tour is a 360-degree virtual reality experience that allows an internet user to virtually 'walk through' a location without physically visiting. Unlike a video tour, the user's perspective is not limited to the lens of the video camera. The viewer can turn around, open up doors, walk down hallways, zoom in on particular areas, and get a much better feel for the shape and size of the space overall. 
Also called panoramic tours, coworking virtual tours are created using a series of photographs or videos taken from a single vantage point. The camera's lens rotates around a 'no-parallax point,' which is where light converges at the rear of the lens. This is what enables the tour to have 360-degree elements, allowing the viewer to turn around and see every inch of a room.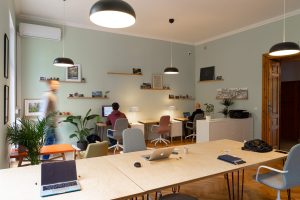 The five benefits of virtual coworking space tours
There are many reasons to incorporate virtual tours in the marketing plan of your coworking space. Here are just a few of them. 
1 – Build trust with tech-savvy clients
Coworking spaces wanting to attract a clientele that is tech-savvy, modern, and young need to have a brand image that reflects this in order to compete with your competition. Coworking spaces that do not have cutting-edge technology will find it harder to attract and retain increasingly tech-focused workers. 
Building a tech-forward focus on your brand means ensuring you are up to date on the latest advancements and trends in tech. When attracting tech-savvy client, they will have high standards in regards to customer experience and ensure the data they trust you with will be kept safe.
To this end, ensure premium internet security by having data and communications sent over your coworking space's network will be encrypted. You should also rely on secure and convenient payment options that come PCI-DSS compliant to ensure that all credit card transactions are encrypted as well. 
2 – An increase in high-quality customers
The more information you offer high-quality prospects about your coworking space, the more likely they will sign up. By providing a virtual walk-through tour, they will be a space where they can make better decisions about whether it is a good fit for their needs. 
This way, you can also eliminate unqualified leads and the amount of time and energy they take up. Your employees can then focus more on the qualified leads who take the virtual tour and want to arrange a follow-up, in-person tour. 
3 – Filters out prospects that aren't interested
Only offering in-person tours may mean spending more time and energy on prospects that may not be interested. 
Interest in your coworking space can seem great, even when it doesn't lead to a sale. However, allowing potential prospects to experience the space virtually, allows them to make a decision whether it's right for them or not. Not only does it save the prospect's time, but also frees up your time to focus on those prospects who are genuinely interested in becoming a part of your coworking space community.
4 – It shows sensitivity during a pandemic
Offering a virtual tour shows sensitivity during a pandemic, and can also be a tool for highlighting social distancing measures that you've put in place.
When the pandemic ends, the availability of a virtual tour signals that you are mindful of sensitive issues and that you understand how valuable a prospect's time is and makes viewing your coworking space easier for them to do on their own schedule. 
5 – It can act as content for your marketing campaigns 
A virtual tour is an excellent feature to highlight in your coworking space's marketing campaigns. It can be used on an array of marketing platforms, whether it be via social media or email. 
However, according to Brisbane-based software developer and online marketer Nathaniel Finch, email marketing is more effective than social media when reaching out to customers, saying email is, "how you reach your audience these days. Sure, it takes time to set these campaigns up, but they are so compelling that they are worth the effort and time it takes." 
Including access to a virtual tour via an effective email marketing campaign not only reaches your ideal audience where they are (their inbox), but also gives you the opportunity to provide further value to your audiences such as helpful tips, information, or promos, while avoiding sounding overly promotional.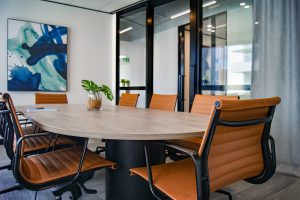 How to create a professional virtual tour
While there are many benefits to creating a virtual tour of your coworking space, having a virtual reality tour also doesn't guarantee success. It has to be done right in order to attract those golden ticket clients.
With that said, here are a couple of tips for creating a professional virtual tour:
Prep your space ready for action
Before creating the virtual tour, there are many things to think about when preparing your space for a virtual reality tour such as ensuring the camera is at a good vantage point for getting a 360-degree view of the room, and deciding whether you want staff present in the tour or not.
Ensure that all areas are tidied up and staged for the tour. Make a point of focusing on your best features or something that is unique to your space. For example, if your coworking space is focused on improving productivity and wellness for your clients, focus on the aspects that represent this by making them easily viewable on the virtual tour. 
Decide whether to hire a professional or do it yourself
There are many virtual tour companies out there that specialize in conducting these types of tours. One of the main benefits of hiring a professional company is that it can guarantee a professional VR tour for your space as the photographer will have experience in conducting a VR tour.
Alternatively, with the purchase of a 360-degree camera and virtual tour software that has features that allow you to create professional-looking VR tours from your smartphone, you can go DIY and create the virtual tour yourself. Taking the time to plan and prepare will set you up for virtual reality success.
Conclusion
Coworking spaces are gaining in popularity, especially among millennials. Offering a VR tour will not only allow you to connect with a younger generational audience, it will also present a unique opportunity for potential clients to explore your space and make a decision without taking up too much of your time, leaving you to focus on high-quality leads and existing customers.