Geneva, Switzerland is known as a worldwide center of diplomacy. It's home to the World Health Organization, the headquarters of UN agencies, and even the Red Cross. Millions of people travel to Geneva each year for business purposes or simply to see the city.
But this beautiful Swiss city isn't just a business hub. It's surrounded by the Alps and Jura mountains, so even when you're in the heart of the city, you can enjoy breathtaking views. 
It should also come as no surprise that people flock to the city to live and work. Some people want to be more than just visitors in this bustling hub of commerce and connectivity. 
As a result, coworking has become more popular in Geneva, and there are plenty of incredible spaces to choose from. All across the world and in Switzerland, coworking spaces have seen an increase in demand over the last few years, largely due to the effects of the COVID-19 pandemic.
In a post-pandemic society, employers and workers alike have started to see the benefits of coworking spaces, the freedom they provide, and the productivity they foster. Coworking spaces increase workplace efficiently, offer access to secure internet, and can help just about any business become an employer of choice. 
So, whether you're an employer looking for a safe and effective space for your team, or you're a freelancer trying to find the best local coworking spaces, we've got some of the top coworking spots in Geneva covered.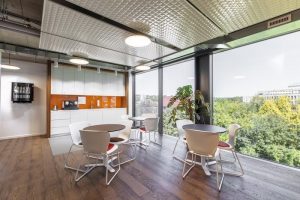 1. Regus – Préverenges, Morges
If you're looking for a coworking space filled with natural light and a variety of modern amenities, look no further than Regus at Préverenges, Morges. The offices here are some of the most sought-after in Switzerland, and for good reason.
The space's natural light helps to boost productivity and overall morale, while workers also have full access to a patio and terrace, so you can enjoy frequent breaks to boost your energy and foster creativity. 
Workers can also enjoy a full kitchen for an afternoon snack, a lounge area, and two-to-four-person meeting rooms to conduct a variety of business dealings.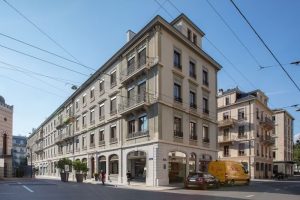 2. Signature – Quartier des Banques
Even though Signature – Quartier des Banques is in a century-old building, don't let that fool you into thinking this space doesn't hold many modern conveniences and amenities. You'll find meeting rooms, a kitchen, a cafe, and even an on-site gym so you can enjoy a refreshing workout and blow off some steam after a long day.
Despite its age, this coworking space also offers high-speed internet. While that might be a standard feature in many spaces today, it's important not to discount it wherever you go. 
Reliable internet is essential for coworking spaces, especially in more remote locations, as it allows you to work remotely and connect with people across the globe. If you're a business considering whether you should put employees up in a coworking space, knowing that area has reliable internet makes it easier to bring a hybrid work model to life. 
3. Calliopée Sàrl
If you don't want to endure a long commute, Calliopée Sàrl is only two minutes from the station Cornavin. You can choose to join an open coworking space or book your own private office.
Some of the biggest benefits of this particular space include flexible access, a work environment designed to stimulate productivity, a helpful administrative team, and available conference rooms with high-speed internet.
If you're looking for comfort, convenience, and connectivity in the heart of Geneva, Calliopée Sàrl gets great reviews and should be considered.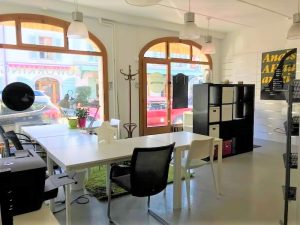 4. Cric Crac Croc
Located just outside of Geneva proper, Cric Crac Croc is a coworking space that really feels more like a community. You'll enjoy all of the modern amenities you could possibly have in an effective space without the formality of stuffy cubicles and workers that end up feeling more like competition than communicators. 
Cric Crac Croc offers 24/7 member access, so if you're a business that wants to encourage remote or hybrid work, this could be the best solution for your team.
As a business, it's important to find a coworking space that allows employees to participate in growth opportunities and enjoy a healthy work-life balance. Between comfortable amenities and around-the-clock options, your team can find that balance here.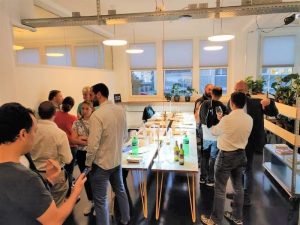 5. Seedworks
Located in Quatrier des Bains, Seedworks is a fantastic coworking space for freelancers and entrepreneurs trying to learn and grow within a community of professionals.
Not only does it include modern amenities like high-tech equipment and a lounge, kitchen, and coffee area, but you'll also be able to enjoy special events, community lunches and drinks, and even pitching events. 
Often, growing a business is all about who you know and your ability to network. Coworking spaces don't have to be competitive. Instead, they should be collaborative. Seedworks is a great space for professionals with fresh ideas who want to grow with the people around them.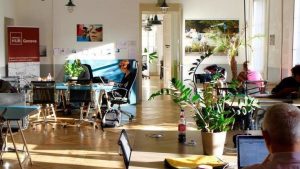 6. Impact Hub Geneva
Impact Hub Geneva is so much more than a traditional coworking space. It offers workshops and networking opportunities for those trying to start and grow their businesses. It also serves as an incubator for startups, where you can learn from mentors, investors, and other entrepreneurs.
This central workspace is just a five-minute walk from public transit. It's an ideal place to bring your unique ideas to life with the help and support of other professionals. 
Conclusion
Whether you're a business owner, freelancer, or entrepreneur, there's no reason not to take advantage of the beautiful coworking spaces in Geneva.
While working from any of the spaces on our list, you'll be at the center of a bustling community, and you'll learn, grow, and find success in one of the most socially innovative places on Earth.