Whether you're living in Hong Kong or there on a business trip, joining a shared workspace can help you add productivity and socialization to your workdays. Luckily, Hong Kong has no shortage of beautiful coworking spaces, no matter what area you want to be in. However, the right coworking space can depend on the industry you work in and the culture you're looking for.
To find a coworking space you can thrive in, you need to understand the cultural values and target demographics of different workspaces. For instance, while some coworking spaces prize professionalism above all else, others are built for more socialization and creativity. If you're a traveler, you'll also want a coworking space that's near your business meetings and the places you want to see after work, so you can maximize your free time.
Here are six of the top coworking spaces in Hong Kong, what makes them stand out, and who's best fit for each.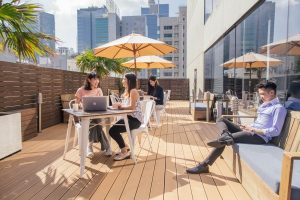 1. The Hive (Wan Chai)
The Hive in Wan Chai is one of the largest coworking spaces in Hong Kong, with five floors of workspace and a sun terrace at the top of the building. It's a vibrant workspace that attracts plenty of startup founders and creative professionals. Whether you need a stylish office or a simple hot desk membership, this can be the workplace for you.
On top of offering free coffee and tea, The Hive has an on-site cafe, where you can purchase even more satisfying drinks. You can also join in on community lunch events and meet your diverse fellow members.
Traveling or living in Hong Kong without a car? The Hive is only a five-minute walk from public transit.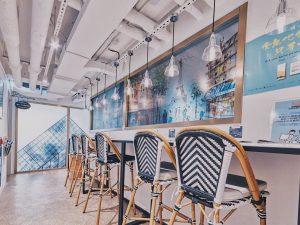 2. Metro Workspace (Central)
Metro Workspace offers a handful of themed workspaces throughout Hong Kong. Its Central location — tucked inside the heart of the business district — is one of the most unique. This coworking space is built with a "Cafe Le Louvre" theme, which means it's designed to remind you of walking through the streets of Paris and the Louvre Museum itself.
Throughout the coworking areas and some meeting rooms, you can find Parisian bistro chairs reminiscent of cafes in France. There's even a replica of a French mural on the ceiling to keep the space on theme — perfect for creative professionals who love art.
Other amenities that can appeal to both travelers and locals include standing desks, community lunches, showers, and free wine and beer.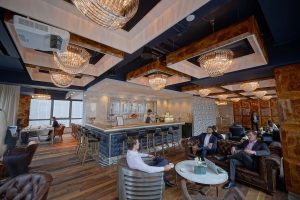 3. The Executive Centre (Prosperity Tower)
If you want a more sophisticated workspace that's still in the Central District, look no further than The Executive Centre. This premium coworking chain is known for its classy, shared workspace experience, and its Prosperity Tower location is one of its most stunning spaces in Hong Kong. From marbled walls to luxury furniture, every inch of the coworking space is dressed to impress.
The Executive Centre is best known for its high-end professional amenities, which range from fresh, professionally brewed coffee to limo rides for travelers from the Airport Express. You can also purchase business concierge services to access expert IT support and administrative assistance. It's tailored for C-suite executives and any business owner who wants to impress high-end clients.
On top of offering a lounge and a general coworking area, The Executive Centre offers fully furnished private offices that can offer privacy and feel ultra-luxurious.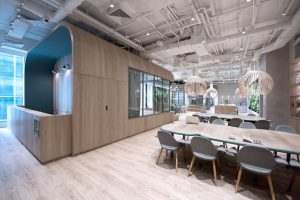 4. The Work Project (Causeway Bay)
Sophistication doesn't always mean opulence. The Work Project in Causeway Bay takes a minimalist approach to interior design that still gives off a highly professional feel. It's a beautiful coworking space filled with neutral colors, pops of calming blue, and an eye-catching mural made of plants. Plus, The Work Project offers daily refreshments and natural scents in the space to stimulate your other senses.
The Work Project offers memberships fit for both travelers and locals. You can hop in with a day pass or get a part-time hot desk membership if you're staying for less than 10 days. Or you can get a full-time hot desk pass or a private office of your own. Either way, you'll have access to networking events (and happy hours). This coworking space is especially ideal for professionals in the tech industry since it's situated so close to Google, Alibaba, Facebook, and other major tech offices.
Feeling hungry? You can head over to The Work Project's gourmet pantry for a delicious snack.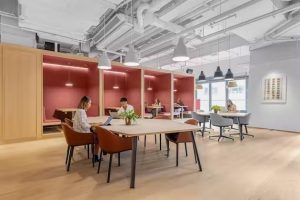 5. Spaces (Lee Garden 3)
Spaces in Lee Garden Three is another Causeway Bay coworking space that's well-situated within the bustling business and retail area. It's packed with five meeting rooms, nearly 200 office spaces, and plenty of flex space.
Spaces is best for frequent business travelers. It offers flexible coworking memberships, including hot desks that are available for 5 or 10 days per month and virtual memberships that allow you to establish a presence and get mail and phone services. If you get a dedicated desk membership, you can access any of Spaces' 3000+ locations around the world for free.
Don't forget to grab a free coffee to make your workday easier!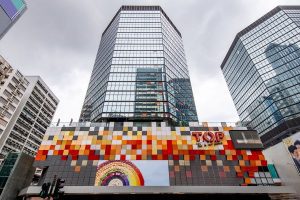 6. Regus (Nathan Road)
Located in Mong Kok, one of the busiest districts in the world, Regus Nathan Road is a minimalist coworking space that offers a calm contrast to the area. You can come here to work in the marble-floored flex space, claim your own office space, or simply claim your company's Mong Kok presence with a virtual membership.
Though Regus offers a highly professional experience, its Mong Kok location is a great option for anyone who loves culture and nightlife. You can find food and beverage businesses in your building or find nightclubs and pubs along your same street.
—
The right coworking space for you will always depend on the culture and area you're looking for. If you want to be surrounded by professionals and a high-end area, places like The Executive Centre and Spaces can be right for you. If you want a more casual, creative environment, check out The Hive or Metro Workspace. Each of these workspaces offers enough flexibility that both locals and travelers can enjoy their workdays and stay productive.