Coworkers and cool are two words that don't often end up in the same sentence. But, Budapest and cool? Now we're talking.
Budapest is one of the world's coolest cities. Well-known for its nightlife, Budapest has countless nightclubs with virtually all genres of music. The city has no shortage of pubs scattered throughout, either.
Of course, this should come as no surprise. With roughly 1.75 million people, Budapest is Hungary's most populous city. Budapest is also Europe's second fastest growing urban economy.
Despite this, Hungary's capital remains a surprisingly good value for your money location. While prices have risen in recent years, Budapest remains one of Europe's more affordable capital cities.
If you're looking for a Western European lifestyle without Western European prices, you'll love Budapest.
While Budapest is clearly a very livable city, it's also a great place to hustle… for some people. Like any big city, there are no shortage of entertainment options and distractions waiting just around the corner.
Like New York, Budapest is a city that will either make or break you. That's why you'll see most of the city's most successful entrepreneurs and independent professionals prefer to work from coworking spaces.
Countless successful startups trace their roots back to Budapest including Prezi — a technology company that allows its (100+ million) users to efficiently create engaging presentations.
Looking to follow in Prezi's footsteps? A good place to start is building your network and finding a daily workspace that'll enable you to consistently do distraction-free work.
Below, we've listed four of Budapest's best coworking spaces that'll support you in doing just that.
Kaptar Coworking is probably the king/queen of the Budapest coworking scene. With over 90 reviews and a five-star average rating from users of coworker.com, we're in no position to argue against Kaptar's case to the crown! 😉
If you're just in town for a quick business trip, you'll appreciate Kaptar's location next to three  of Budapest's top attractions: Deak Square, Basilica (a famous church), and the Hungarian Opera House.
And if you're in Budapest for the long-haul, you'll love the convenience of being a member of Kaptar. This Budapest coworking space is truly a one-stop shop for everything an entrepreneur or independent professional could ever need.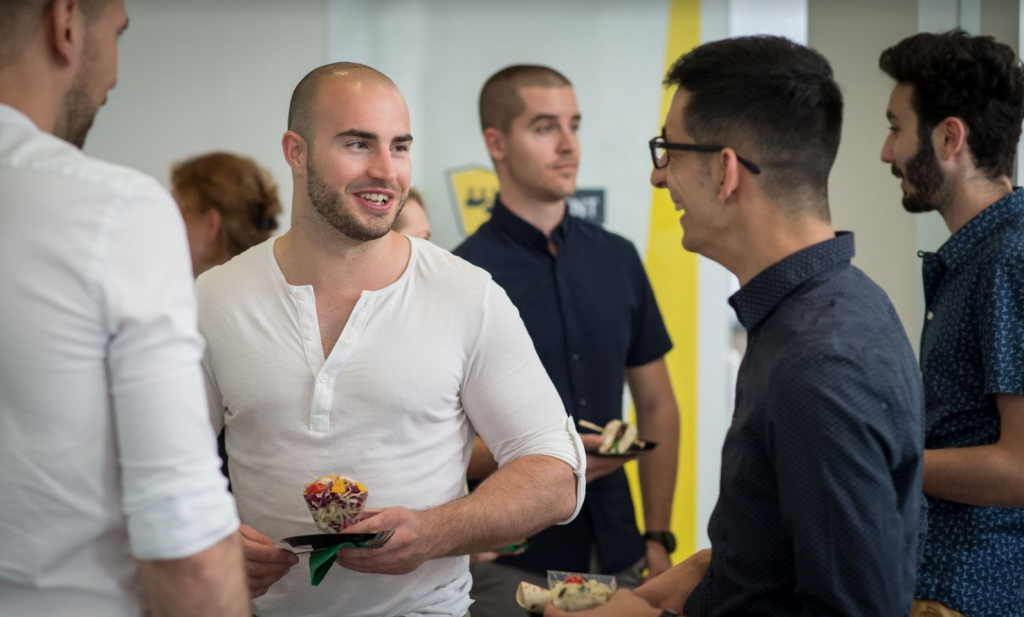 We're talking:
— A variety of seating options (chairs, standing desks, sofas, etc.)
— A friendly and welcoming community
— Community events for networking and knowledge sharing
— An energizing work atmosphere
— Self-service cafe with coffee, tea, and other beverages
— On-site kitchen and dishwasher
Oh, and these aren't just vague, blasé values Kaptar will forget about after you've signed up. This is a coworking space that's truly dedicated to helping you get the most out of your coworking space and even Budapest as a whole.
Kaptar Coworking truly walks the walk. Click here to check out their full post on Budapest's coworking scene!
Impact Hub is one of the world's largest coworking chains. With some 100+ spaces scattered across the globe, you're never far from a quality workspace. Plus, using the Impact Hub coworking passport (read more about coworking passports here), your Impact Hub Budapest membership will come in handy while traveling!
Enough about Impact Hub as a coworking chain. Let's talk specifically about Impact Hub Budapest. What's all the buzz about?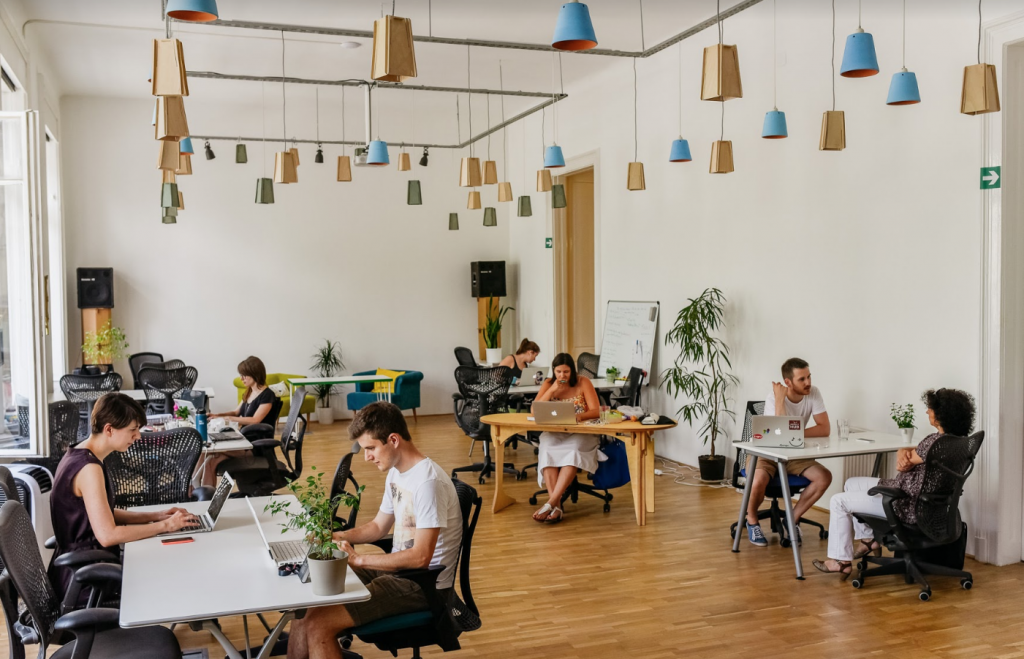 Impact Hub Budapest is a great place to work for several reasons. Like most Impact Hubs, this coworking space has an active community of socially conscious entrepreneurs and professionals to network and participate in exciting events with (think pancake parties, wine-tasting, hackathons… you get the idea).
Impact Hub Budapest also has a convenient location in the heart of the city. According to some members, however, their favorite aspect about this coworking space is the fact that it's budget-friendly.
Hot desks come in at roughly $110/month. The space is also easily accessibile via public transport and offers a food preparation area that'll save you hundreds of dollars each month if you choose to use it each day instead of eating out.
In short — Impact Hub is a great place to network with Budapest's big-time business players before your own wallet has had the opportunity to reach big player status.
For more information on Impact Hub Budapest including a full list of amenities, visit their coworker.com page.
Loffice is a coworking space in Budapest that is a paradox of sorts. Loffice was one of Budapest's first coworking spaces, but it has never gotten complacent about its established position in the market.
Loffice is a space that is contemporary, but that still respects its coworking values of the past. A coworking space that can help you understand all the nuances necessary to tap into the Budapest market, but that still maintains an exciting and newcomer-friendly international vibe.
With a number of languages spoken at Loffice, you and your team will be comfortable speaking virtually any major world language at this space.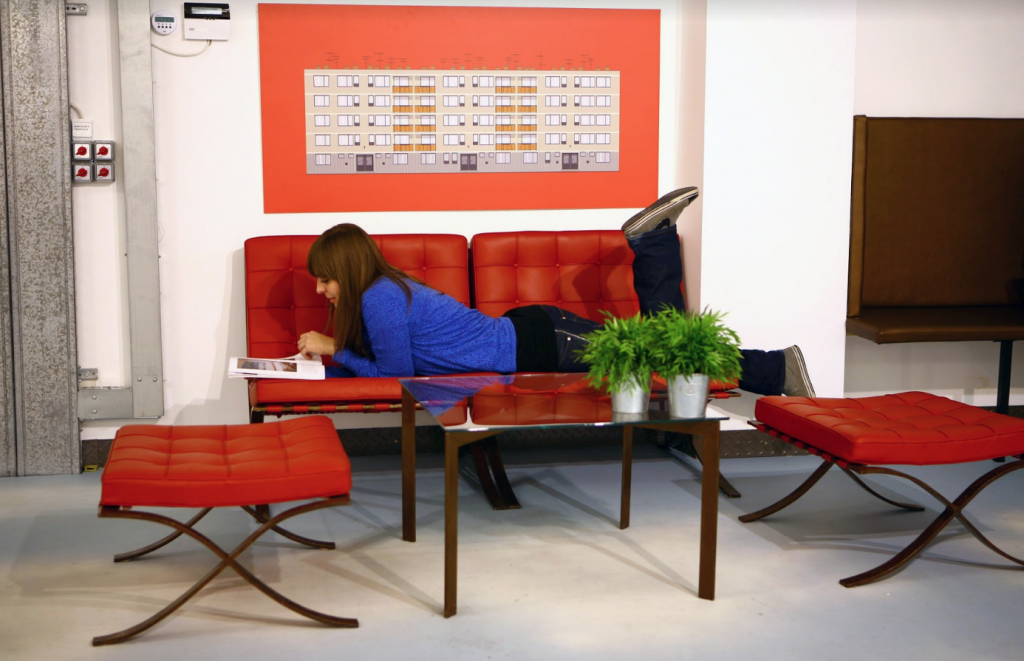 In fact, the supportive community is a major reason many professionals adore Loffice. Apart from networking opportunities, members of Loffice truly feel that the space is on their side.
Reviewers say that staff genuinely do their best to implement feedback received from members. Loffice has even actively sought out members that have accidentally paid too much or forgotten things at the space.
At coworker.com, one thing we appreciate about Loffice is the space's location. While finding a coworking space in the center of Budapest is no real challenge, it can be difficult to find a centrally located space that still has a peaceful ambience.
Loffice manages to check this box though. With a beautiful interior design and an on-site garden, you'll love Loffice's relaxing work atmosphere.
If Loffice's relaxing atmosphere appealed to you, another space you should consider checking out is Eco-office.
Scientific research proves that when we are surrounded by a green environment that we tend to more relaxed and effective. Given that this is true, an investment in an Eco-office coworking membership is one you won't regret.
No other coworking space in Budapest is as green as Eco-office. With a library and an abundance of plants that line the space's walls, Eco-office is a perfect coworking space for introverts and those that appreciate serenity.
Are you looking for something flexible? Do you just need to rent an office in Budapest for a day or so to hold meetings or get things done on a business trip? If so, Kubik's day passes will be right up your alley.
Whether you need a coworking space for a day, a week, a month, or a year, Kubik has flexible membership options to meet your needs.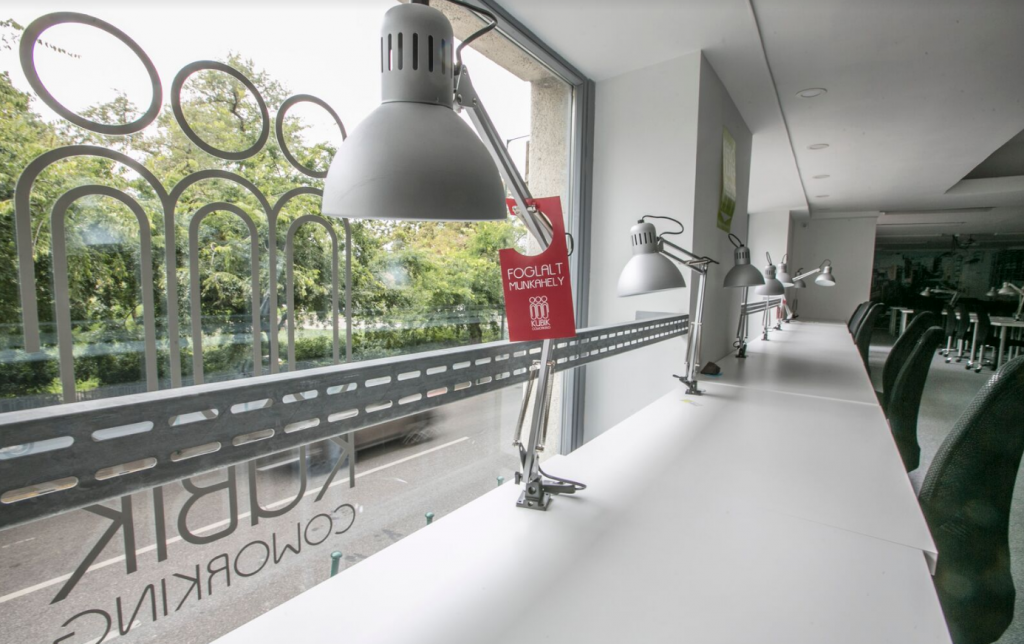 Kubik is also located in a prestigious central distract that's easy to reach by public transportation. Members of Kubik say that this space is ideal if you're just an occasional coworker.
If you're just passing through Budapest, or you're a Budapest local/expat that just likes to change things up once in a while, we'd definitely recommend checking Kubik out.
With multiple bookable meetings rooms, an on-site cafe, reasonable membership fees, and a convenient location, Kubik is THE perfect short-term coworking space.
Unfortunately, some members of the space bring up that it may be a bit too noisy for your tastes if you're working here on a daily basis. If you thrive off an energetic work environment, some say you'll love the hustle and bustle in the air.
Otherwise, Eco-office or one of the other spaces on our list may be more suitable for you.
Conclusion
We hope you've enjoyed our list of Budapest's top coworking spaces. For more information on Budapest, read Kaptar Coworking's Budapest guide, or check out our full list of spaces in Budapest.