Vancouver, Canada, is one of the major startup hubs of the world. With big industry names sprouting all over the city, many find it an ideal spot to build a professional career.
Home to many enthusiastic entrepreneurs and large enterprises, Vancouver is great place to live in and a great place to work with your team. Not to mention, the region boasts some truly spectacular scenery, including awe-inspiring mountains, sparkling water, rainforests, and foliage to explore just outside of the city limits.
In recent years, coworking spaces have increased in multitude, especially in cities like Vancouver. These vibrant, urban centers tend to offer affordable shared office spaces for those who aren't as comfortable working at home. These spaces are incredibly popular among remote workers, freelancers, and even students.
If you're on the hunt for a beautiful and inspiring flexible workspace to peak your productivity, here are some of the best places to cowork in Vancouver: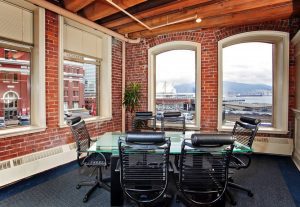 1.   The Profile
Located on 375 Water Street, The Profile is one of the best places to cowork in Vancouver. Not only is The Profile located in a highly accessible area, but the flexible operator actually offers three coworking spaces spread throughout the city.
If you are an entrepreneur who wants to get some work done in a trendy space or a business owner who needs a space to heighten the team's creativity, The Profile is a sound choice. Not only does it have a very modern interior but also has trendy cafes and presentation rooms on site.
In terms of amenities, The Profile has everything that you could want from a coworking space. It has high speed wi-fi, a number of seating options like bean bags or ergonomic chairs, air conditioning, a kitchen, a lounge area, and free parking.
To keep you energized throughout the day, you can indulge in the free coffee and free tea at The Profile. But if you think that you're too tired to continue, then the nap room is where you can rest at ease.
A dedicated desk costs CAD 350 for a month and is accessible 24 hours a day. The Profile is a great choice if you want to be fully catered to and interact with other cool people working right next to you.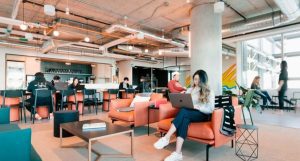 2.   WeWork Marine Gateway
Looking for something in South Vancouver? Well, WeWork Marine Gateway is an amazing choice. Located in the vibrant town center, this WeWork location is a fantastic choice if you are looking for a place to work and possibly grow your network.
WeWork Marine Gateway has all the amenities and facilities you need to get work done. Free beverages like coffee, tea and water, plus ergonomic chairs, printers, scanners, air conditioning, and high speed wi-fi are all on offer here.
Another great thing about WeWork Marine Gateway is that there is a gym onsite that you can take full advantage of as a member. By having everything you need in a day at a single place, you're saving precious commute time that you can invest elsewhere.
The best thing about WeWork Marine Gateway is that you can get an office for a single person for the whole month at just CAD 750. That is great value considering that the coworking space is at a central location and has everything you need to be productive.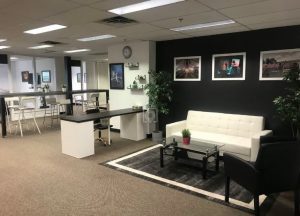 3.   Collective X Agency
Located at 1682 West 7th Avenue in the South Granville area of Vancouver, Collective X Agency is a safe bet if you want a place that will inspire you to get the job done.
A business casual interior coupled with high speed internet, air conditioning, free caffeine, bike parking, as well as a kitchen can be found on site.
One thing that you need to keep in mind about Collective X Agency is while they do have monthly plans, you'll need to make a commitment of 3 months or more. It's best to try out the space for a day or two and then commit if you think it's the right fit.
A dedicated desk at Collective X Agency will cost you around CAD 350, which is a fair price for what you're getting.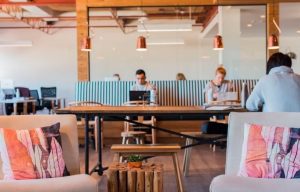 4.   Suite Genius Kitsilano
Like The Profile, Suite Genius offers several coworking locations in Vancouver, the first being Suite Genius Kitsilano.
One of the best reasons to work from Suite Genius Kitsilano is its central location, which makes it super accessible. The space offers a number of different packages to coworking members including private offices for teams, dedicated desks, and hot desks. You can also request access to meeting rooms.
As for amenities, Suite Genius offers high-speed wi-fi connectivity, heating, air conditioning, and kitchen and lounge areas. They also provide you hands-on access to printers, scanners, photocopiers and plenty of events/workshops to assist in your networking.
At Suite Genius Kitsilano, you can get a dedicated desk for CAD 550. Considering the location and the fact that you can go there at any time, it's a bargain.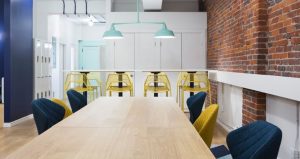 5.   L'Atelier Vancouver Coworking
Located in one of Vancouver's most vibrant neighborhoods, Gastown, L'Atelier Vancouver Coworking is a great place for freelancers and emerging entrepreneurs. You will find L'atelier ranked as one of the best coworking spaces in Vancouver on many of the top lists.
Its bright, beautiful design, calming environment that boosts productivity, and incredible community are what make this flex office stand out. The designers at the L'atelier put a lot into what the place looks like to make it work-appropriate, yet comforting.
L'Atelier offers a number of packages, dedicated desks, hot desks, and private offices if you host a team and aren't working solo. They also offer small meeting rooms and boardrooms if you want to hold any meetings or brainstorm.
Moreover, the offices are equipped with heating, air conditioning, high-speed internet connection, and a dedicated lounge to relax in. (They also add in free coffee to help you stay up to speed at work!)
A dedicated desk for a month comes at around CAD 475, while an office for four people comes at CAD 2,000 per month.
6.   VanCubers
Located in the heart of downtown Vancouver, VanCubers is a comfortable space designed to help accommodate local freelancers, entrepreneurs, and small businesses owners boost their careers. This unique space offers secure private workspaces, hot desks, dedicated desks, and meeting rooms for bookings.
If you're looking for a community of like-minded, forward-thinking creators, then this is the space for you. VanCubers provides you with high-speed wireless fiber internet (150 MB), air conditioning, unlimited printing, photocopying, scanning, access to PCs and Macs, and free coffee for those who need a caffeine fix!
You can get a dedicated desk at VanCubers for  CAD 400 a month, but if you would like an office for one, that would come at around CAD 1,260.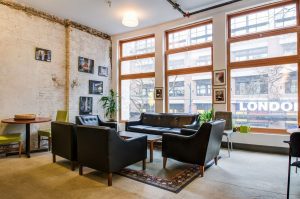 7.   HiVE
One of Vancouver's most popular coworking spaces, HiVE, has been operating since 2011, serving as a non-profit organization helping people cowork, host events, and build a productive community.
This coworking operator's goal is to provide support to the individuals and sectors that are tackling some of society's most complex challenges. They help by raising human capital and other resources that small businesses may need to grow.
HiVE's community is diverse, coming from a wide range of backgrounds, techies, entrepreneurs, creatives, activists, professionals and both nonprofit and for-profit organizations, to name a few. They are, according to HiVe, working on finance, green building, education, food systems, sustainability efforts, law, design and community development among others.
As for amenities, this space offers high-speed internet, heating and air conditioning, ergonomic chairs and hammocks, a lounge area to relax, personal lockers, and a phone booth. They also offer equipment such as printers, scanners, photocopiers, projectors and microphones along with free coffee/tea fixes.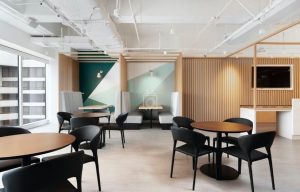 8.   iQ Offices – 1055 West Georgia Street
Located at 1055 West Georgia Street is iQ Offices. With concrete floors, floor-to-ceiling glass, privacy screening, sit/stand desks, ergonomic chairs and wood design elements, this space offers the perfect mix of contemporary and modern office design. If you're looking for a working environment that simply looks and feels progressive, then this is the one for you.
A membership at this space comes with a number of amenities including high-speed internet access, heating and air conditioning, a dedicated lounge area, kitchen and phone booth, dual/single monitors, free snacks, tea, and coffee – as well as plenty of events and workshops to keep you going!
IQ Office Suites also doesn't hold back when it comes to the satisfying worker concept. They offer free beer, gym areas, free wine, and massages to their clients as well! They also offer 24 hours member access and wheelchair accessibility for the disabled.
A dedicated desk will cost you around CAD 500 and there are plenty of options for private offices for several people.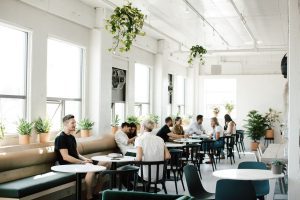 9.   Werklab
Most coworking spaces are built to replace your regular offices or provide you with the private space you need to work.
Werklab is providing coworking spaces that aren't simply replacements for work areas, but add value to the way you work. The Werklab team adds elements of spirituality, mindfulness, and meditation into working spaces, making them more holistic aesthetically calming and pleasing. After all, a calmer you leads to a more focused you.
This coworking space hosts an incredibly vibrant, dynamic community that isn't obsessed with the hustle-driven lifestyle but rather more focused on wellbeing and creating spaces that support meaningful work.
Werklab offers private offices, dedicated desks, hot desks, meeting rooms, board rooms and a variety of amenities including high-speed Wi-Fi, heating, standing/sitting desks, printers, scanners, photocopiers, and free beer and coffee! You are also provided with 24-hour access and free parking on the premises if you are a member.
A dedicated desk costs around CAD 450 and private offices are pretty affordable as well at Werklab.
Conclusion
Vancouver is an amazing city full of opportunity and character. With a young population and diverse workforce, Vancouver is an amazing place to work and live. Coworking has also gained traction and is becoming more prevalent as people are choosing to work outside of their homes.
Finding some of the best places to cowork in Vancouver can be tough given the size of the city, but hopefully this article would have helped you on your search!