You may not know it yet but coworking and surfing go hand in hand. Surfing is fun, teaches patience and lets you get out of your head and into the ocean. Can you think of a better way to balance your workload than with a session in the water?
Coworker has teamed up with CoWorkSurf, a cowork, colive, cosurf community based in Portugal, to make your journey from boardroom to board shop easy with our pick of the top coworking surf locations in the world.
What are you waiting for? Surf's up!
Bali
Thanks to its great internet connection and ability to pull in talent from Digital Nomads all over the world, Bali is a well-known coworking spot. It also has some of the best waves in the world in some truly stunning locations. Suited to all levels of surfers with easy access to lessons and hire, Bali is a great introduction to both coworking and surfing. Stoked? Find your next destination in Bali here.
Cape Town, SA
Cape Town in a vibrant city with a lot on offer for both the nomad and the surfer. The meeting point between the Atlantic and the Indian Ocean, the area around Cape Town features lines of continuous, uninterrupted swell with beaches working all year round. Don't let the tropical vibes fool you though as you'll need a wetsuit for the cold water.
Morocco
An African gem with great access to Europe, Morocco is a prime location for wandering nomads. There's good surf, desert adventures and some of the best food culture your wages can buy. Plus Moroccan coffee to power your surfing (and work deadlines) from sunrise to sunset. Checkout Sundesk to catch your first wave in this stunning location.
Panama
With a volcanic island backdrop and warm water all year round, hit up Panama if you want to make your friends jealous of your coworking lifestyle with some stunning surfing shots. Panama's beaches regularly host international competitions as well as a buzzing scene for locals. Waves can be tricky, however, so this one may be for more experienced cowork surfers.
Portugal
Portugal is home to one of the biggest waves in the world, Google Nazaré if you don't believe us, but there's a whole range of easy going beaches, surf schools and communities ready to welcome surfing coworkers at every level. Sagres in particular is home to a bustling community of freelancers and entrepreneurs ready and waiting for you to collaborate and network with. Check out CoWorkSurf and start your Algarve adventure now.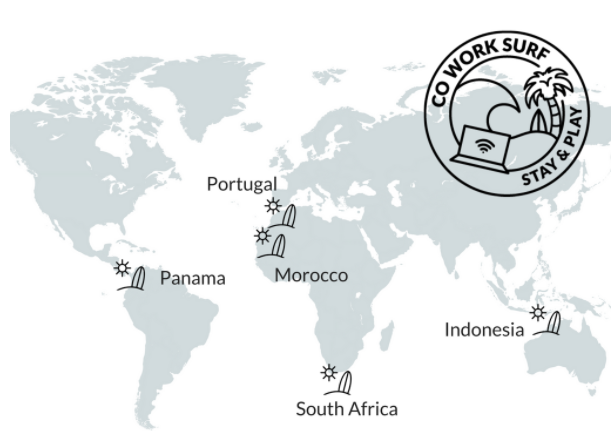 ---
About the Author: 
Terri Witherden is currently Coworking on her cold water surf website Seafox Creative in between waves in Portugal.