Coworking has been around for nearly 20 years now (or at least the term 'coworking' has) and throughout the years, we've seen many debates regarding whether coworking makes people more or less productive, more or less happy, more or less innovative.
In times when we should all listen to science a bit more, let's take a look at what the numbers say about coworking. Let's learn what the biggest coworking studies, surveys, and research have to say about this global, flexible way of working.
1. COVID-19 has been destructive (but good news is on the way)
The ongoing COVID-19 pandemic has disrupted the traditional workplace in ways we've never seen. And while some believed that the limitations of forcibly working from home would cause more people to rush out to their local coworking spaces, the opposite happened.
According to Coworker's survey of coworking spaces during COVID-19 discovered that more than 70% of coworking spaces witnessed dwindling numbers of people working from their spaces. Not only that, but they also reported consequences such as event cancellations (71.04%), conference room cancellations (65.99%), membership cancellations (34.68%) and even space closure (20.2%).
As a result of this, coworking spaces around the world have adjusted their business models to stay afloat and provide new kinds of services that will be of better use to their members in a post-pandemic work environment. Most spaces that were surveyed have adjusted their cancellation policies and reduced their prices. Spaces have also added new student memberships for suddenly-online students, partnered with video conferencing companies to help their members move events and workshops online, and much more.
There is some good news, however. In Coworking Insights' 2020 Future of Work Report: What the Future Holds for Coworking & Remote Work report, more than 70% of remote professionals said that they plan on returning to coworking spaces once the lockdowns  end and safety is guaranteed. Already, the industry has experienced recovery in some markets as people head back to work, but the pause in coworking operations during the pandemic was notably disruptive.
2. In-office perks are really important
Earlier this year, Clutch conducted a survey of more than 500 people working in coworking spaces around the U.S., and perhaps the most interesting finding was that in-office perks such as refreshments, standing desks, games, and other fun amenities are most commonly cited as the greatest benefit of coworking spaces. This reinforces what most of us have witnessed for ourselves – coworking spaces have an important social aspect to them that can create an incredibly fun office environment and culture.

3. Interacting with other businesses matters
The same survey found that being able to interact with other businesses is also extremely important to people who work at coworking spaces. Namely, 55% of the people surveyed said that opportunity to network and meet other entrepreneurs matters a great deal to them. Once again, this is understandable and definitely one of the biggest draws of coworking spaces. For many, it is far easier to engage in conversations and exchange creative ideas in coworking spaces — rather than in traditional office buildings.
This social aspect of coworking spaces was also discussed in research published in the International Journal of Environmental Research and Public Health. It should be noted, however, that this research compared working from a coworking space versus a home office (rather than a traditional office space). 
4. People prefer coworking spaces to their home offices
Even before the coronavirus pandemic has soured us all on the idea of working from home, people preferred working in a coworking space, at least according to the aforementioned paper that investigated coworking spaces in Germany.
Namely, the research showed that people working from coworking spaces were more or equally satisfied with their job (96.9%). They were more or equally physically active (79.7%) and far more able to separate personal and work life (85.9%). This is a much bigger deal than it seems, with many people who work from home not being able to properly relax and go offline (affecting sleep and mental clarity, among other things).
The participants also said they were more productive than when working from home (89.1%) and able to concentrate better (71.9%).
5. Coworking spaces are great for productivity
Another study that was published in the Journal of Facilities Management in 2018 investigates the effects of coworking spaces on individual output and the importance of social interaction for productivity. 
The researchers focused on two factors that can contribute to the increased productivity – the social interactions (both as teamwork within a single startup and with other members of the coworking space) and the coworking space environment. They discovered that both of these are conducive to productivity.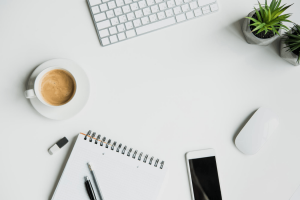 6. Flexible workspaces offer job control (but it's complicated)
A team from the University of Michigan's Stephen M. Ross School of Business has been running a major survey of coworkers for several years. Back in 2015, they first shared their findings about coworking spaces in the Harvard Business Review.
One of the things their research discovered is that coworking spaces provide workers with the perfect balance. On the one hand, coworkers are not tied down by the conventions present at most traditional offices, and their working arrangement gives them greater job control. Having a shared space and physically traveling somewhere for work provides that bit of necessary structure so as not to compromise their productivity.
7. Coworkers find their work meaningful
Another very important insight uncovered by the aforementioned research is that people at coworking spaces feel that their work is more meaningful than people who work at traditional offices in general.
The lack of internal office politics and competition allows coworkers to be themselves without the need to adopt a certain office persona. Also, as they are in contact with other professionals, they often describe what they are doing, reinforcing the meaning or purpose what they do. Also, the "helping hand" atmosphere that is present at coworking spaces gives additional opportunities to be helpful and feel like one is making a difference.
Closing Words
Coworking spaces are much more than just spaces where you can get a desk and a cup of coffee. They can be great productivity boosters, and they are definitely the place to be if you enjoy the company of other professionals in a flexible, accessible setting.