The beauty of coworking spaces is that they are rarely completely fully occupied, giving workers room to thrive, be creative and knuckle down without too much distraction. They are usually inhabited by like-minded people, often in a similar industry – it is especially popular among the growing digital and tech sector. 
When people are of a similar mindset and want to look after the space where they are working and make sure it is as accessible to others as much as themselves, it is often easier to introduce new initiatives. If you get one or two people on board, everyone else will follow.
Unlike a traditional office set-up, a coworking space is generally managed by a third party, with the desks and offices rented off them. It is therefore up to them to implement these sustainable practices.
Here are 5 simple ways operators can integrate sustainable policies at their coworking spaces.
Recycling and reusable materials
Rather than having a hot drinks machine or water cooler with disposable plastic cups – that burn your hands and are too flimsy to really hold any liquid in them – provide proper mugs, cutlery and crockery that can be reused. 
It may well be that if workers are only in one or two days a week then they won't want to bring in their own mugs from home in case they get lost or broken when they aren't there and somebody else is using the desk. By providing these alternatives, you are actively reducing the daily waste produced.
Having specific bins for dry mixed recyclable items, such as paper, plastic bottles and cans, will also cut down on what is sent to landfill, rather than having one bin that is used for everything. Don't give each desk its own bin, encourage people to get up and throw away their items into the designated receptacle instead.
Energy-efficient equipment
An office uses a lot of equipment; that is just the nature of them. Make sure that any workers close down all computers and turn off items such as printers when they leave the office. This will automatically cut down on energy use when the office is vacant. It also means that everything is kept locked and signed in when a different worker wants to use it.
The same goes for kitchen equipment such as fridges and kettles. A communal kitchen in a coworking space will likely be used regularly, as people congregate there to chat as well as to make drinks or their lunch. An energy-efficient fridge will cut down on cost and emissions, however many times it is open and shut.
Have lights that are on motion sensors so that if certain areas of the space aren't being used, then the lights aren't coming on for no reason. Always use energy-efficient light bulbs, and get rid of any nasty fluorescent tube strip lights that are not conducive to health or the environment.
Make the most of natural light
Alternatively, make the most of any natural light, if you can. Coworking spaces often tend to be in larger buildings, to allow enough hot desk space and meeting rooms for all eventualities.
If possible, have large windows installed to let in as much natural light as possible. This will also make the space feel more modern and airy, and attractive to any potential clients. Glossy white furniture will reflect the light back into the room too, far more so than dark wood or black plastic. 
The impact on worker wellbeing should not be underestimated. Not only does it lift spirits, but it is also far more eco-friendly and sustainable than switching on electric lights.
We all feel better and more productive when the sun is shining and we are bathed in natural light and fresh air. Very few workers will go outside during the working day, so replicating that in the office environment is an important factor.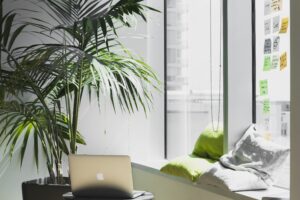 Plants and greenery
Another way of bringing the outside in is to make sure there are some indoor plants dotted around the office. It will need to be someone's job to go round and water them so they aren't just left unattended. Although there are several low-maintenance plants that will do the job. 
The positive impact that a spot of greenery can have on mental health is worth the time and trouble taken. The air quality will be better and concentration and attention spans will improve. They are also known to reduce stress and anxiety, both of which are often part of daily working life. 
A rooftop or outdoor area can also be used for specifically growing plants, which adds to the overall positive environmental impact and sustainability of the coworking space.
Promote green commuting methods
Coworking spaces tend to be in areas that are easily accessible to make them more attractive to those who may need the service. This can include the likes of city centers which are on regular bus routes, serviced by train stations or on cycle routes. 
Promoting these forms of public transport will automatically and immediately constitute a greener and more sustainable way of getting to the office. Plus, if people are coworking, they can car-share too, to cut down on the amount of carbon emissions.
Providing secure cycle storage and shower facilities, as well as bus and train timetables in the office, will put these commuting options into the workers' psyche and make them more attractive propositions.
Final thoughts
Whoever uses your coworking space, how often they use it, and in whatever industry they work, there is always something you can do to make it more sustainable for your clients. 
It is a great selling point for when you are trying to get people to buy into the coworking revolution and gives you a USP that others in the area may not have. Many younger workers, who are often the target market for coworking offices, put sustainability at the forefront of everything they do. So, this puts you ahead of the curve and will work in your favor when advertising your services.