Coworking spaces have gone through a drastic change in the last year due to the coronavirus.
We had to adjust and implement new trends like flexible offices, social distancing, and decentralization. The majority of these trends will most likely stay in 2021 and beyond. In fact, they'll likely become new standards.
Let's look at the major trends of coworking spaces in 2021, so coworking operators can better prepare for future opportunities and stay up-to-date.
Wellness & Safety
The health of your members should be the number one priority. Therefore, you should equip your coworking spaces with high-quality air conditioning for cleaner air. You should also adapt the whole design of coworking spaces to the social distancing criteria.
Make your offices open-space and stretch out the whole coworking space for maximum safety and comfort of your freelancers. 
Be sure to follow other tried-and-true coworking space safety protocols and keep your freelancers healthy.
Technological Advancement
Technology is moving forward at the speed of light. To keep up with the newest trends, you must provide your space with the latest technologies.
Due to Covid-19, we've shifted to remote work. We work from home and use various software tools to work online and connect with our partners. However, this also applies to software.
For instance, you might be offering Leadpages as software of choice in your coworking spaces. But there might be a lot of better alternatives which can speed up the work and make your freelancers operate more effectively.
Therefore, make sure to offer the latest and most advanced software. It'll definitely help you attract more freelancers.
Lastly, technological advancements can make your spaces safer, too. You can make your spaces transactional and frictionless, minimizing the touchpoints and doing everything online.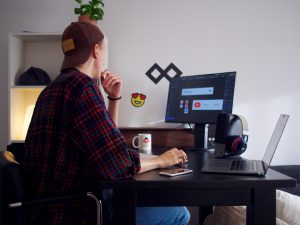 Education
We're living in a fast-paced era. Everything is changing in a matter of seconds.
To keep up with the newest trends, you must provide your freelancers with proper education. Due to the pandemic, most employers used online learning platforms or live interactive events for that.
This will most likely stay with us and continue even after the pandemic because of its effectiveness. Your freelancers can learn from anywhere, at their own pace, and at the time that suits them the most. 
Proper education is crucial for increasing the effectiveness of your freelancers. For instance, they might be using software like Kartra or ClickFunnels for years, later figuring out there's a newer, better alternative that will speed up the work. This will lead to the best results.
Niche Spaces
Generally, coworking spaces are very flexible and suitable for everyone. But, this is likely to change and lead to more specific, niche spaces. 
For instance, one such space might target bloggers. These spaces would be designed to make writing and editing easier, equipped with height-adjustable desks and acoustic foam for boosting focus.
Another example can be coworking spaces that appeal to companies in the marketing sphere. These types of spaces would be equipped with more conference rooms, whiteboards, and a luxurious look to give a better first impression and lead to more closed deals.
Flexible Office Space
Flexispace is probably the biggest shift in coworking spaces. In essence, you choose the date and time when you work in the office but also when you plan to stay home and work remotely. 
This is especially important nowadays, because there can be only a limited number of freelancers working at the same time due to the COVID-19 restrictions.
However, flexible offices will be used in a post-pandemic world because they are so convenient. See how many freelancers are currently working and avoiding overcrowded spaces by working remotely. You basically claim your desk on a daily first-come, first-serve basis.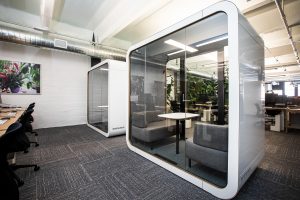 Office Decentralization
Traveling is disastrous because of the pandemic.
That's why big companies like Twitter and Facebook decided to decentralize their headquarters into smaller branches all over the world. That way, you can get to work no matter where you live and save time on commuting.
But this isn't a dying trend; it's only growing faster. You can definitely expect more decentralization and a lot of satellite branches in the upcoming years. "Don't put all your eggs in one basket" rings true in the coworking world.
Design & Usage
Prepare for a more eco-friendly design, waste separation, and additional features that will make coworking spaces ecological.
You can also expect futuristic design and the use of the coworking spaces to rise over the next couple of years. It's no new trend that the world is moving away from cubicles and coworking spaces are the future of offices.
Conclusion
Coworking spaces will undergo a massive shift in 2021.
The COVID-19 pandemic hit us last year, and we're just starting to adjust. The future holds higher safety and the newest technologies that allow for remote work online.
To best prepare for the future and its challenges follow the tips we've mentioned in this article. You should also .stay up-to-date on the newest marketing trends to promote your spaces online effectively. You won't regret it and will definitely see more freelancers in your coworking spaces.