Headlines have certainly been grim as of late, but there is a silver lining. 
With nearly 20 percent of the world's population under COVID-19 lockdown, many professionals have transitioned to online workplaces. Though it hasn't been a seamless transition for everyone, it has given those in crucial business sectors the opportunity to continue doing their jobs. And at a time when economies are facing near-total collapse and government expenses are rapidly expanding, this output is critical. 
In fact, remote work has proven to be the unexpected hero for many businesses during the pandemic. 
According to analysts, a substantial portion of the U.S. economy has been able to carry on unabated thanks to the technologies in place that allow office-workers-turned-home-workers to continue working. Other economies, too, have taken solace in remote working for the time being, though experts are predicting the virus will cost the global economy between $140-160 billion USD. 
For people that envisioned a digital future where decentralized workforces make systems more resilient, the pandemic has effectively cut the red tape.
As time goes on and many of the current challenges of remote working become eclipsed, professionals — and employers more generally — will develop confidence in their abilities to produce a similar yield from home. Moreover, alternative models of working from home, such as utilizing a coworking space or renting a virtual office, are likely to gain traction.
Twitter's Head of People Jennifer Christie, who masterminded the company's almost overnight shift to a distributed workforce in March, said the pandemic's reach will have a permanent impact on organizational structures and norms.
"People are talking about how this is going to be the fourth industrial revolution with different technologies changing fundamentally how we work," said Christie in an interview with CoinDesk.
No turning back
Operations may never return to the way they were pre-pandemic, this isn't necessarily a bad thing. 
Employers who were previously skeptical of the efficiency of remote work have now been forced to test out the method with their own workforce. In some cases, the experiment has disproved employers' previous theories that certain tasks could not possibly be completed at home. With no other alternative, companies have been devoting time and resources to finding solutions for these 'impossible' tasks so they can sustain their operations. 
What this means for remote work in the future is that there is no turning back, as sentiments are changing—and changing for good.
Once the virus' peak has passed, will workers really want to return to crowded commutes and confined cubicles? Will they want to spend so much money on public transportation, office lunches, and gas?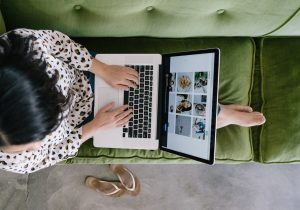 Adapt to survive
Business owners that survive this global crisis will emerge with a fresh perspective on what it means to run their organizations, leading to further improvements in remote-work technologies. As these innovations take shape and become more accessible, the realization that businesses don't have to operate traditionally to be successful will endure.
Corey Petty, who is the chief security officer of the decentralized communication platform Status, believes those unwilling to adapt are more likely to fail.
"Part of our goal is to help people realize that you can have meaningful real relationships with people and communities in a distributed way," Petty said. "People have just been opposed to getting over that barrier of initially trying and this is forcing everyone to do it."
Already, technology has made weathering the crisis much less challenging, especially for companies that had few protocols in place for working from home. Remote teams are now relying on platforms like Slack, Discord, and Google Meet to communicate and manage tasks.  The video conferencing tool, Zoom, has even become a household name (and a new verb), with CEO Eric Yuan raking in $4 billion USD in just the past three months.
Now that so many businesses have experienced remote working, they will be more comfortable letting productive employees work from home. Some may even consider eliminating their hefty leases as a means of cutting costs, which could lead to positive consequences for the flexible office industry.
On a micro level, the end of the pandemic will mean returning to normalcy, and it's safe to assume that many workers will want to go back to their offices. However, on a macro level, the societies we live and the global economy are going to drastically change, which could accelerate professional and technological trends that have been decades in the making.
Without remote working, the fallout of COVID-19 could have been even worse for economies around the world. Though the effects are not to be minimized, the availability of the Internet has allowed workers to remain employed and businesses to operate — more or less — as usual.  
"So much of the economy is still done the old way," said Blitz, who is the chief U.S. economist at the forecasting firm TS Lombard. "But the chances of us going back 100 percent to the way we were before is probably not likely."