Over the last decade, we've seen the rapid expansion of a brave new trend, and its popularity is continuing to grow exponentially. Why are coworking offices growing more appealing to freelancers, entrepreneurs, and businesses each year?
Interestingly, coworking is affecting the concept of working in general, shifting from the coercive method of sitting at a desk all day to a more flexible approach, where people can work and also socialize. This is because coworking spaces address the needs of employees and self-employed professionals who have an urge for innovation, want to grow their businesses, and find new networking opportunities for future collaboration.
In today's working world, the environment where people are working is no less important than the work itself. Location, people, atmosphere – all of these factors play a significant role in terms of boosting (or minimizing) productivity. Coworking spaces help align people, technologies, and work into a symbiotic triangle, which has led to its mainstream adoption on a global scale.
As the advent of coworking spaces continues to flourish, let's take a look at what is going to be on the industry's radar in 2020.
The more diverse community model
Coworking spaces are going to be favored not only among newly-born startups, freelancers, and entrepreneurs, but also among larger companies. This is because many major corporations are recognizing the benefits of using shared offices, such as working with a range of smaller teams side by side.
There's also a tendency in the flexible office industry to create coworking spaces focused on specific fields. It makes sense in terms of attracting the right people and getting them on board with a certain industry culture. The point of this model is to boost creative thinking and urge the atmosphere of true collaboration, aiming to increase productivity for all employees.
A diverse approach to coworking helps enterprises of all sizes build a robust networking community, continuously expand it, brainstorm new ideas with like-minded teams, and find more inspiration.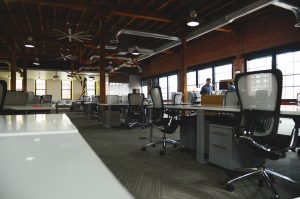 The Internet of Things to enhance workspace management
While the demand for efficient and comfortable coworking spaces is set to increase in 2020, so too is the need for spaces to be equipped with the latest technologies. With the development of new wireless devices and the integration of space management software, coworking managers are rising to the challenge, which is creating more industry-specific coworking support.
Workspaces owners will focus more on bringing IoT technology into coworking spaces to transform them into smarter and more dynamic areas. Cutting-edge technologies will play an key role in terms of controlling the environment of a workplace through a single interface, starting with synchronized calendars and interactive dashboards. These innovations at coworking spaces will allow for seamless office usage and continuous improvement.
More automation, less human interference
The year 2020 is going to be all about automation, which will lead to a new feel and look in shared workspaces. Coworking spaces will start to be even more equipped in terms of how they meet the needs of tech-savvy coworkers. Many spaces will begin to offer new alternatives to what traditional offices cannot supply.
Smart devices and various motion sensors will allow remote regulation of lighting or tracking climate control (e.g. based on people's movement). With the help of automated technologies, such as humidity sensors, office temperatures will be better regulated, maintaining a more consistent air quality within coworking spaces.
Remote automation will also affect the way the rooms are used. For example, office managers can engage in real-time tracking to identify which locations are the most popular, or which ones require improvements.
_________________________________________
Human creativity and hi-tech innovations will empower the future of coworking in 2020. Plenty of small, medium, and large-sized enterprises are willing to start exploring new coworking opportunities and expand their possibilities for collaboration. As the demand for shared offices continues to grow at a rapid pace, all that's left is to find an ideal coworking space for your needs.