First opened in June 2021, ViOS Coworking is the only flexible office space in Greece that turns workplace well-being into a philosophy.
In the very heart of Athens and for the first time in Greece, ViOS takes pride in offering thoughtfully-designed coworking office spaces based on the prestigious WELL Building Standard, which aims to enhance health and well-being in the workplace.
Centrally located between Kaniggos and Omonoia Square, ViOS features 170 sqm of open, green workspace surrounded by 110 windows that provide gorgeous natural light to 95% of the office spaces. In addition to its meeting rooms and private offices, ViOS also has an urban garden and green rooftop to provide members with an opportunity to reconnect with nature while at work.
To learn more about this incredible coworking space, Coworker caught up with community manager Corina Saias, who shared with us what ViOS' mission is in a post-pandemic work environment as well as the company's plans for expansion in Athens and beyond.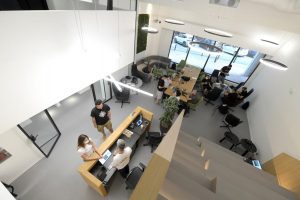 1. As 2022 is set in motion, how has ViOS stayed true to its mission?
ViOS' mission is to transform workspaces into environments that foster open communities, prioritize employees' well-being, cultivate collaboration, and enhance creativity.
Our open office plan and "lounge" designed areas, such as our hot desk space, our café, the urban garden, and our balconies all promote collaboration, creativity, and learning.
In addition, the building has been designed so it can contribute to employees' productivity and morale and enhance members' well-being. Members can use 24X7 amenities such as a gym, a mediation room, showers, a massage room, and a quiet space.
Moreover, in prioritizing our members well-being, we adhere to the best anti-Covid measures. Among other initiatives, we replace all ambient air with fresh air every 20 minutes, we disinfect with UV lights, and we have even installed certified antimicrobial handles to our most frequently used doors.
2. What are the attributes or characteristics of ViOS that make it stand out from other flexible workspaces?
ViOS is the first coworking space in Greece designed to meet the Well Building Standard, which ensures health and well-being in the workplace. We have turned workplace well-being into a philosophy focusing on 100 features across 11 concepts: Air, Water, Nourishment, Light, Movement, Thermal Comfort, Sound, Materials, Mind, Community, and Innovation.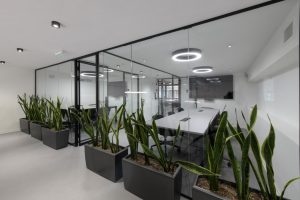 In addition, we have designed a multipurpose workspace where you can find private and open space offices, relaxation spaces, a garden, outdoor and indoor event spaces, meeting and training rooms, a podcast studio, and wellness areas. Our proposition is unique for the Greek market.
3. What is the community like at ViOS?
I would have to say that our community is a combination of enterprises, startups, and entrepreneurs. In addition, we have many loyal digital nomads that keep coming back.
4. Do you host any special events for members? What are some of the favorite events you've hosted in the past?
We are very reluctant to host frequent events due to Covid. Our priority is to keep our building Covid-free as much as possible. Many of our clients, such as production companies, cannot afford to have their personnel on sick leave for days/weeks, as this may jeopardize their whole project.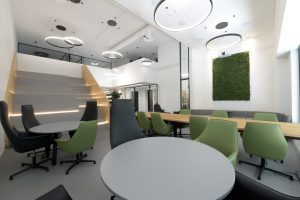 5. What are your predictions for the flex office industry's future this year? Does ViOS have any plans for expansion?
Our immediate plan is to expand within Athens and then we may examine other locations. The flex office industry has regained quickly its market share before going into the pandemic, putting it in a strong position for 2022.
To learn more about ViOS or to inquire about a membership, visit their listing on Coworker here.