Applications of all kinds assist people in their daily activities. Most aspects of life have been made easier by applications and other technological innovations as the world gets more digital. The office is no different.
The idea behind how workplaces function, meanwhile, has considerably shifted throughout time. The workplace after Covid is secure, effective, and unique. Additionally, it aims to increase worker satisfaction in a variety of ways.
There are many more developments the corporate world is witnessing, from companies moving toward hybrid offices to acquiring different office software. This also includes the numerous apps and practical resources that assist teams to function in hybrid arrangements. 
Frequent challenges for hybrid workers
According to research by Stanford University, the majority of remote workers cite social isolation as one of the most significant drawbacks of the all-remote mode, making hybrid (where employees are permitted to switch between office and WFH) the most beneficial work arrangement.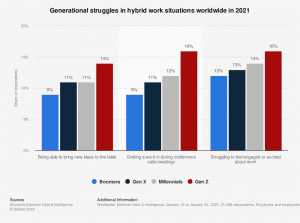 However, without significant adjustments, firms risk failing to adopt the appropriate tone when introducing hybrid work. To begin with, hybrid work necessitates improved team communications and process alignment.
Therefore, the main concern in addressing the potential difficulties of hybrid work is how to design a system that can benefit from greater employee flexibility without producing organizational chaos.
Employers must focus on the following for winning hybrid work:
By creating the right conditions for autonomous work, employers may ensure that their staff is tech-savvy and able to adjust regardless of where their workstation is located.

Documentation of communications with complete feedback and no space for conjecture.
Essential tools for hybrid work
In a post-pandemic workplace, managing hybrid work to provide a smooth experience is a requirement.
Businesses need to provide clear guidelines linked to increased attention to safety, employees' mental well-being, empathetic leadership, and diversity. This will help to improve rules and antiquated protocols that are not well-served under modern working conditions.
At the time of the reopening, ignoring value-based modifications may put you at risk of slipping behind competitors. The company culture that is geared to these needs will pay dividends in the long run by creating a more resilient and future-proof workplace.
Top productivity apps for every remote task
What follows is a helpful list of tools that make hybrid work run more seamlessly for remote teams.
#1 – Project management
Project management doesn't have to be difficult, especially with the help of tools that simplify the process. Without even being in the office, you can manage your team, tasks, and deadlines when you utilize project management software.
For example, SmartTask is a great project management tool, which offers comprehensive cloud-based work management tool for teams of all sizes. It is renowned for having an easy-to-use interface that doesn't require any special training, as well as offering more than 30 task management features.
In addition, SmartTask provides team collaboration, project management, time tracking, custom analytics, and reporting tools. The list, board, calendar, timeline, workload, and portfolio views allow you to keep track of your work.
For teams in marketing, operations, accounts, engineering, and HR, SmartTask provides pre-made templates to manage multiple projects. It also easily automates workflows by integrating with 1000+ applications, like Zapier, Integromat, Pebbly Connect, Jotform, Slack, and Twilio.
#2 – Time-tracking apps
A decent time monitoring app can assist your company in resolving a variety of issues. Observing project progress and avoiding schedule mishaps can both be accomplished with the help of a time tracker.
For example, Toggl is a time-tracking app that provides numerous benefits for hybrid work models. Providing time measurement for better planning, forecasting, and achieving deadlines, Toggl raises project and task management to a new level. It serves all types of teams, which is crucial given the growing demand for solutions for hybrid workforce management.
Utilizing Toggl minimizes burnout because the accuracy of the time tracking is ensured, and administrative responsibilities are taken off the table. It provides the freedom to construct a timetable in accordance with priorities and establishes accountability for outcomes rather than time use.
#3 – Customer relationship management
Firms that want to be successful have to find an effective strategy to create and retain their consumer relationships, which is why using a great CRM is critical. Choosing a CRM is a difficult task with so many options available, but in truth it all depends on the requirements of your company.
For example, EngageBay is a top-notch CRM platform for startups that helps businesses run more efficiently by enhancing customer relationship management. Offering innovative automation, EngageBay is a comprehensive solution for directing consumer relationships, offering reporting and analysis of many different activities at once.
#4 – Task management
Compared to typical project management platforms, task management software typically has less functionality. It is designed to be utilized by entire teams, not just managers or "power users," for this reason. The organization and management of tasks are the sole focus of task management systems, which are entirely execution oriented.
For example, ProofHub provides a wide range of products all under one roof if you require a flexible corporate task management program. Using custom roles, ProofHub makes it easy to manage team tasks and quickly assign them to individuals.
With regard to job planning, ProofHub enables you to move between table view, Kanban boards, and Gantt charts so you may get an overview over a specific period of time or group activities. 
The proofing feature, which enables you to use markup tools and threaded comments to provide input on designs and written documents. There are also many ways to use ProofHub to communicate with other team members, including email-in, chat, discussions, mentions, and announcements.
#5 – Process documentation and knowledge sharing
Teams in today's remote-first environment regularly use tools like Google Drive, Zoom, and Slack for team collaboration. However, when team members are dispersed across time zones or even countries, it can be difficult to share expertise.
It's a problem with a price tag: A company with 1,000 employees loses $2.7M a year in productivity due to ineffective information sharing, according to a study from Panopto. (This amount increases to nearly $13M for companies with 5,000 employees.)
Fortunately, new software that promotes hybrid team communication is always being developed. The days of firms painstakingly documenting processes are long gone because of apps like Scribe.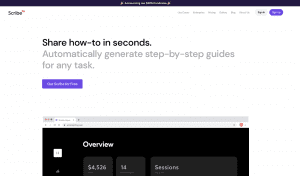 Scribe achieves harmony between usability and elegance. The recording tool helps to automatically create a step-by-step guide with visual instructions and screenshots that can be readily shared with your team.
Consider it to be a virtual walkthrough similar to an actual one. To give your documentation greater depth and richness, you can also add branding, text, and annotations. When your customized Scribe is prepared, you can transmit it directly as a URL link, share it immediately as a PDF file, or embed it in wikis and other programs.
#6 – Social media management
It can be somewhat intimidating to consider all the tasks social media marketers must perform on a daily basis, from content creation and publication to analytics and reporting.
Thankfully, you can now access a number of social media management tools that streamline these responsibilities. Social media management apps can save you time while making sure that your content reaches the correct audience at the appropriate time.
One example is SocialPilot, which makes it easy to organize future posts and all active social accounts, as well as organize content via RSS feeds. Depending on what you need them to be able to do, different team members can be given different roles.
Using SocialPilot, you might, for instance, configure things so that all posts from content producers must be submitted for approval, or you could give managers permission to edit and schedule. Doing this allows you to assign tasks to your coworkers without giving them complete control.
#7 – Meetings and video conferencing
The ways we cooperate and communicate are evolving as remote-first and hybrid work become more popular. While it's sometimes essential to meet in person, there are other situations when virtual meetings with your team members works well with the right video conferencing tool.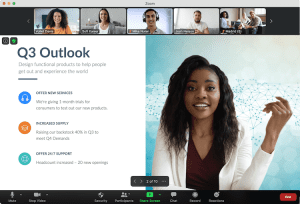 When you need to bring together a large team, video chat or conference calls can be used to rapidly check in with management and make sure projects are on track.
Zoom has become the most well-known video conferencing technology in recent years. Zoom has the capacity to hold the most people in a single session, making it ideal for when you need to get your complete team together. Additionally, the screen recording feature makes it the perfect tool for running webinars.
In a nutshell
Although the nature of the workplace is constantly evolving, it is obvious that flexible and hybrid models will become the rule rather than the exception. Make a plan so your team is productive whether they are entering data at home or having client meetings in the office.
Without the appropriate technology, hybrid models simply cannot function. Utilize these tools to keep your team in sync wherever they are working. Never be reluctant to revise and improve your hybrid model, as this is a novel way of working, so adapting your procedures and tools is key.