As companies continue to consider a hybrid work method, it's important to create an enjoyable experience for all workers, whether in the office or remotely. The hybrid workforce has a variety of challenges and opportunities when it comes to crafting an office that all employees will love.
As a business leader, it's important to consider what your employees want when it comes to work. Many seek collaboration, flexibility, work-life balance, and fulfillment in an equivocal combination.
With that in mind here are some tips for creating an office experience hybrid workers will love.
Create Opportunities for Collaboration
If you have a designated company headquarters, you must provide flexible workspace options. Cubicles, tables, couches, and meeting rooms can give workers the ability to switch their environment and find the workspace that best works for them.
Try designing flexible workspaces that'll meet a variety of needs of employees. With this, consider the feng shui of the office – the art of arranging space for greater productivity and harmony – to make a workspace more enjoyable. A calming space is easier for collaboration and team-building activities.
It's also critical to ensure your office space as comfortable as possible. Remote workers love the workspace within their own home because it's functional and comfortable, therefore you want to replicate the same feeling in the office.
If you have fully remote employees without a home office and would like to offer a hybrid workspace, look into finding coworking spaces Collaborative office spaces can improve employee connections and networking. It can also enhance work-life balance and job satisfaction.
Collaborative workspaces can also increase productivity, employee morale and promote company culture. There are endless opportunities for collaboration, innovation, and problem-solving within carefully curated workspaces. Encourage your employees to seek out these spaces to reap the many benefits of coworking environments.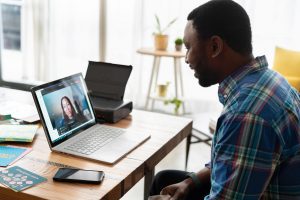 Improve Communication
Another critical component of fostering a positive hybrid work experience is effectively communicating. Ensure a regular, open line of communication between teams, managers, and departments for both hybrid and remote workers. With employees being spread out across the country and maybe even the world, communication is key.
An easy way to encourage good communication is to provide tech support for all remote and hybrid workers. Not only will providing good tech support help with day-to-day issues but tech support can guide you in finding the right technology resources for your everyday tasks.
Tip: if you're working in a coworking office space, be sure they have available technology resources like printers, HDMI cords, and extra monitors.
Sometimes communication can be difficult when not everyone is working in the same building. Therefore, employers should encourage their employees to meet for virtual lunches, go into the home office together or visit a coworking space.
Connecting your employees can help aid in more effective communication, team building, and overall employee morale.
Support Well-being
Employees crave a sufficient work-life balance and want a job that fits their day-to-day needs. As a company, it's important to recognize the desire to balance life outside of work.
Try giving employees the option to work remotely or have a hybrid work schedule. Listening to your employees' needs is essential when trying to create an office experience all workers love. Doing so allows for an extra element of convenience and motivation when it comes to getting their job done.
Companies that invest in their employee's health and well-being will benefit from increased employee engagement and loyalty. As a company, you should be thinking about what wellness perks you offer to your employees. Encourage employees to take mental health days and breaks throughout the day.
Be sure to foster open communication about mental well-being and provide your workforce with mental health resources. Provide access to a meditation service, a discounted gym membership, or offer a wellness stipend for employees to use on things like workout equipment or workout classes.
Offer Flexible Work Arrangements
Another way to support the well-being of your employees is to offer flexible working arrangements. In the midst of the COVID-19 pandemic, remote work became the new norm.
However, once vaccines started being administered and cases started to decrease, companies opened their offices back up. Many employees across the country experienced anxiety going back to work. Because of this employers should encourage their employees to work where they feel most comfortable. Offer them flexible working arrangements, such as working fully remote or having a hybrid work schedule.
Reassure your employees that as long as they complete their work, their mental health and level of comfort come first. In doing so, they should be able to find a working arrangement that works best for them.
Employees should create a home office where they can be productive and comfortable if they choose to be full-time remote or have a hybrid work setup. Offer a small stipend for remote employees to get supplies for their home office like sticky notes, a mouse pad, or a set of headphones to use during meetings.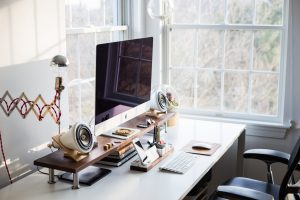 It's also important to provide educational resources for remote employees on how they can finance creating their home office. Offer a list of home improvement stores that offer a store credit card.
Using a store credit card can allow you to purchase items and get rewards down the road. Additionally, some cards can offer an interest-free period or special financing options for purchases.
If some employees want to remodel a room in their home for their home office, provide information on financing options for more lofty home expenditures. Providing employees with this sort of education when needed can help them feel empowered to create a space that will allow them to be as productive in their job as possible. 
The Bottom Line
Workplace upgrades are necessary for a positive work experience, for both hybrid and remote employees.
Creating an office experience that your employees will enjoy requires an understanding of the unique challenges and opportunities that this type of workforce presents.
Companies can ensure an enjoyable experience for their remote and hybrid workforce by incorporating opportunities for collaboration, improving communication, and supporting well-being. With the right tactics and efforts, an office experience that all workers love can easily be created.