Remote work is becoming more inevitable by the day, but managing teams scattered around the world hasn't gotten easier. Thankfully, tech companies are continuously developing the tools, resources, and programs that will make the project management and team communication more efficient and seamless.
With an anticipated 73% of teams resorting to remote work by 2028 according to a press release by Upwork, remote managers must be well-equipped to manage teams. Having the right work-from-home arsenal will help maintain a high level of productivity for employees.
To create a perfect collaborative environment with your remote team, you have to monitor remote employees. However, it can be challenging since you can't relate with your team face-to-face to motivate, instruct, explain, or settle other matters that can enable them to do productive work.
Whatever challenge you may have in handling and managing a remote team, this guide is your ultimate checklist on how to expertly collaborate with your remote team.
How to Effectively Collaborate with Your Remote Team
Your remote team likely consists of different kinds of people with diverse backgrounds and personalities. Perhaps, they also consist of workers from different countries with varying beliefs and culture.
Managing your remote team despite the vast differences between them is vital to ensure their maximum productivity. That's why a manager has to learn how to collaborate with their workers effectively. From communication to work management, team organization, projects management, work scheduling, availability management, and events sharing, the following techniques can help you and your remote team stay on top of your job.
1. Use Communication Tools
Communication tools are essential to ensure productivity while your remote team works from home. Stats featured on Buffer showed that collaboration, communication, and loneliness are common problems in remote work, with 19% of remote workers reporting that they are lonely.
For many companies, the primary means of communication that comes to mind is using emails, according to a press release about remote work on CoSo Cloud. While emails are still integrated into modern communication tools, there are better ways to ensure smooth communication with your remote team. There are plenty of project management tools available in the market. You can use most of them for free, but if you wan to access additional features, you'd have to pay a fee.
2. Use Time Management Tools
Your remote team's ability to manage time while working remotely will have a huge impact on your business. According to a case study published on The Journal of Business and Psychology, when people are monitored while working, they tend to work faster. So, if you want to ensure productivity even when you cannot personally supervise your employees, you'll need to have a task tracking system in place. The right time management tool can help you, whether your remote team is working from home or coworking with other people.
3. Create a Stress-Free Environment
According to a remote work study by Coworking Insights, a majority of remote workers claim they experience less work-related stress while working remotely. On the flip side, the American Institute of Stress claims that 83% of US workers suffer from work-related stress.
Remote work is evidently less stressful than being in the workplace. However, the way you manage your remote team can further ease or contribute to their stress.
Make instructions clearer, explain tasks with sufficient details, and allow them to ask questions – these will help make them feel more comfortable and less stressed.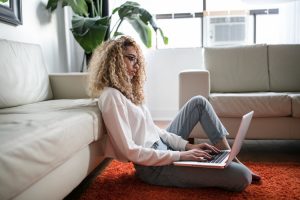 4. Allow Your Remote Team to Socialize
Giving room to your remote team to socialize helps them perform better than when they feel lonely and isolated from the team.
An article published on CPLJobs about why having a work friend is important showed that employees who have best friends at work are about seven times more productive with their work than those who don't. Celebrating birthdays and allowing your remote team also to congratulate celebrants will go a long way in creating a perfect collaboration with your remote team.
5. Be a Team Leader
Whether you believe it or not, your remote team members are watching you as their leader, and your core values will eventually rub off on them. If all you do is to assign tasks and show off your skills and experience instead of carrying them along, you may not get the best of them in terms of productivity.
6. Work with the Different Time Zones
Your remote team probably consists of people working from places with different time zones, so you have to consider this. Schedule work and give deadlines based on the time zone of your remote teammates.
It wouldn't be sensible to set a general deadline for all your remote team members despite knowing they work in different time zones. Allow some flexibility, especially because remote workers enjoy the freedom that working remotely affords them, according to a Flexjobs-led survey.
7. Don't Be Caught Unaware
Have a "Plan B" if things go wrong with your remote team. Nobody wishes for things to go wrong, but the truth is that things could go pear-shaped since you're dealing with people, not robots. Some may get a better job offer, or even get tired of the job and decide to throw in the towel.
Conclusion
Collaborating with your remote team perfectly is daunting if you don't have the expertise and the experience to handle it. However, it can be a great ride for you if you have the right guide to help you. We're confident that this article is all that you need to create a seamless collaboration with your remote team.