With its first location opening in 2017 in New Orleans, The Shop was the first of its class to arrive in NOLA, forging a new chapter for The Domain Companies' portfolio.
Fast forward to the spring of 2021 and The Shop SLC opened its doors with the same world class design and hospitality, offering 32,000 square feet of space that was built out west from the ground up. A strong emphasis on arts, culture, sustainability, and community building has set The Shop apart from the competition in Salt Lake City, even when launching amidst the Covid-19 pandemic.
Located on 400 South in the heart of downtown Salt Lake City, The Shop Workspace is arguably the most architecturally stunning coworking space in the city with a stunning rooftop area, awe-inspiring art, and a carbon-neutral focus.
To help promote thought leadership in Salt Lake City, the operator dedicated the entire month of February to hosting mtnDAO Hacker House — a tech-centric experience to help those in tech and engineering work in creative and productive ways.
​​In addition to education and community-focused panel conversations, mtnDAO organized weekly office hours and social events to highlight the best of what Utah and Salt Lake City has to offer. More than $240,000 in funds were raised to support the 100 Hacker House participants from around the nation as they innovated and networked at The Shop SLC.
Coworker caught up with Community Manager Anne Olsen to hear more about this forward-thinking hacker event and learn about some of the cool outcomes from those that participated!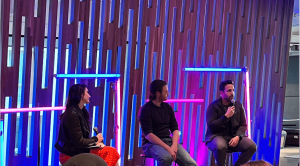 1. How did the idea for Hacker House first come about? 
The idea really sprung from a collaboration with one of our member companies! Off-Piste, MarginFi, and Cypher were all involved in one way or another with The Shop and wanted to bring some of the incredible experiences they had had at coworking spaces all over the world back to the place they call home – Salt Lake City.
mtnDAO ran the entire month of February and welcomed over 100 people from all over the world to The Shop SLC to work together and expand thought leadership within the web3, crypto, NFT, and metaverse fields and beyond.
2. Who participated in Hacker House and how did you draw these individuals to your space?
The Hacker House hosted software engineers and other creatives from across the globe. We even had engineers from Germany experiencing America for the first time via mtnDAO! The organizers worked with us to market both to our local network as well as across borders utilizing Twitter and Discord.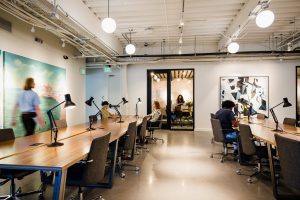 3. What were some of the key projects completed during Hacker House?
One of the most amazing (and quick to implement) outcomes was mtnPay. Solana recently launched a Solana Pay app that is sort of like Venmo but for cryptocurrencies. The mtnDAO participants were excited about this because it normalizes the use of crypto amongst traditional legal tender (USD).
Some of the participants wanted to create code that would enable our Square/Marketplace Kiosk system to accept Solana via Solana Pay by working with Square/Kiosk Buddy's API. All this to say that they have created the first point-of-sale system that accepts Solana Pay (and interfaces with Square) here at The Shop!
In addition to mtnPay, seeds were planted for other DevNet opportunities and even a focused PAC to further the efforts of those working in this space.
4. What was the overall goal of Hacker House? Why was this initiative successful?
The primary goal of mtnDAO was to bring people together and see what happens, not unlike the long term goals of coworking spaces across the world. It was definitely a successful experience!
From the problem solving related to the $250k worth of dev bounties to hosting an U.S. Congressman for an intimate Q&A event, the initiative really demonstrated thought leadership within a new and truly revolutionizing space. Rep John Curtis even bought a protein bar with crypto, that is a huge deal! Further, we were able to bring $150k+ to our local economy and show the best of what Utah has to offer with ski Saturdays, events at cool local venues like our Natural History Museum, and a group outing to a Utah Jazz game.
5. Do you plan on organizing similar events in the future to jumpstart innovation?
The Shop is definitely planning on organizing similar events in the future. Currently, there are even some murmurs around what a more permanent hacker environment could look like.
Coworking proves that breaking down barriers between people in different roles and companies can result in mountains moving. Any chance we have to keep that innovation going, we are going to explore.
The Shop worked so well because typically Hacker Houses are often hosted in bare bones spaces. Our goal with mtnDAO was to really see what would happen if we not only brought people together – but did so in an environment that maximized productivity and took care of all the little things like coffee, snacks, and reliable Wi-Fi.
To learn more about The Shop SLC, check out their listing on Coworker here!