A new era has arrived, and the working world is currently undergoing what some call the fourth industrial revolution. Technology has brought about a fundamental change in the way we live and work and is disrupting almost all industries in every country in the world.
Remote work plays a vital role and has come to be an extremely popular working style that allows professionals to work outside of the traditional office environment. Shorter commutes, flexible working hours, less downtime, and more productivity have led to increased happiness. 
Running Remote 2020 — the world's largest remote work conference — is a great opportunity to establish partnerships and become part of this growing worldwide community of remote professionals. The conference will be organized for a third time to bring together founders, digital nomads, startups, tech companies, innovators, and remote teams from every corner of the world.
More than 500 participants of the remote working world will meet in Austin, Texas this April 20-21 to exchange ideas and gain knowledge on how to succeed in the future of work.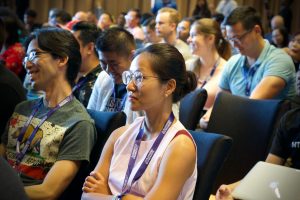 Running Remote was already held twice in Bali  in 2018 and 2019. This time, the team decided to move the event to Austin as this city has one of the largest remote work movements in the U.S. The conference will take place on the campus of the University of Texas at Austin in the Etter-Harbin Alumni Center. 
Attendees will be able to meet remote work industry leaders who have successfully built and scaled their eight-figure-worth remote businesses. They will share best practices and industry knowledge that will be invaluable for running remote businesses. The conference will last two full days, and attendees will have access to talks, panels, networking opportunities, and exclusive offers from the conference's partners.
Meet the pioneers of the remote work movement, such as Nomadic Matt, who has traveled to nearly 100 countries and is a New York Times best-selling author of How to Travel the World on $50 a Day. Or, see Lori McLeese, the Global Head of HR at Automattic Inc., who can tell you all about the people behind WordPress, WooCommerce, Tumblr, and more.
Sara Sutton will be speaking again. She is the CEO/Founder of FlexJobs, an award-winning, innovative career website for telecommuting, flexible, freelance, and part-time job listings. Andreas Klinger, the head of remote strategy of the leading platform for startups called AngelList, will also present.
The conference has also been able to secure Stacy Elliott as a speaker, who is the Senior Director of Executive Communications for the Office of the Executive Vice President of Microsoft. She has been working remotely for the past 16 years and held a variety of marketing and communication leadership roles, including launching the first executive speaker bureau and leading a global brand team for Microsoft's advertising department.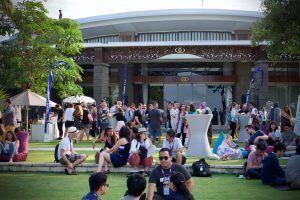 Another top speaker will be Wade Foster, CEO of Zapier, who hit the headlines when he announced a $20,000 payout to his employees for "de-location" from Zapier's San Francisco office. Now, his team has more than 200 remote employees based all over the world. 
Furthermore, Dan Martell will take the stage, who is a top angel investor and founder of SaaS Academy, along with Ali Greene, Director of People Operations of DuckDuckGo, John Eckman, CEO of 10up, Sally Thornton, Founder & CEO of Forshay and Morgan Legge, Director of Operations at Convert.com. 
Running Remote is sponsored by industry leaders such as Hubspot, Payoneer, Standuply, Wurkr, FlexJobs, Safety Wing, Mistro, Meetter, and Qubit Labs.
Join Running Remote in Austin, Texas for this world-class conference April 20-21, 2020. Attendees interested in leisure activities before, after, or during the conference can enjoy sightseeing in the city of Austin, which offers a thriving music scene, ballet, museums, shopping, and refreshing outdoor spaces.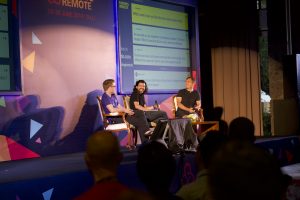 Whether you own a company with remote employees, you are part of a remote team, a coworker in an office space, or even if you are just thinking about becoming part of the remote movement, Running Remote is the place to be from April 20-21, 2020. 
Remote work has become a necessary step for companies, employees, and entrepreneurs alike who want to work as productive and efficient as possible while maintaining a sense of purpose, responsibility, creativity, and freedom.