A report by Coworker in partnership with Coworking Insights
__________________________________________________ With close to 20 percent of the global population being ordered to stay inside during the last few months, remote work has officially become the norm. For many, working from home is a major adjustment not only for everyday business operations, but for productivity and focus too. With a whole new realm of distractions in the home — from pets to kids to the pantry — remote working may not be for everybody, but it is here to stay. Already, experts are forecasting that remote work will become the preferred way of working — but could this really be true? To better understand how people were finding remote work during lockdown, Coworker decided to share a survey with our members and learn more about their experiences working from home between April 16-28. Our survey set consisted of 360 individual respondents, 18.7% of which currently live and work in the United States, 6.9% in India, and 4.4% in Canada. The other countries that were represented included: Spain (4.7%), Portugal (3.9%), Germany and the Philippines (3.3%), the Netherlands (2.8%), Australia (2.5%), Colombia (2.2%), Thailand (1.7%), Argentina, Bulgaria, Indonesia, Italy, Japan, Nigeria, Romania, South Africa, Switzerland, and the United Kingdom (1.4%), Hong Kong, Hungary, Lebanon, Pakistan, Panama, and Singapore (1.1%), France, Malaysia, Mexico, Peru, Serbia, Sweden, Ukraine, and Vietnam (0.8%). With such expansive, worldwide data collected from the survey, we were able to gauge how people really felt about remote work — from their challenges to the things they enjoyed most. The data we collected underscores the fact that remote work policies will shift, leading to an increased utilization of coworking spaces. Read on to dig into the insights we collected.
Remote work has a great reputation.
We asked our respondents to rate remote working on a scale of one to 100, and it earned a 77 on average. Interestingly, respondents who were forced to try remote working for the first time during the pandemic also found it to be a positive experience, rating remote work a 70 out of 100 on average. These are notable statistics to have discovered; while remote working is sometimes thought of as a less effective, no-structure style of work, these results infer that this way of working is highly regarded and even preferred.

In addition to people rating remote working very highly, a whopping 87.09% of respondents say they would recommend it to a friend or family member. This is another noteworthy statistic, as word of mouth referrals from family or friends are an extremely influential driver in peoples' decision-making. Plus, it can be assumed that people wouldn't recommend something they didn't like, giving further evidence to the fact that remote work is well-regarded.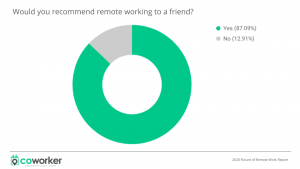 With such a large number of remote workers willing to recommend flexible work to their friends and colleagues, it is clear that this style of work has made advantages. Have you ever wondered why so many people are longing to land a remote position?
Having a flexible schedule is the most enjoyable aspect of remote work.
Instead of wasting time on a commute, people value having the opportunity to make that mid-morning workout a reality. People appreciate that remote working grants them the opportunity to schedule appointments, make time for family and friends, and walk the dog — among so many other things that you might otherwise miss out on when working nine-to-five in a traditional office. This is why 73.9% of respondents rated having a flexible schedule as the most enjoyable part of remote working. Coming in a close second place is being able to work from anywhere, which was rated as an enjoyable aspect of remote working by 70.6% of respondents. Other aspects that remote workers find beneficial include: no commute (62.6%), cost-savings (50.8%), boosted productivity (47.5%), more time for family and friends (42%) and less work-related stress (39.6%).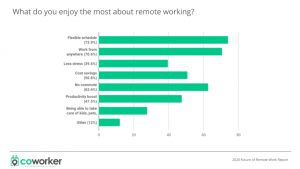 Still, some people find remote working to be more difficult than working in a traditional office setting, especially when it comes to feelings of isolation and not being able to unplug.
The biggest challenge of remote work is avoiding distractions.
Without your boss looking over your shoulder or your supervisor checking in with you during lunch, the lack of accountability when working from home makes it easier to indulge in distractions. Even though many remote workers claim to struggle with distractions, however, research shows that people in office settings lose more time (37 minutes each day) to distractions than remote workers (27 minutes each day).
Additionally, the top challenges that people cited while working remotely included: overworking or working more and too much (46.98%), isolation and loneliness (46.7%), effective communication and collaboration (39.01%), maintaining motivation (35.44%), accessing professional services like printing or deliveries (30.49%), and locating reliable wi-fi (27.47%). Despite the challenges, a majority of people found that remote working had a positive impact on many aspects of their day-to-day lives, both personally and professionally.
Remote work has a positive impact on many areas of life, including health and finances.
When asked whether or not remote work has made a lasting impact on mental and physical wellness, 77.2% of respondents agreed that working from home had a positive effect. Remote work has led many workers to also experience cost-savings, with 77.47% confirming that working from home has benefitted their finances.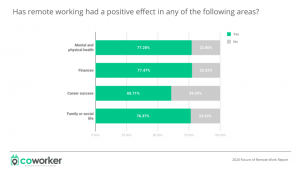 Furthermore, when asked if remote working has been advantageous to their career success, 60.71% of respondents said yes. This means that some element of remote working — whether it's the freedom it provides or the boost to productivity — has led to career achievements that may not otherwise be feasible in an office environment. With a more flexible schedule, 76.37% of respondents also claimed that remote working granted them more time for family and friends. At the end of the day, work is technically work no matter where you're doing it from, but having the opportunity to finish a project over the weekend might free up your Friday for your daughter's choir concert or your cousin's birthday lunch. The mere flexibility means more chances for reconnecting with friends and making time for family.
Productivity increases when working remotely.
The big debate that business owners often have is whether or not employees lose productivity when remote working. Numerous studies have been carried out to weigh in on this issue, including a revolutionary two-year study by Stanford University in 2017. The Stanford researchers — who analyzed the work habits of 16,000 remote employees at China's largest travel agency, Ctrip — found that remote work led to an astounding productivity boost equivalent to a full day's work. The company's work-from-home employees worked a true full-shift (or more) remotely, finding it less distracting and easier to concentrate at home.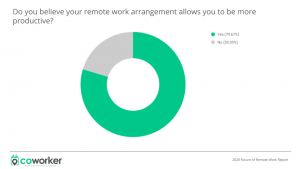 Our respondents gave further evidence of flexible work's effect on productivity, with 79.67% claiming that remote work improved their output and overall yield. What's more, 70.6% of respondents that were forced to work remotely for the first time by the pandemic and previously worked in an office setting also attested to being more productive at home. If this is true, it's worth considering the factors that might contribute to this increased productivity. According to respondents, several factors were most influential in their success while working from home, including organization and time management (67.03%), effective communication (65.93%), freedom and self-reliance (57.14%), software and technology tools (57.14%), and sticking to a routine (45.6%).
A majority of remote workers plan to return to their coworking spaces.
Though plenty of people enjoy working from home, a good deal of remote employees have a secondary location that they prefer as a workplace alternative. Before the outbreak of COVID-19, our respondents primarily worked from coworking spaces (31.59%), while 30.77% worked from a traditional office and 29.67% worked from home. For those that worked from a coworking space before lockdowns were instated, a significant majority (71.48%) said they plan on returning to the space once isolation ends. Moreover, first-time remote workers were largely in support of trying out a coworking space or shared office after lockdowns are lifted, with 54.99% saying they will consider joining a coworking space in the near future. This suggests that the flexible office industry will indeed recover, albeit gradually, as more companies consider shifting to a permanently remote workforce or an alternative "de-densified" office setup.
Final thoughts
Now that the largest remote work experiment has taken place on a global scale, the number of people that are working remotely — and finding success — is increasing every day. While there are certainly some challenges to remote work, the majority of people seem to believe it has more benefits than drawbacks, including a better work-life balance and boosted productivity.
Perhaps most significantly, people who were forced to work remotely for the first time as a result of the pandemic have found it to be an overall positive experience that has effectively boosted productivity. Much to the surprise of many employers, remote work has largely been successful, allowing for business continuity, and even improvement in some scenarios, to be achieved.
The way that companies organize their workforces will likely face a tectonic shift. The experiment has proven that centralized offices are simply not as necessary, which will likely lead to more distributed teams in service-oriented, shared workspaces.
As the return to work gets underway, businesses will look to revise their flexibility policies based on the success they experienced during the pandemic with a remote workforce. And with so many first-time remote workers now aspiring to continue working remotely, more businesses will view flexibility as an integral part of employee satisfaction and continuity.
____________________________________________
Want to learn more?
In partnership with Coworking Insights, we combined the results of our previous survey — How Coworking Spaces are Navigating COVID-19 — with this data from our remote work survey to reveal a full picture of the future of work. To learn more and gain additional insights, you can download the 2020 Future of Work Report: What the Future Holds for Coworking and Remote Work here.