Since first launching in 2017, UK-based Clockwise has kept a laser-sharp focus on anticipating the needs of its members and their companies. Providing permanent flexibility, ongoing support, and proactive service, the team at Clockwise take the time to get to know their members, including where they're going and how they're growing.
From the coworking operator's modest beginnings in Glasgow, Clockwise now has locations up and down the UK with many more openings planned for this year—including its first in London at Wood Green and its first in continental Europe in Brussels.
We caught up with the team at Clockwise to learn more about the coworking company's story, including its commitment to local communities and creating environments for its members to flourish and achieve their full potential.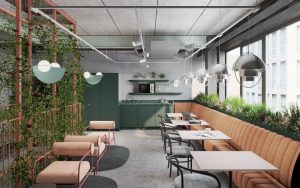 What is the mission of Clockwise and how has the brand evolved over the years?
Sustainability is ingrained in our corporate vision and values, our culture, and everyday actions. Our vision is for a future in which every work environment and experience has a positive impact on people, places, and the planet.
Clockwise is backed by a powerful property portfolio. We own and operate every single Clockwise location. Our spaces and services are designed with our members in mind and offer multiple benefits including, investment into building facilities with a long-term viewpoint, no lease liability and collaboration on requirements to ensure we provide spaces for our members to grow and flourish.
Recently, Clockwise opened a new location at Wood Green in London. Could you tell us more about this new space and its amenities?
Clockwise Wood Green is designed to celebrate the natural surroundings in this North London suburb. Located in Greenside House, it is a bright, airy space with two terraces with stunning views of the City of London and Alexandra Palace. Starting in reception on the ground floor and extending through the core of the building, a striking 'living' wall, covered in plants, will breath oxygen into the new offices.
Well connected and close to transport links, the space also offers multiple breakout spaces, two meeting rooms, a Two Hands Café offering locally sourced food and drinks as well as a dedicated team on hand to support with any and all requests.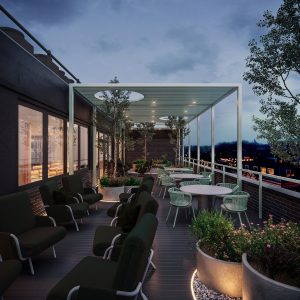 Rather than hosting a grand opening gathering, Clockwise Wood Green decided to launch an initiative in support of the Tottenham Food Bank. What exactly is this initiative and how did it come about?
Clockwise is passionate about creating environments for its members to flourish and achieve their full potential. This passion extends to the local community, particularly at a time when many are facing hardship exacerbated by the pandemic. The donation from Clockwise Wood Green has helped to ensure the community's basic nutritional needs are being met and help to reduce stress and anxiety around food poverty.
Providing a local hub for Londoners to work effectively, Clockwise opened its first London location in Wood Green last month. In addition to our charity donation and taking inspiration from the local community and surrounding green spaces, Clockwise has worked in collaboration with neighborhood artists to create unique pieces for space and capture a genuine local perspective.
Has Clockwise witnessed a shift in demand as a consequence of COVID-19?
As restrictions are lifted and we begin to emerge from lockdown, there has been an increase in the number of people looking to get away from working from home. As a result, we have seen a large number of enquiries for Clockwise Club membership and dedicated desks as well as one and two person private offices.
Many larger companies are now looking to work in a more flexible/hybrid way, with offices providing the space to introduce a rotation system for employees or fitted out with lounge and meeting spaces of their own. This provides us with an exciting opportunity to create bespoke solutions.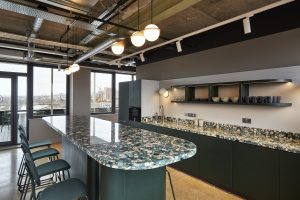 What are your predictions for the flex office industry's future beyond 2021?
We believe that more companies and individuals will adopt a hybrid approach to office space and develop new ways of using space for collaboration. The idea of a 'mini-Club space' within a private office will become more popular; using furniture and design to create separation for different types of work with one space.
We are inherently social beings and Covid-19 has not changed this. The office and flexible spaces will be key for people to socialise, learn from others within their teams, and networking with other brands. We all want to be able to meet, talk and collaborate safely again and Clockwise offers the perfect setting for this.
To learn more about Clockwise, check out their new Wood Green listing on Coworker here.