Running Remote Online is an exclusive event for the founders of remote businesses taking place for the third time on November 18. This is a free online edition of the wildly successful Running Remote live conference, held annually for the last three years, which delivers insightful case studies from top remote work experts who have scaled their businesses without a physical office space.
This is the "new normal" after COVID-19. Remote work is no longer a perk; it's clearly a life- and business-saving necessity. To get it right, CEOs, managers, and employees need to be educated. At Running Remote Online, entrepreneurs and tech leaders from across the globe will gather to share business insights and learn the strategies for managing distributed teams from acknowledged experts and prominent remote-industry leaders. Join the 1,000+ attendees for 10 hours of top-class content delivered by 25 speakers, plus live Q&As, networking sessions, and an expo. 
Some of the amazing speakers:
Andy Tryba, CEO of Crossover & Sococo

Kuppulaxmi Krishnamoorthy, Zoho's Evangelist,

Steph Smith, Product Manager at The Hustle

Morgan Legge, CEO of Convert,

Milena Berry, Co-Founder and CEO of PowerToFly,

Laila von Alvensleben, Head of Culture & Collaboration at MURAL
Running Remote Online is much more than just another webinar — this is a full-scale conference experience available from anywhere in the world absolutely free! Supercharge your remote teams with insights from the companies leading the remote work revolution.
The registration for the event is free until October 18. After that, an event pass can be purchased at $49.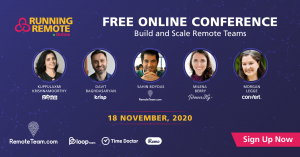 The previous Running Remote Online held in August was attended by 900+ remote work enthusiasts from 80+ countries, half of whom were founders, CEOs, or senior executives at remote-first companies. 700 new business connections were made and more than 100 meetings took place.
The lineup of previous events included David Heinemeier Hansson (co-founder & CTO of Basecamp), Ryan Chartrand (CEO of X-Team), Aaron Ross (CEO of Predictable Revenue), and Tim Manahan (CMO of Citrix). Partners and attendees included monday.com, Microsoft, PwC, McKinsey, and New York University.
Here's what some of Running Remote's past participants are saying:
This was one of the most valuable virtual or on-site conferences I've attended in years! The speakers were great. The event software made it easy to make connections and participate. I can't wait for the next one!
-Kate Lister, President at Global Workplace Analytics (GWA)
I've attended plenty of other virtual conferences, and none of them ever live up to the Running Remote experience. A great source of inspiration and knowledge!
-Nick Vaccaro, Remote Software Developer at Privakey
Running remote is a must-attend event for all who want to thrive in remote work. 
-Mine Dedekoca, Founder of Start-IST
To register for free until October 18, you can sign up for November's Running Remote conference here.