What started out as one coworking space in 2014 with just over 6,000 sq.ft. of workspace has grown into a coworking community that aims to have nearly 50,000 members in the next two years. Now, IDEA Spaces is one of the leading coworking operators in Portugal — and it's easy to see why.
When the COVID-19 pandemic struck Lisbon, the team at IDEA Spaces immediately acted on four main measures, including improving the indoor air quality of their workspaces and developing a reWork campaign. This new membership model is specially tailored for times of transition, fitting with members' financial as well as psychological well-being. 
Coworker caught up with João Simões, CEO of IDEA Spaces, to learn a little more about IDEA Spaces story and the reasons why they have been able to find success and support their thriving community, even during COVID-19.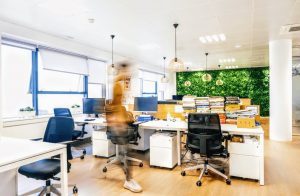 1. First, when was IDEA Spaces founded?
IDEA Spaces was founded in 2014, opening its first location, IDEA Spaces – Parque das Nações, with 6,500 sq.ft. in Lisbon's business district (Parque das Nações). By that time, the increase of digital nomads and companies looking for more flexible workplaces made us triple the initial square footage in that location by the end of 2016, and open a new one less than a year after that. In September 2017 IDEA Spaces – Palácio Sotto Mayor opened in the city center, with 26,900 sq.ft., and marked a turning point in our project.
That was when we started to commit more and more to our community. We found out that we loved to know all the people who worked with us and help them grow their businesses, and this was exactly what made us different from everyone else. Our "people first" mindset turned into our "lighthouse," and the results spoke for themselves.
That's why we are now opening our third location, IDEA Spaces – Saldanha, an eight-story building with an outdoor lounge and pool. It's IDEA's biggest location so far, and the result of a demanding market and a growing community. 
2. What is the mission of IDEA Spaces?
Ensure the best conditions for the productivity and growth of all IDEA members. Starting with members' needs in terms of infrastructure and services, crossing into their professional performance, and ending with their relaxation and conviviality needs.
This is what we do under an empathic, collaborative, and energetic culture. And this is why networking, discussions, sharing, and fun work so well within IDEA Spaces. People do business inside the community, exchange ideas, grow together, and celebrate each other's success. We testify to that almost every day, even with the pandemic challenges.
So, we're hoping to create, empower, and nurture the biggest talented community in Portugal, aiming to reach 50,000 members in the next two years.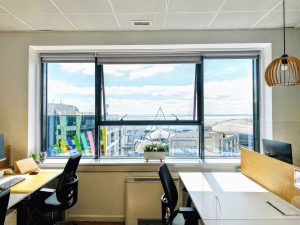 3. What consequences did your spaces face as a result of COVID-19?
Even before the government declared an emergency state, by our own initiative and to protect our members and team, we decided to close most of the operations in all locations. We made sure that we'd provide minimum services for the members that really needed to continue to use the spaces, as well for all the mail handling services.
We had a soft-reopening in mid-May 2020, with our teams working behind mirrors to increase the level of support and confidence needed for our community members. And since the beginning of June, our full team is on board and our members are slowly returning to this "new normal."
Month after month, we've noticed more members in our locations – now with a bit slower pace, since it's summer break – and we have reasons to believe that by the end of August or beginning of September, we will be almost at full capacity again, reaching our usual +90% occupation.
4. How did you navigate the impact of COVID-19? What changes and updates to your spaces have you made for a safer reopening?
As we believe most coworking spaces did, we acted on four main areas with specific measures. We've worked on indoor air quality, workplace redesign, upgraded hygiene standards, and provided individual protection equipment. We've reduced meeting rooms and common areas' capacity, deployed acrylic dividers on dedicated desks, secured a full-time cleaning team — just to name a few. But everyone can access this on our website and contact our team if there are any concerns about it.
Nonetheless, we also acknowledge that safety wouldn't be the only thing concerning our members and all companies. Everyone was (and is) struggling with uncertainty and even financial challenges. So we thought of a way to help companies reduce their costs and still keep a workplace, a way that could allow businesses to have the best of remote and office work. Our reWork campaign was specially tailored for times of transition, fitting current needs about money as well as psychological well-being – because, people tell us, they need to come to work and feel something closer to "normal" again.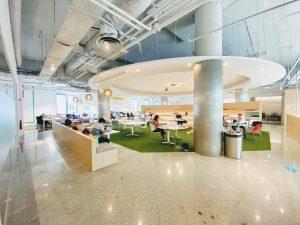 5. What are the advantages of your new remote work membership model?
Our reWork campaign has worked well so far, especially for the new companies that need a place to complement the existing remote work reality. ReWork allows them to offer their teams access to our community and locations whenever they want, with a reduced cost.
The idea is that companies only have to pay for the dedicated space they need, so their teams can switch between remote work and office work. For example: instead of paying 10 memberships, they can have five dedicated desks and their 10 team members taking turns at the office. That means they save 50% of the usual fee and the entire team can still benefit the perks of being an IDEA member.
6. How have your members responded to the remote work option?
So far the feedback is very positive, especially from the financial perspective, but what we observe and the feedback that we collect from our members is mainly that they are fed up of being forced at home and want to return to a workspace ASAP. We believe that this will occur after the summer break (August/September).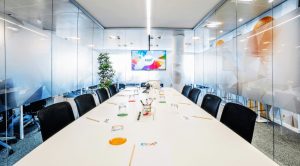 7. Why do you think more multinational companies (rather than startups) are seeking out coworking space? How have you seen this demand shift?
We've had several multinational companies already as community members for several years, so it's nothing new to us. What we see now is multinational companies approaching us to have a more flexible contracts with all the add-ons of a coworking community, so they can exit their current traditional office space rental.
I guess we have to see it as something "natural." The benefits of being in a cowork space are numerous; new generations in particular find it more fitting to their lifestyle, the innovation, collaboration ecosystems are now something to look for and a need for many (if not all) companies, which means that, no matter the size or stage of your business, coworking spaces will definitely appeal to everyone.
8. What do you love most about the coworking community in Portugal? 
Portuguese people are very hospitable by nature, and over the last five years, there was a boom in the entrepreneurial ecosystem, which attracted several international companies to establish operations in Portugal. They obviously were looking to take advantage of the Portuguese hospitality, talented and skilled people available on competitive rates, lower cost of living (compared to other European cities), and all of that combined with great food and weather… 🙂
For the Portuguese, coworking also fits with their lifestyle goals. Coworking usually means more flexibility and "freedom" in the end. People are thirsty for that, because – now more than ever – they've tasted the benefits of being able to manage their work-life balance differently.
Also, I even think that it is why the Portuguese government seems to be figuring how important coworking spaces might be in the future. Even though I don't believe that coworking spaces have the ability to populate Portugal's interior region, the fact that the government is approving programs with financial incentives to develop new coworking spaces in those particular regions can't be bad news. It's a good sign.
So, this is what we love the most: it's for everyone, everywhere. Coworking is diversity, and – if you believe in this like we do – that's exactly what will make us better — having the advantage of someone that complements us in some way, right next to you, in your own community. At IDEA Spaces that's what we nurture, and what makes us one of the best cowork spaces in Portugal.