Last year taught us a lot about the future of coworking and traditional workplace models as many organizations either completely shut their doors or adapted to a remote-based infrastructure. 
According to Gallup, at the height of government sanctions and lockdowns, nearly 51% of people who kept their jobs transitioned into remote positions. As restrictions have lessened and businesses look to get back to normalcy, many companies now face an additional problem: people are reluctant to return to the way things were before the pandemic pushed us into our homes. 
Gallup tells us that nearly two-thirds of employees working from home are hesitant to return to an office workspace, preferring instead to continue with their remote work lifestyle. While 30% of these individuals state a lingering concern about the effects of COVID-19, 35% now prefer remote work and do not want to go back to working in a traditional sense. In addition:
While 71% of employees remain confident in their employer to implement measures to bring them back to work safely, 50% still worry about workplace exposure to COVID-19 (

EHS Today

).

Business leaders have been forced to provide additional support programs and state that they now have plans to implement new practices and launch initiatives to support their employees with childcare (48%) and mental health programs (72%) (

PwC

). 

While experiences vary, more than 80% of surveyed respondents state that the global crisis continues to affect various areas of their lives (

McKinsey

).
Furthermore, a PwC Workforce Pulse survey showed that 48% of respondents somewhat or strongly agree that they are forced to sacrifice their personal safety in order to remain employed.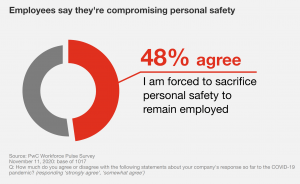 Source:
PwC
These employees believe that the traditional workplace model is becoming a thing of the past and the arguments for this viewpoint are convincing. After all, if we can be as productive working remotely as we can working from the office, why spend resources (like time and money) getting to an office every day?
Many believe that the pandemic, while terrible, has had the unexpected effect of highlighting the benefits that remote work can have for a business and its employees–which has sped up the inevitable shift from the traditional office model towards a permanent remote working policy.
The benefits of remote work are clear. Over 60% of managers who offer telecommuting report that employees are more productive overall. There is also peace of mind in knowing that employees are safer (workplace safety is a key component of employee engagement). Remote work reduces the risk of germs and illnesses spreading in an office. Also, 82% of remote workers report lower levels of stress when they work from home.
How remote working benefits companies
Remote working is also beneficial to companies as well. Oftentimes, organizations can save money by granting staff the freedom to work remotely, reducing expenses on facets like amenities, office utilities, and maintenance that come with a corporate office setting.
The past year has proven that the remote working model can work (for companies that have the luxury of taking their work to the cloud) with little impact on the bottom line. 
With this new work experience, we may see more small businesses shift to remote work, as a more hybrid working model provides the best cost-to-productivity ratio for most organizations.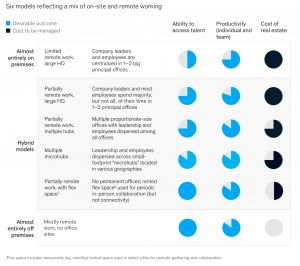 So, what can businesses do to prepare for what is likely to be a long-term or possibly permanent remote state? Let's take a look at the main challenges companies are faced with when their employees work from home.
Main challenges of working from home
Humans are social creatures. We are typically energized by working together, collectively sharing ideas, and collaborating to discover new information. We serve as sources of inspiration for each other and push one another to achieve new milestones.
Working from home can hinder the collaborative nature of being part of a team, especially when companies are unprepared for this type of working model.
Over the years, modern businesses (such as blogging businesses, virtual consultants, and e-commerce stores) have been encouraging freelancers and employees to use coworking spaces; many even offer to cover the cost of these coworking spaces.
For many young professionals, living with roommates can be a huge distraction to productivity, especially if they struggle with keeping a routine. As a result, some remote employees' work may slip and fail to meet the standards they maintained while working at a company office.
Further, using the same space for work where they are supposed to relax and unwind can alter the employees' work-life balance. Under these circumstances, it can be challenging to separate work from everyday life. Consequently, they can begin to blur into one; either be lying in bed working all day or getting distracted binge-watching TV the whole day. Finding a clear balance can be difficult.
The case for coworking 
A GoodFirms survey found that most employees (70%) will opt for a hybrid working model in a post-pandemic world.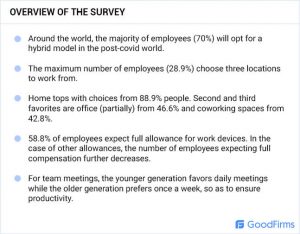 As the study shows, people enjoy having the flexibility to choose from multiple locations where they can work from.
Waking up at the same time each day and getting out of the house enables people to change their scenery and minimize distractions. There is no better way to achieve this other than by joining a coworking space, which is why many companies are now offering this option as an added employee benefit.
Remote coworking allows you to interact with people from different fields, including entrepreneurs, freelancers, and full-time employees. These interactions can make work life a bit more exciting. It can also help employees feel more social as opposed to the lonely spells offered by the typical remote work arrangement.
In a similar vein, another essential element that companies shifting to remote work should prepare for is communication via various modes of new technology.
Leveraging technology to communicate
Companies need to incorporate and adequately train employees in software that allows easy and clear communication. Certain tools, like Slack, enable users to converse in real-time and stay updated with day-to-day activities. The best technology closely resembles the natural way of keeping in touch with one another.
We are becoming more digital in this modern world. Think about how often we talk to our friends and family via digital platforms, such as texting or video messaging
The argument can be made that technology enables swifter communication regarding important matters and eliminates excess contact regarding unimportant tasks in the workplace. This supports the idea that the online work environment can encourage efficient communication compared to an in-person office setting.
How remote teams can maintain visibility and clarity
Alongside daily messenger software, it is good to hold regular meetings through video conferencing software like GoToMeeting or Zoom. Face-to-face time is incredibly valuable; it will create a personal medium for business owners and employees to address problems or concerns they may be experiencing.
We have all had critical topics or discussions miscommunicated because of texts and emails – it is no different from communication software like Slack. Sometimes a team needs to discuss things in a way that more closely resembles the in-person meetings we are all used to. This is why software like Zoom can be so valuable to a team working remotely.
Staying connected and maintaining a fair amount of face time with your team ultimately makes for a healthy remote work environment.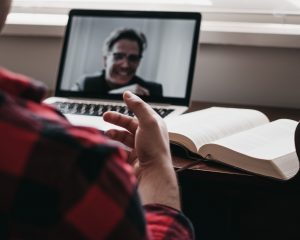 Use time-tracking software
While the statistics reveal that most people prefer working remotely, at the end of the day, employee satisfaction is only achieved through a well-operating company.
Working from home can offer a host of distractions and complications that hurt employees' productivity. Businesses must be aware of this hindrance and create ways to keep employee productivity high.
In transitioning from visiting the office daily to working from home, people can find themselves overwhelmed by the amount of freedom they have. With so much freedom granted, it takes a fair amount of dedication to work diligently. In turn, it can easily reduce an employee's productivity.
The biggest thing that will empower businesses to improve productivity is to have a schedule in place. Lunches and breaks should be regularly scheduled in the day. Expectations from remote employees should be communicated from one hour to the next. This will help the employee focus on what needs to be done during the day, rather than just having a list of things to do that can be completed at any time.
Hubstaff is a great tool for businesses to keep track of timesheets, payroll, and productivity. For companies that do not already have a way to clock-in remotely, this is a great choice. Toggl also serves as an incredible tool for keeping track of hours worked by employees.
Embrace the change
As mentioned earlier, these times are unlike any that we have seen before. The way that we work will shift, and we must find ways to enhance the working experience for employees rather than resisting the change and clinging to traditional models. 
Like many, I believe that a 9-5 job that requires daily commute to an office is largely obsolete. An office does not offer benefits that cannot be mirrored or supplemented in the remote sector.
With this in mind, modern businesses should embrace this coming change in order to be most successful. They must prepare now and aim to shift to a hybrid working model or a completely remote working arrangement in a way that makes sense for the organization.
Do you think the change is inevitable? Do you prefer remote work over the traditional 9-5 job? Either way, I am excited to see what is coming for the future of remote work. Only time will tell.