As one of the leading coworking operators in all of Portugal, IDEA Spaces is so much more than just "spaces." Founded in 2014 with its first location at Parque das Nações, IDEA is a community that enables its members to gather physically in their cowork spaces and discover innovative ways to grow their companies. Following this first endeavor, the second IDEA Spaces location opened in 2017, and the most recent one opened at the end of 2020—the company's third in Lisbon.
What's more, the fourth IDEA location is on its way, opening in the beginning of 2022 near El Corte Ingles Shopping Mall (also in Lisbon), and two more are planned to open in the next year.
According to Vanessa Nunes, Marketing Director at IDEA Spaces, the brand is growing because their community hasn't stopped growing.
"The way we see it, people should be seen and treated as part of a community. We offer an amazing space and conditions to work, but only as a part of our concern and dedication to our members' well-being," Nunes says. 
"If you are looking for a place to share ideas, knowledge, insights, or just a beer; a place to know incredible businesses and inspiring people; a place with people who celebrate your success and stand by you in the most difficult times; IDEA is the right place."
Hear more from Vanessa about why IDEA Spaces' community-led and people-first mission has brought about their success as a coworking brand from day one in our latest interview feature!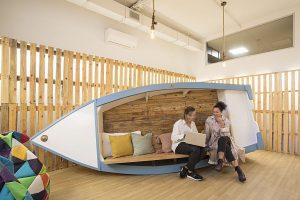 1. As 2022 is set in motion, how has IDEA Spaces stayed true to its mission?
Everything that is to know about IDEA Spaces can be summarized in one word: people! Our mission is to help people feel at their best and be the happiest they can be.
Our members' well-being is our top priority in everything we do. It's nice to have a great chair and desk to work, but it is far from being less important to have someone saying "good morning" to you with a huge smile, or to be surprised once in a while because someone remembered you, or to have the opportunity to know people, to chat with them, to get to know what they do and how you can help each other.
Our mission is clear. And even though we can do better – just wait for 2022! – if 78% of our community says that they are "extremely likely" to recommend us, that must mean that we did a pretty good job in 2021!
2. Tell us about IDEA Spaces' new location in Lisbon! Why did you decide to expand to a fourth location in the city?
It has always been part of our plans to grow our community, which also means increasing the number of locations. There is a huge demand for cowork spaces in Lisbon right now. It certainly is not just a "digital nomad" thing anymore.
Big international companies are looking for this type of space, preferring it over more traditional solutions, and even our own startup members won't be just a team of two or three people for long. They, too, are expanding fast and need more space for their teams.
All of this means that having a few square meters won't be enough. It's part of our mission to grow with our community, to stand by their side along their journey, and that will definitely mean that four locations in Lisbon will not be the end of it.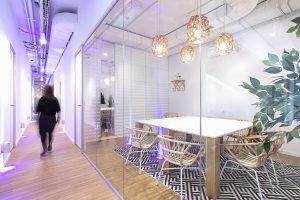 3. Last year, we interviewed IDEA about the effects of COVID-19 on occupancy. Have you seen numbers return to normal at your various locations? 
They've returned even faster than we expected. We got back to a 95% occupancy rate three months before forecasted. People want to get back to their normal lives, want to work with others, want to share knowledge and experiences, and they feel safe working from any of our locations.
It feels amazing to testify to that, to see our locations buzzy again. Even with the relief of the contingency measures applied in Portugal, we've kept the need to circulate using a face mask inside locations, alcohol gel dispensers, and free antigen covid testing so everyone will feel safer. And, guessing from our results, it is working very well!
4. What other effects of COVID-19 did you experience, and how did you navigate them? 
We noticed that, since some companies chose to close their offices and implement remote work, some of their employees came to us looking for a new place to work (that isn't their homes). We have a few members or occasional users that are from the same company that come by themselves. It is not an effect that needs to be "navigated," but it is an interesting effect that reinforces the idea that the home office is not for everyone, and people still feel the need to often interact with others.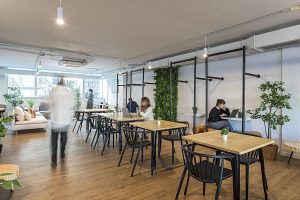 5. What are your predictions for the flex office industry's future this year? How will hybrid office models play a role in this?
I guess we don't need to predict it anymore. It is here. "Flex office" is a reality that will only increase at the same pace companies' accept that giving freedom to their employees will only give them better results.
This means that some employees will prefer a full time home office, others will prefer working full time from the office, and others the possibility to choose where to work from each day. Thus, working in offices won't be ending anytime soon and that flexible solutions, such as cowork spaces, will be the perfect fit for companies that want to pursue this trend (or need).
At IDEA Spaces, we have a few companies that already implemented that by giving "hot desk" memberships to their staff or having some dedicated desks or office spots that are used by different employees. It is happening and it shall continue to grow. 
To learn more about IDEA Spaces, check out their Saldanha listing on Coworker here or read our past interview with CEO João Simões about IDEA's remote membership models.