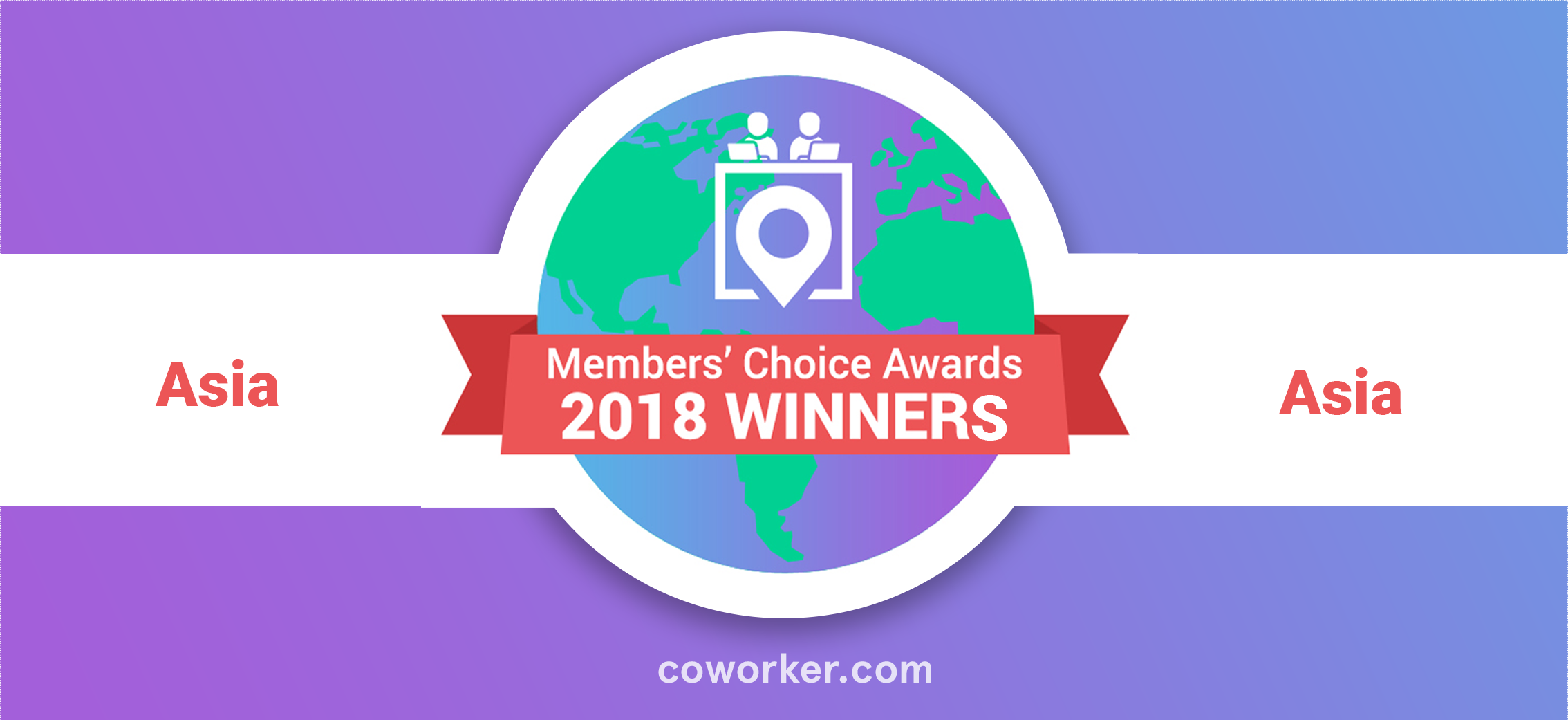 The Coworker Members' Choice Awards are the only global coworking industry awards based on thousands of reviews and opinions from coworking space members around the world. This year 345 coworking spaces received recognition based on the quantity & quality of member reviews during the past 12 months.
The award is given to only 1 coworking space in each city, with the exception of a handful of spaces who were nominated for the "best female focused coworking space" award.
Introducing the winners of the 2018 Members' Choice Awards for cities in Asia:
Afghanistan, Kabul: The Hub
Bangladesh, Dhaka: Hub Dhaka
Cambodia, Siem Reap: AngkorHUB
Cambodia, Phnom Penh: Outpost Cambodia Popup
Hong Kong, : The Hive (Wan Chai)
India, Ahmedabad: Uncubate
India, Bengaluru: GoodWorks
India, Bhopal: S.PACE
India, Chennai: Artisans Lab
India, Faridabad: Ideashacks
India, Gurugram: Cyberwalk
India, Indore: Adited
India, Kolkata: Nwook
India, Lucknow: Collab Cowork
India, Mohali: StartHub Nation
India, Mumbai: Ministry of New
India, Navi Mumbai: ZoomStart
India, New Delhi: ProWorkin
India, Panjim: 91springboard Panjim
India, Pune: The DAFTAR
Indonesia, Central Jakarta: GoWork
Indonesia, South Jakarta: Freeware Labs Kemang
Indonesia, Bali: Outpost
Israel, Tel Aviv: Hubsphere
Japan, Tokyo: Ginza Hub
Lebanon, Beirut: antwork
Malaysia, Bukit Mertajam: CoHere
Malaysia, Cyberjaya: MaGIC Co-Working Space
Malaysia, Johor Bahru: DreamSpace
Malaysia, Kuala Lumpur: WORQ
Malaysia, Kuching: iCube
Malaysia, Penang: Scoopoint
Malaysia, Puchong: CO3
Malaysia, Shah Alam: Co-labs
Mongolia, Ulaanbaatar: CLUB coworking
Myanmar, Yangon: Phandeeyar Myanmar Innovation Lab
Nepal, Kathmandu: Work Around
Pakistan, Karachi: Sharedesk.pk
Pakistan, Lahore: Balcony 105
Philippines, Angeles: Workspace 45
Philippines, Bacolod: Arendo Coworking Space
Philippines, Baguio: The CORE Workhub
Philippines, Cebu City: A SPACE Cebu
Philippines, Davao: Dreamwork
Philippines, Iloilo City: Bonds Coworking
Philippines, Makati: Acceler8 Coworking
Philippines, Manila: Builtable
Philippines, Muntinlupa: SocialSpace
Philippines, Paranaque: WorkPlays
Philippines, Pasig: LOFT Coworking
Philippines, Quezon City: Happy Hive
Philippines, Taguig: Clock in BGC
Singapore, : The Hub
South Korea, Seoul: HIVE ARENA
Sri Lanka, Colombo: Nugegoda Business Hub
Taiwan, Kaohsiung: Kaohsiung Hub
Taiwan, Taipei: FutureWard Central
Thailand, Bangkok: the Hive Thonglor
Thailand, Chiang Mai: Punspace (Tha Phae Gate)
Thailand, Khon Kaen: ESC Coworking Space
Thailand, Koh Lanta: KoHub
Thailand, Koh Phangan: beacHub
Thailand, Koh Tao: TAO HUB
United Arab Emirates, Dubai: NEST Dubai
Vietnam, Da Nang: Enouvo Space
Vietnam, Hanoi: Moonwork Coworking Space
Vietnam, Ho Chi Minh City: Start Coworking Campus & Community
Vietnam, Hoi An: Hub Hoi An
Best Female Focused space in Vietnam: CO-SPACE
Congratulations to all the 2018 Members' Choice Awards winners!
If your coworking space wasn't nominated or didn't win the award this year, keep in mind we'll be announcing the 2019 winners in January next year.
To qualify, ensure your coworking space is verified on Coworker and that members & visitors post detailed, descriptive reviews / testimonials about your space and community throughout the year.
If you'd like a free "Review us on Coworker" front desk sign and "Recommended on Coworker" window sticker to help generate more member reviews, email us and we'll get them posted to you!