The demand for coworking space declined rapidly as economies across the globe shut down, and businesses that remained open shifted to remote working arrangements. 
Social distancing requirements also made coworking space less attractive in 2020 and forced reconfiguration of layouts and strengthening sanitization practices. The process was not simple and many coworking spaces saw their memberships drop, sometimes drastically. Overall, the coworking space market declined at an annual rate of nearly 13% in 2020. 
As economies began to slowly rebound, however, coworking spaces slowly began to regain popularity, particularly among startups that did not want to make a substantial investment in a long-term commercial lease. Now, coworking space is predicted to grow to 30% of all office space by 2030, and this is likely a conservative estimate.
To take advantage of the market resurgence, coworking businesses need to re-engage their customers. But with many businesses facing significant strains in regards to their marketing budgets, however, it is important to identify strategies that are both low cost and highly cost-effective. This article offers nine such ideas on bringing back customers without breaking the bank.
1 – Define your audience
The good news is that marketing a coworking space post-COVID doesn't require starting from scratch. Companies would benefit from reconsidering their relevant markets and reimagining how to approach them, however. It is still important to allow customers to feel as if they know exactly how a space will work before they ever arrive. 
With this in mind, a company should always have a good handle on who their primary target market actually is. The best marketing efforts in the world can't be effective if directed at the wrong people. Answering the question "Is my target market the same as before the crisis?" is an important first step to take. Take the opportunity to survey existing clients or people who have clicked through your website to ensure that you have the right audience. 
2 – Provide relevant value-added tools
Having defined their market, companies should next consider what services that market considers most valuable. Showing potential customers that you have everything they need is effective in establishing long-term relationships.
A target market that includes a significant number of freelancers may want access to services that allow them to log time spent at your space, break it down by project, and be easily able to invoice for the time used. If your company can offer basic accounting services to these customers, which should come with features such as time-tracking, project tracking, and expense tracking. 
Highlight such services you offer in your marketing campaigns to show potential customers the added value of using your space. If anything, you should develop a tiered membership system, with more value added tools available for each level.
3 – Offer freebies
Relying on old standards, companies should never underestimate the power of a gift. Create buzz and word-of-mouth referrals by offering free coworking time slots. 
Many potential customers may still be wary of common spaces, so getting them into the space to begin with is crucial. Free times can not only provide you with the opportunity to highlight your services, but, perhaps more importantly, to show potential customers firsthand your efforts to make the space COVID-resistant.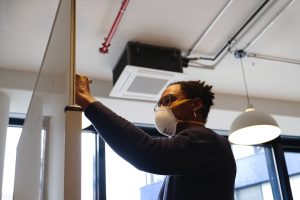 4 – Show your anti-COVID efforts
Virtual tours of everything from museums to college campuses dominated the Internet during the pandemic. And they are no less necessary for coworking spaces. Creating engaging virtual tours of your space should be a high priority in your marketing campaign. It is important as part of this virtual tour to highlight efforts to make your space comply with social distancing recommendations. Companies should also show that the space is sanitized frequently, further elevating its desirability.
5 – Engage customers through social media
It probably goes without saying that social media marketing is a necessity. Not only did social media usage increase dramatically during the pandemic, but it is the primary means of communication for many of the younger generations. How best to effect social media marketing is another conversation entirely. 
One step coworking companies should take in building their social media campaigns is to 
mine their existing data to find social media marketing targets. Potential customers that have interacted with a Facebook ad, or have clicked through your web page, or who have read your blog are all potential targets for directed social media marketing campaigns. Companies should always keep data privacy concerns at the forefront of their minds, however, when mining this type of data. 
6 – Refine your website
A good general rule is that website content should be adjusted according to current customer interests. This was true before the COVID-19 crisis and will remain true in the future. Companies should assess how the crisis has changed what information their customers consume. 
Based on this information, a business should then consider whether their current website remains useful for their target audience. For example, potential customers may now be more interested in content discussing the efficacy of anti-COVID measures in their coworking spaces so they will feel safe.
7 – Optimize your digital marketing efforts with effective SEO
Companies cannot avoid SEO efforts if they wish to have truly effective websites and social media marketing. A prerequisite for optimizing a campaign is understanding baseline performance. 
Using services such as Google Analytics to assess baseline performance will give a company ideas about where it can improve performance, as well as what is and is not working in its existing marketing. A company can then begin to optimize its profile and engage in building both its local presence and its wider digital audience.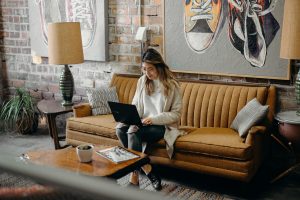 8 – Make email the center of your outreach to customers
Although many have proclaimed the death of e-mail, the real business world disagrees. 
E-mail marketing campaigns are inherently inexpensive and, because they can provide unexpected return on investment, should remain among the primary tools companies use in their digital marketing efforts.
According to London-based software developer and online marketer Alexander Williams, should be at the center of your digital marketing efforts, saying, "Forget what you've heard. Email marketing is incredibly cost-effective, with potentially massive returns on investment. There are minimal start-up costs. It's increasing in usage. And you have direct contact with your customers, with lots of flexibility in how you craft your message." 
9 – Automate your marketing efforts
E-mail and social media marketing campaigns are even more effective when they are automated. Automation allows companies to target potential customers frequently and, more importantly, at times when a customer is most likely to see and engage with marketing content. 
As an example, content creation itself has also become easier due to automation. AI-based copywriting services, for instance, are designed to provide companies with regular written marketing content they can quickly adapt to their needs. 
The range of automated marketing tools available is sufficient to take advantage of any budget. But automation need not be cost-prohibitive, and companies that commit to using automation tools effectively will see substantial returns on their investment. 
Conclusion
As the world returns to work and the current crisis slowly passes, interest in coworking spaces will most likely rise again. As a result, coworking spaces must be able to successfully develop dedicated client bases without exhausting a company's marketing budget. 
By reassessing target markets and directing cost-effective digital marketing campaigns to them, and specifically campaigns that highlight both services and a consideration of clients' health concerns, coworking companies can more effectively position themselves for future success.