Pursuing health and happiness have found their way into our daily work regimens—especially now that striking the right balance when working remotely can be a major challenge.
Since 2009, Boston-based Workbar has made it their mission to provide inspiring workspaces that boost both productivity and member wellness.
From the start, Workbar has prioritized member health above all else, focusing on elements like lighting, air circulation, acoustical standards, and biophilia to create a premium and health-first work environment.
As a result of Workbar's commitment to creating health-first workspaces, the company's Back Bay location holds the distinction of being the first coworking space in the world to be WELL certified—a prestigious award that recognizes buildings which positively impact health and well-being. 
With flexible memberships and 18 locations spread out over Greater Boston, Workbar encourages a positive work-life balance for members in a variety of ways—including their newly-launched Workplace Mobility Program.
Coworker caught up with Sarah Travers, CEO of Workbar, to learn a little more about Workbar's mission and the reasons why workplace wellness has always been part of their DNA.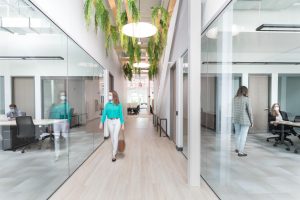 1. First, when was Workbar founded?
Workbar was founded in 2009, over a decade ago! One of our co-founders had been subleasing space from a company that went out of business overnight. The space was too big for him to take over the entire lease but he wanted to stay in it. 
Together, with the building owners, he invited other entrepreneurs to join him and started to run it as a short-term, flexible space option for startup companies.  That's how Workbar was born. A few months later, Workbar moved into its first permanent home across from South Station in downtown Boston.
2. What is the mission of Workbar and how has it evolved over the years?
It's taken us a full decade to build the product to accommodate the future of work but our mission has been the same since day one: to shape the future of work by enabling businesses and remote workers to achieve more. 
– We provide a flexible network of spaces and resources that foster productivity.
– We pioneer new standards of workplace wellness and safety.  
– We build connections among our diverse member community.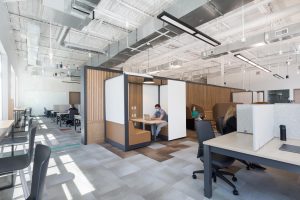 3. Recently, Workbar became the first coworking space in the world to achieve WELL Certification. Can you tell us a little bit about this designation?
Workplace wellness is in our DNA. Our Back Bay location, which opened in 2017,  holds the distinction as the first coworking space in the world to achieve The International WELL Building Institute's prestigious WELL Certification.
We've been prioritizing member health since before it became critical. We've known all along what others are only now realizing—that the most impactful elements to one's health are invisible.
For instance, in our Back Bay location, the lighting changes color temperature throughout the day and reinforces circadian rhythms so there is less strain on our members' eyes. Our HVAC is monitored and there are sensors that measure air pollution and refresh the air according to the density in the space.  There are acoustical standards so the noise is under control. 
We also incorporate biophilia so the built environment reflects nature. The carpet, for example, has random patterns because randomness is organic and inspired by nature.
Our coworking neighborhoods are activity based and encourage movement throughout the space.  There is different seating that is supported in different neighborhoods so the same muscles are not strained. The result from all of this is that our space is very responsive to humans.
4. Why is it important to Workbar to focus on member health and well-being as a core focus?
First and foremost, we're a member-centric company. We aim to be a more human space that pulls a member into an experience that is different from both a home office and a company headquarters.
It's important to us that our members do their best work in our space and to achieve that; they need fresh air, natural light, socialization, and so much more.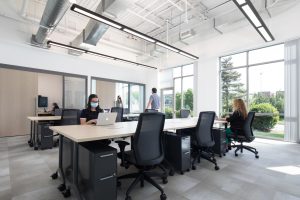 5. What other unique elements make your coworking space stand out from all the rest? 
Other coworking companies have focused primarily on saturating urban markets. Workbar has taken that model, flattened it down, and spread it across an entire region.
We opened our first suburban location back in 2016 at the urging of our members, who wanted a productive and fun place to work, outside of the city. Since then, it's been our goal to open a Workbar within 20 minutes of where people in Greater Boston live, work, and play.
The network effect is powerful on all sides of the equation. Employees get the autonomy to work and meet where it's most convenient, employers get a cost effective headache-free solution for an entire workforce, and landlords get a marketing machine with a built-in network to activate their assets. 
Our physical layout is also unique. The Workbar floor plan is primarily open; purposefully designed around activity-based neighborhoods. Our way of future proofing was to consider the generational shift that's on the horizon and incorporate values like inclusiveness and community into the physical layout of the space. 
In addition to the neighborhoods, we have an oversupply of collaboration and breakout spaces as well as a few private offices and suites. The physical layout also makes our space highly adaptable to different asset classes and sizes. 
Our Community Managers are the reason why our members consistently show up to organically build their network over time. They are really the glue that holds it all together.
6. What is Workbar's Workplace Mobility Program? What are the main advantages for members?
The Workplace Mobility Program is an all-access pass that offers teams a remote work solution where they can do heads down, distraction-free work, or meet and connect with their team all across the region. 
The technology-enabled program gives employers a subscription-based solution that can easily be implemented and continuously iterated. Employees benefit from the autonomy of using any Workbar, any time, to do what they need to do to be happy and productive, even if it's just escaping from their home office to socialize.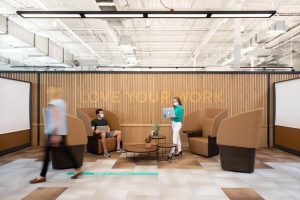 7. How have your members responded to the Workplace Mobility Program?
Forward-thinking companies have responded well to the Workplace Mobility Program. I've heard over and over from companies that it's time to move past maintenance mode. I think it was easy to assume teams could be productive at home back when those teams consisted of the same people that once worked in the same physical space.
There is now a more immediate need to get teams together, to stop working in isolation, and be in the same space to collaborate, especially in growth stage companies. Being together matters.
8. Have you witnessed a shift in demand as a consequence of COVID-19?
We talk to a lot of enterprise companies that want to be pioneers in the future of work. There are a lot of reasons for the increase in demand from this segment, but the ones we hear the most include saving on real estate costs, and attracting and retaining talent.
The workforce that exists today is vastly different than the one that was sent home back in March 2020. People have certainly adapted but most of the companies we have spoken to are ready to plan for a future that is not totally remote and not totally back to the office. Humans are social beings and even a remote workforce needs to be part of a larger ecosystem.
9. What are your predictions for the flex office industry's future beyond 2021?
My prediction is that the flex office industry explodes (in a good way) beyond 2021.
Occupiers are demanding it and landlords are deciding if they are going to offer a flexible solution on their own or, through one or more third party operators. Not offering a flex solution is no longer an option. 
Flex offerings will continue to get better because the bar continues to be set higher. Workbar has been perfecting its model for over a decade–this is our core business–and, we're ready for the demand.
To learn more about Workbar, check out their Atlantic Avenue listing in Boston on Coworker.