In the past couple of decades, coworking spaces have been steadily growing in size. In recent years, the coworking space market size ballooned rapidly, firmly establishing itself as a part of the traditional office-based CRE metric. 
Coworking now takes up over 27 million sq. ft. of space across the U.S. Although the global coworking market has taken a hit due to the current coronavirus pandemic, experts are predicting that coworking spaces will become even more popular after the current health crisis is over.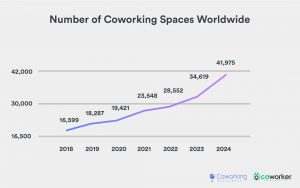 If you or your team has opted for a coworking membership to minimize overhead and connect with other companies to enhance your business growth, this article will help you discover ways to leverage knowledge from other companies in a coworking space.
Read on to discover insights that will help you leverage your coworking community so you can thrive both personally and professionally.
Coworking Spaces are Collaborative
Coworking spaces offer a wealth of advantages, but one of the biggest benefits is that it affords you the opportunity to connect with other individuals. 
Coworking spaces offer a collaborative environment where companies can learn a lot from each other if they're willing to work together. When viewed in this way, it's clear that coworking spaces are about so much more than simply reducing overheads and avoiding expensive, long-term leases for office space. 
For instance, you can use your coworking connection to strengthen your team. The majority of workers thrive in coworking spaces because they feel like they are part of a community. They can also call on other members for help who have a diverse set of skills.
Another benefit of a collaborative space is that it helps to create a more dynamic company culture. The diverse, fast-paced conditions of these spaces provide a positive, upbeat environment that can make a team feel like they are a large company without actually being one.
It's easy to turn this large-company atmosphere into tangible benefits. 
For instance, you may leverage collaboration opportunities if there are any complementary businesses within your coworking space. You can also find opportunities for partnerships with other businesses, which will likely lead to improved outcomes for your team as a result of that collaboration.
Connecting With Other Companies
You can connect with other members and companies in different industries that could potentially teach you a lot of new hacks,such as implementing chatbot apps in your business.  
A great way to do this is by matching the physical proximity of your coworking space with digital tools to help with the collaboration. The right tools will help your team communicate, share, and collaborate without delay or friction.
You can invest in apps and platforms according to the requirements of your business and staff. Some of these tools may include:
Content Management System
Having a full CMS that includes a social intranet, messaging and chat facilities, and a customer database can go a long way in helping staff easily log on and begin collaborating in real-time. An example of a great content management system is Slack.
Enterprise Collaboration Tools 
This is another online workspace that can help your teamwork more efficiently together. Your enterprise collaboration tools can include elements such as file sharing, customer databases, and content management. Google Suite and Huddle are great examples of enterprise collaboration tools, but they are just the start. 
There are many different collaboration tools to choose from beyond Google and Huddle that you can decide between based on what's best for your organization.
Blogs and Forums
Yet another great way to promote a more cohesive team is through the use of intranet forums. With the use of this digital tool, your team will be able to collaborate with each other so they can share ideas, engage in discussions, and so on. You can also use blogs to help you broadcast important updates and detailed information pertaining to work.
How to Connect and Grow
Let's take a look at a step-by-step process that can help you connect with other members in your coworking space. Your main focus will be on networking and providing value to build strong, lasting, and mutually-beneficial relationships with other teams.
Step #1: Find the Right Character Fit
To help you achieve your goal of leveraging knowledge from other companies in a coworking space, you must first ensure that the individuals you plan to work with are a fit character-wise. 
Although coworking spaces inherently make it easy to connect with others in the work environment, it's still a good idea to find the right character fit if you want to build the strongest collaborations. 
For instance, you need to connect with people that have the right communication style and personality to match your own dynamic. You want someone who is open and friendly. They must be creative, innovative, detail-oriented, and a team player when it comes to collaborating and sharing information.
Step #2: Make Sure You're on the Same Page
One of the first things to do when connecting with other companies in a coworking space is to address knowledge management. Knowledge management is all about retaining knowledge in your workspace and making sure that it's shared among your team. 
Since you want to leverage knowledge from other companies, you will also need to be willing to share your knowledge so that they too can benefit from it.
Step #3: Create Regular Networking Opportunities
Of course, with the current social distancing measures, this may not be possible. But post-Covid predictions show that the recovery has begun and so you can start to plan for the near future.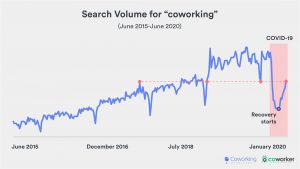 Scheduling regular networking opportunities is a great way to connect with other companies so you can share knowledge to grow your respective businesses. 
Whether it's one company, two companies, or more, a little face time here and there will ensure that everyone feels like they are a part of the larger community, which lessens the chance of someone contributing to a company's Bradford score. You can organize different types of activities, such as group outings, team lunches, and happy hours to help support your team and develop a stronger bond outside of the office environment. 
Alternatively, if your coworking space comes with a complimentary gym, you could organize regular workout sessions for the group. Social outings like these can massively boost teamwork and collaboration. 
I've personally utilized my own YouTube channel to network with folks and have found that this is a great way to get an intro to someone who you may not usually work with. I offer to interview people on my YouTube channel and they love to do it because they get exposure to my audience. I love it because I'm able to connect with them and get to know them better, but it also makes me a little extra money as YouTube ad revenue generates income. 
To make things easy, you may assign a social coordinator to organize the activities and seek feedback from the different companies employed. And remember, the social outings should never be compulsory. Everyone should have a choice whether or not they want to take part.
Step #4: Provide Lots of Value 
The diversity in a coworking space offers you a chance to interact with different groups of people on any given day. 
If your goal is collaborating and innovating, you will never be short of opportunities to do so. The important thing here is that you must also be committed to providing a lot of value in return if you want to build a strong relationship with other companies in your coworking space. 
In addition to exchanging knowledge, you also stand to benefit from collaborating with others in different ways. 
For instance, a person from a different field may look at your ideas and challenges from a new perspective which would help you come up with unique and innovative solutions that otherwise might not have crossed your mind. 
It's also possible to team up with experts in other fields so you can develop a project that makes use of all your different skills. As an example, you could connect with an expert from another company and create an online course to offer your own followers.  By doing so, you'll grow the perceived expertise of the other individual and introduce them to an audience that may not be familiar with them. 
I could go on and on, but the point is that in order to connect and grow, it must be a two-way relationship.  
Step #5: Build a Sense of Community
One of the main things that helps in bringing teams together so they can share knowledge is a sense of community. When there is an atmosphere of unique culture and friendliness, the coworking space feels a lot less like a workplace and more like a close-knit community. 
If you take the initiative to organize regular social outings or events where people from different companies can come together outside of the office, your coworking community will thrive.
Who knows, you may be able to create a great community of people and, through group decision making, come up with an amazing solution to a huge problem your business has.  
Summary
Coworking spaces are here to stay and they are growing at a phenomenal pace.
By implementing each of the five steps, you will be able to connect with other companies, facilitate interaction, spark new ideas, and grow your own startup to a full-fledged established company.
What other tips do you use for leveraging knowledge from other companies in your coworking space? Let me know in the comments section below.