A few months ago, the Running Remote team wrote about how the working world is currently undergoing what some call "the fourth industrial revolution," and how remote work plays a vital role in this. 
At the time, we had no idea that within a few months the world would be gripped by a global pandemic. So many businesses have enacted emergency work-from-home policies in an effort to protect the health and safety of their employees. 
While the remote work trend is definitely here to stay for the long term, making this transition in a challenging and uncertain environment can be stressful for many business owners. Many already understand the benefits of employees working remotely in coworking spaces, but having no office space at all in some situations has created difficulties in translating company culture, communication standards, and existing working practices. 
Our team at Running Remote — the world's largest remote work conference — knew that we needed to use our experience and contacts to help as many businesses as possible navigate this situation. 
Within days, we created RemoteAID: a full day of incredibly powerful remote work guidance and support, which will take place from 9 a.m. to 7:30 p.m. Pacific Daylight Time on April 20, 2020.  
Working with partners like Basecamp, Monday.com, Microsoft, Automattic, and Gitlab, the day-long event is full of panel discussions, fireside chats, and sessions all created and hosted by experts who are donating their time for free on April 20.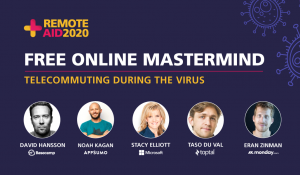 Attendees will also have access to networking sessions, a partner zone with incredible deals and discounts available only to the Running Remote community as well as the opportunity to donate to the Canadian Red Cross Coronavirus Fund. 
From CEOs and human resources (HR) departments to managers and employees, RemoteAID is for professionals at every level who are learning how to work remotely, communicate, and be productive from afar.
Renowned speakers and experts from around the world will be sharing their knowledge, donating their time to teach you the best way to work from home. David Heinemeier Hansson (CTO of Basecamp), Lori McLeese (Global Head of HR at Automattic), Steli Efti (CEO of Close), and Taso Du Val (CEO of Toptal) are all offering coaching and support to businesses across the world at this event. 
When people access inspiring and collaborative workspaces, good things happen. RemoteAID is a virtual learning space that aims to keep the ambience of a real, in-person conference which includes networking sessions and a virtual Expo area. 
We believe that making new connections, exchanging your experiences of coworking and remote work, and learning about new tools and software has never been so important as now. Businesses that want to survive this difficult time need to be educated on the realities of remote work and what it means for the future. Running Remote is here to help!
Running Remote ultimately wants to help businesses create workforces that are autonomous, independent, and able to remotely work together towards a common goal. RemoteAID aims to support as many different industries as possible from around the world and is gearing up to be the biggest and most useful virtual conference available. 
* * *
RemoteAID is organized by Running Remote, who are long-time experts in the field and have been running their premier annual event for remote-first founders for the past three years.