Before the coronavirus pandemic, remote work was only available to a few people, mainly those who decided to embark on an entrepreneurial journey. In recent years, however, many new ways of making money online have emerged, such as dropshipping, which is one of the most profitable online businesses and is projected to become a million-dollar industry in 2022.
Today, due to worldwide lockdowns, remote work has become the "new normal" for many people. The situation caused by the coronavirus pandemic meant that it was necessary to introduce radical changes in the functioning of corporate structures.
One of these changes is the introduction of home office or remote work. With this new way of work, team leaders had to find new ways to manage their teams.
Remote team management may still challenge many managers and team leaders. Luckily, thanks to automation, many effective methods can be implemented to minimize or remove any difficulties related to remote team collaboration.
In this article, we will present five ways automation can improve your remote team collaboration. We will also include information about various tools meant to facilitate different aspects of remote team management. 
Unified team communication
One of the most important things to ensure an effective remote team collaboration is establishing a good communication system. Every member of the team should have access to all the relevant information and be able to communicate what's going on in the company easily.
Such a level of transparency in the workplace boosts employee engagement and builds trust. However, finding an effective way to unify team communication is one of the biggest challenges managers and team leaders face with remote work. 
A great solution to establish a single communication channel for your remote team is using Unified Communications and Collaboration software. A Unified Communications and Collaboration system is an excellent automated tool that can help to optimize remote team communication easily and effectively.
Furthermore, since Unified Communications combines different communication channels, such as voice, video, messaging, conferencing and video conferencing, mobile solutions, and more, into one interface, it increases communication efficiency and, therefore, increases productivity and minimizes unnecessary mistakes and misunderstandings. 
Another excellent way to unify remote team communication is using a VDI system or desktop virtualization. Virtual desktop solutions allow employees to communicate more effectively with each other and their managers, as they make sharing information quicker. In addition, desktop virtualization enables users to share files quickly and transition from one task to another smoothly, which helps optimize the communication process.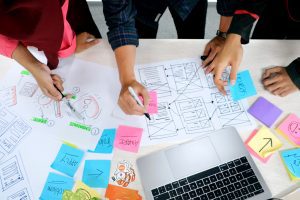 Automated project management
Another big challenge that teams face when working remotely is project management. Remote work based on projects is becoming more and more popular due to its significant benefits, such as more effective team collaboration, increased financial profits, and improved team productivity.
However, the prerequisite for achieving these benefits is the implementation of an automated project management software that can help optimize all the stages of project management: initiating, planning, executing, controlling, and closing.
If you want to improve your remote team collaboration on different projects, you need an efficient project management tool that will allow your team to collaborate, plan and share the results of their work.
A good project management tool will help you plan out different tasks needed to complete the project and oversee their timely execution, organize the flow of information, allocate resources appropriately, and ensure more effective communication between the team members.
Currently, the market is full of practical project management tools for remote teams. Unito, Asana, Trello, monday.com, ClickUp, Planio and Podio are some of the most popular ones.
Management of processes and productivity
If you are running a remote team, one of the things that you will need to manage effectively is your team's productivity.
What's surprising is that according to some remote work stats, 52% of employers have noticed increased productivity in their employees ever since they started working from home.
But even though your employees might be more productive, you still need to know how much time each team member spends on their assigned tasks and duties. This is why it is essential to set time tracking tools in place. 
Time tracking helps boost team productivity and gives you the necessary data to ensure that the tasks are being completed on time, the processes are running according to plan, and everyone is being compensated accordingly for their work and time.
In addition, tracking the time your employees spend on their allocated tasks can help you pinpoint efficiencies, identify delays, optimize processes, and make necessary adjustments to boost your team's productivity. 
There are many time tracking and planning tools on the market to help you and your team keep track of tasks at work, such as Timely, Toggl, or Time Doctor. With these tools, you can easily track what your remote workers are doing and how long it takes them to complete each task.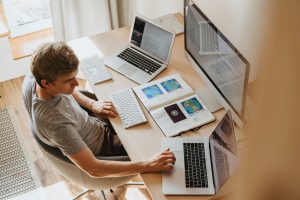 Cut down on administrative tasks
One of the things that can significantly reduce your team's productivity and slow down the implementation of processes is focusing on too many administrative tasks. When managing a remote team, you may be tempted to micromanage everything. But micromanaging is not an effective remote team collaboration tool.
On the contrary, it only makes things worse! The more administrative tasks you require your team members to complete, the longer it will take them to fulfill their allocated duties. As a result, you will end up with a frustrated team and a steadily declining team productivity and engagement.
To effectively cut down on unnecessary administrative tasks, carefully analyze the administrative processes and workflows that your team is required to follow. To do that, you can use a workflow automation tool or task management software.
By removing unnecessary tasks and giving your team more trust and independence when performing their duties, you can easily optimize the workflow and boost their productivity. This will result in faster task and project completion.
Efficient meetings
Online meetings are another one of the many challenges that managers and team leaders face when running a remote team.
Zoom, Microsoft Teams, or Google Hangout meetings are the new normal for remote teams. Online meetings help you and your team discuss the current projects, organize workflows, and plan and delegate tasks that each team member is responsible for.
However, while remote team meetings are essential, sometimes they take a lot of time and may take away from the flexibility that remote work offers. 
One way that automation can help you improve your remote team collaboration is by optimizing online meetings. You can automate many things about your online meetings, starting with automated appointment scheduling or scheduling recurring remote meetings. 
Another thing that can significantly improve the efficiency of the meetings is taking meeting notes. At first, managers used to appoint a team member to take notes during the meetings, or they'd do it themselves. However, the notetaking process can also be easily automated thanks to auto-transcription tools.
For example, if your team holds online meetings via Zoom, you can use Zoom's automatic audio transcription feature or specialized Zoom meeting transcription tools, such as Rev or Happy Scribe. 
Wrap up
Until recently, working virtually seemed almost impossible. However, it appears that remote work is here to stay, and we may never return to the pre-pandemic work model. Therefore, we need to adapt and learn new ways to manage remote work, especially when it comes to remote team collaboration. Here, automation comes to the rescue. 
Automation can help managers and team leaders unify team communication, manage projects more efficiently, automate workflows and processes, and increase team productivity.
The secret to using automation efficiently and achieving all of these fantastic benefits is to choose the automation tools that match the company's needs and goals. It is also essential to train your team to use these automated tools accordingly and maximize their potential.